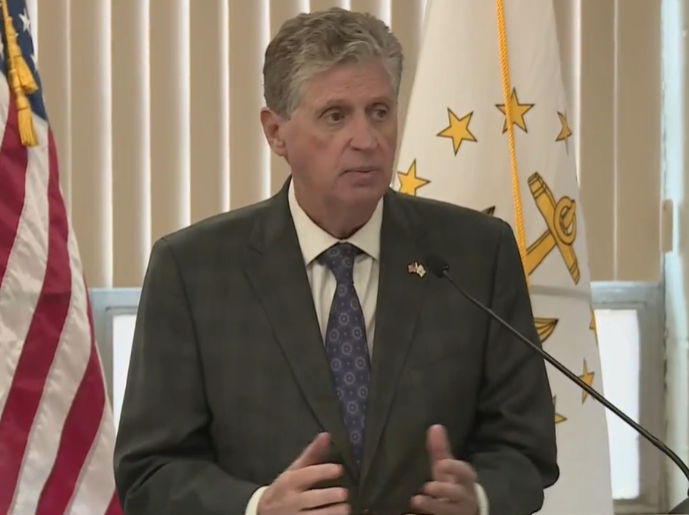 PROVIDENCE – A policy requiring indoor masking or proof of vaccination is remaining in place throughout the state, as Rhode Island ramps up its COVID-19 testing capacity, sends the National Guard to support a Providence hospital, and allows temporary licenses for nursing students who have finished their training, Gov. Daniel J. McKee said Wednesday.
McKee started Wednesday's COVID-19 briefing – his first since late December – by describing the state's progress on COVID-19 testing capacity, reporting that turnaround times for PCR tests have improved the four to five days it took in late December, to around 48 hours in most cases, although not universally.
"That's not the case for everyone, but it's good progress," he said.
McKee said the state is doing more testing for COVID-19 than ever, with 175,000 tests processed last week alone, which is the equivalent to the population of Providence, or 17% of the state. That makes Rhode Island the leader for testing among any state in the country on a per capita basis, McKee said, more than double of the second-ranked state.
McKee said Rhode Island increased from 10,000 tests processed per day late last year to 20,000 now, and state testing sites are now offering 65,000 appointments for testing each week, up from 45,000 two weeks ago. McKee also announced that the testing site at the Community College of Rhode Island testing site in Warwick is becoming 24-hour operation.
McKee said the state recently procured 100,000 rapid tests and is "hunting down more."
After questioning whether it would be worth doing so during a December press conference, McKee said he's sending Rhode Island National Guard members to support the hospitals, with 60 being deployed to assist with operations at Butler Hospital in Providence. McKee said this would increase capacity at Butler Hospital, and "relieve stress" on emergency departments at other local hospitals in the process.
"This announcement is the result of several weeks of close coordination," said McKee, who thanked R.I. National Guard Maj. Gen. Christopher P. Callahan for his assistance.
McKee said he's also adding 20 more Guardsmen to assist with state testing efforts, up from the 160 he announced during his briefing last month.
In another initiative to help ease the staffing shortages at health care facilities, McKee said the state will start expediting temporary licenses for recent nursing school graduates "to get immediately in the work force," while giving them 180 days to complete their normal licensing exams. McKee said the state is working with colleges to do "targeted outreach" to nursing candidates and holding job fairs, where those candidates can apply for temporary nursing licenses.
"Let's do everything we can to get them to work," McKee said, "and address staffing issues that we're all very much aware of."
McKee said he plans to extend the 30-day indoor masking mandate and proof-of-vaccination requirements that he announced on Dec. 15 to at least through mid-February. Businesses and other indoor venues with a capacity of 250 people or more must require indoor masking among guests and employees, while smaller venues must require either proof of vaccination or indoor masking.
When it comes to COVID-19 vaccination, McKee continued to urge people to get booster shots, but he is seemingly giving up on persuading those who refuse to get the jab while still urging them to be cautious to avoid getting infected.
"Individuals who have not been vaccinated – they've made up their minds," McKee said. "We need to respect the decision, even though we don't understand their decision."
However, Lt. Gov. Sabina Matos gave it another try, urging the unvaccinated to think about how COVID-19 vaccination could protect themselves and their family.
"I want to ask you one more time to reconsider your decision," Matos said. "I have friends that are in the same position as you. I have relatives in the same position… But I also have … individuals that have passed due to COVID."
R.I. Department of Health Director Dr. Nicole Alexander-Scott used the briefing to urge more private medical practices throughout the state to offer COVID-19 vaccines to their patients. That's because, Alexander-Scott said, she expects COVID-19 to be an ongoing problem "in some form or another" for a long time to come, and physicians offering the vaccine to their patients will "reduce barriers" for this protection.
"We know that's going to be the system of the future that we want to continue to build out," Scott said, "to make sure as many as people as possible get boosted and continue to have access to what's needed to have full protection."
Marc Larocque is a PBN staff writer. Contact him at Larocque@PBN.com. You may also follow him on Twitter @LaRockPBN.

Want to share this story? Click Here to purchase a link that allows anyone to read it on any device whether or not they are a subscriber.