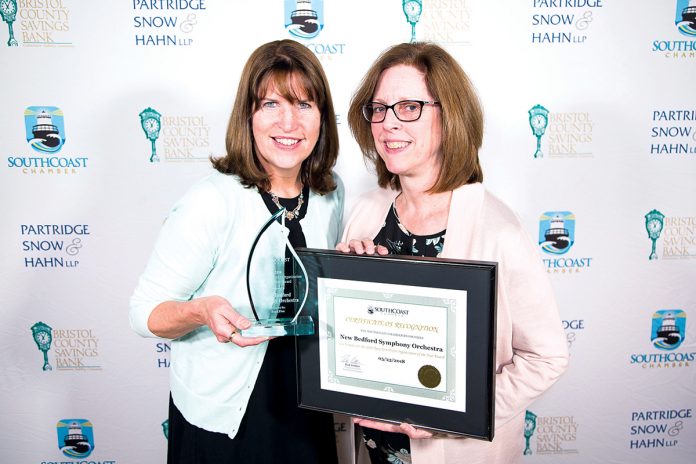 NEW BEDFORD SYMPHONY ORCHESTRA was recently presented with the 2018 APEX Award for Nonprofit of the Year by the SouthCoast Chamber of Commerce. Award winners were recognized for playing a role within the community and contributing to economic development within the South Coast region.
President and CEO David Prentiss discusses the orchestra, which he says is committed to expanding educational programs to children in the region.
---
What initially drew you to becoming involved with the ­orchestra? The New Bedford Symphony Orchestra was established in 1915 and is one of the oldest symphony orchestras in New England. The level of professionalism and impact on the community that the orchestra has made me want to be a part of it.
What kind of innovative programs does the orchestra offer? With an annual operating budget of just over $1 million, we are very proud of the extensive programming we can provide to the South Coast community. Under the leadership of our music director, Yaniv Dinur, the NBSO has made its mark with creative and energizing programming, such as the United States premiere of a concerto for electric bass guitar and orchestra by Finnish composer Lauri Porra, a seasonlong exploration of music by women composers, the best of contemporary classical music and exciting performances of well-known masterworks. … In the upcoming 2018-19 season, we will perform with pianist Yefim Bronfman, harpist Bridget Kibbey, cellist Christine J. Lee and pianist Joyce Lang. In addition to our symphony concert series, we also present the South Coast Chamber Music Series.
Your organization offers many scholarships annually to students in the area. How important is it to keep music education alive? Orchestras today have a critical role to play in providing music education to young people. In addition to scholarships, the NBSO has extensive educational programs in [more than] 50 local schools, serving more than 25,000 children every year. The NBSO's innovative and award-winning Learning in Concert program has garnered attention from orchestras and educators throughout the United States. … The education page of the NBSO website, nbsymphony.org, offers videos of the program in action.
What new initiatives are in the works for the orchestra? On the education side, we are going to continue to expand our cross-disciplinary partnerships to broaden and deepen the experiences we can provide our students. Over the last few years we have collaborated with the Massachusetts Institute of Technology, the Woods Hole Oceanographic Institution and nationally renowned scientific illustrator Kalliopi Monoyios. On the artistic side, we are in discussions to present a concert series in a beautifully renovated mill building that overlooks Buzzards Bay. We are also developing a "public music" series that will bring music to every corner of our city, including public gardens, playgrounds and neighborhoods. We are also reaching out to guest artists both nationally and internationally who want to perform with an orchestra that thinks outside the box.