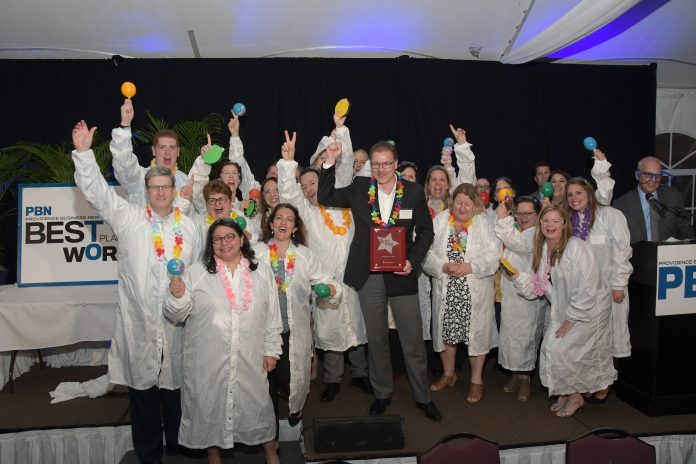 WARWICK – Sixty companies in the region were celebrated as Providence Business News' 2019 Best Places To Work on Thursday during a sold-out event at the Crowne Plaza Providence-Warwick.
Out of the 60 finalists, winners were revealed in four size categories – small, midsize, large and enterprise – based on the number of people each company employs in the region.
The event, now in its 14th year, recognizes area companies for having progressive human resources policies as well as engaged and satisfied employees.
The competition is conducted independently by Best Companies Group, a national research firm that sets benchmarks for HR policies and then conducts anonymous surveys of companies that commit to the program to see if their companies achieve the standards they set.
Each year, the event is a chance for employees of the honored businesses to go the extra mile to display their company spirit, whooping it up and donning coordinated costumes. It was no different this year.
Employees from construction companies such as Gilbane Building Co., Shawmut Design and Construction, and New England Construction Co. slipped into florescent vests and hardhats while the entire contingent from National Marker Co. wore pirate outfits, and Town Dock Inc. employees put on squid hats.
Ahead of Thursday's event, 60 companies were named honorees. At the awards dinner, PBN revealed the rankings of the 60 companies.
The No. 1 companies in each of the four categories were:
Enterprise (500 or more employees) – Amgen Rhode Island
Large Companies (150-499 employees) – Navigant Credit Union
Midsize Companies (50-149 employees) – Edward Jones
Small Companies (15-49 employees) – New England Construction Co.
In addition, PBN awarded four on-site massage sessions donated by Massage Envy based on the amount of spirit displayed when companies were introduced during a video at the event. Gilbane, Shawmut, R.I. Kitchen & Bath Inc. and Navigant won those honors.
A special section that includes profiles of all 60 honored companies will be available in this week's edition of PBN, which is available Friday.
Presenting sponsor for the 2019 Best Places To Work program was UnitedHealthCare, while partner sponsors were Chisholm Chisholm & Kilpatrick Ltd., Cox Business and Pawtucket Credit Union.
William Hamilton is PBN staff writer and special projects editor. You can follow him on Twitter @waham or email him at hamilton@pbn.com.