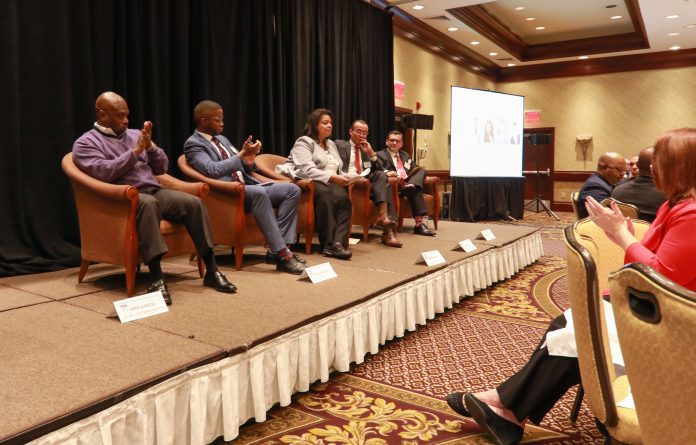 WARWICK — Panelists at the second Providence Business News Diversity & Inclusion Summit, held at the Crowne Plaza Providence-Warwick Wednesday, agreed that diversity and inclusion has practical and moral benefits, that companies have to develop their own tests of their success, and that communication and respect are paramount to creating a diverse, inclusive environment at an organization.
Panelists were Greg Almieda, founder and CEO, Global View Communications; Guillaume Bagal, lead diversity and inclusion consultant, Blue Cross & Blue Shield of Rhode Island; Randy Martinez, director, strategic diversity management, CVS Health Corp.; Kim Barker Lee, vice president of diversity and inclusion, International Game Technology PLC; and Juan Lopera, vice president of marketing, public plans and corporate business diversity officer at Tufts Health Plan. Moderating the discussion was PBN Editor Mark S. Murphy. The panelists started the summit defining diversity from their perspectives and their organizations.
"Yes, it's good for business, but I honestly think that doing the right thing should be enough," said Bagal. "At Blue Cross Blue Shield, diversity is about respect," he added.
"Really, it comes down to how is this going to help me reach my goals," said Almieda.
Lopera noted that some measures of diversity don't offer a clear look at an organization. A company may have a workforce that's 33 percent diverse, for instance, suggesting diversity success, but when you begin to look closer, and "peel the onion" at diversity in leadership positions or in specific divisions within a company, "the numbers dwindle," he said.
Lopera said diversity helps Tufts stay abreast of differing communities' needs and address health disparities, which aids them in their health care mission.
"That's how we've defined it. It's gone beyond, simply, the right thing to do, but is the smart thing to do, from a business standpoint," he said.
"At the end of the day, we build our D&I in line with our business strategy," said Lee. She pointed out that diversity is also about allowing people to be comfortable with themselves in the workplace.
"I can get a lot more out of you if you can show up and be who you are," Lee said.
Martinez said much of the work done on diversity and inclusion among employees at CVS concerns advocating for people to accept each other. Within the last week, he said, the company's LGBTQ community has been working on a campaign for 2019 to work on trans-gender awareness.
"We immediately took that up to senior management," Martinez said, to work how to distribute that campaign across the company. Those sorts of efforts are common at CVS, he said, and are geared to raise awareness of multiple groups and among faiths.
"It was extremely hard to get the legal compliance and get people together to understand that this wasn't about one religion but about faith helping drive health care and community throughout the organization," Martinez said.
Almieda said there's no accreditation for diversity, which is a difficult task to generalize, because company cultures are themselves so diverse.
"Everyone wants to know what the benchmark is," Lee agreed. She said there aren't many companies sharing their own diversity data, so it's difficult for a company to compare itself to the whole. Rather, she said, "We are going to have to look at our own progress year over year, so that we are our own bench mark."
"You come up with ways of measuring," Lopera agreed.
Panelists also discussed the role national politics plays on their efforts to support diverse communities within their workplaces.
"It's generally not about our politics at the end of the day, but the impact to our employees," Lee said. In which case, they choose to support their employees. She said the company found itself in such a position recently when federal guidelines were proposed to define gender as binary and based on birth, which presented IGT with a choice about what action to take in respect to its transgendered employees.
"We have to say something," she said, "because there is no way that any of our employees impacted directly or indirectly by that policy could walk into work today and not wonder whether or not IGT stands on this."
So, she said, the company drafted a statement for its employees: "To our transgender, intersect and non-binary employees, we acknowledge you, we appreciate you, we are thankful that you are here. We strive to make your work experience equitable with that of all of your peers, and we will continue to do that," Lee recited, to generous applause at the summit.
"The impact of that statement was profound throughout our organization," she said.
Lopera said taking a stand on issues can also make a difference in recruiting good employees. "If you're not taking a stand, you're not going to attract a lot of talent," he said.
Bagal said that diversity isn't so much about reaching a certain standard and always aiming for that one point, but that it's more of a moving target. He suggested using the term cultural humility in thinking about it. "It's a life-long journey."
Following the summit, PBN presented its inaugural Diversity & Inclusion Award Program, giving out awards to this year's recipients:
Architecture/Construction/Design – Shawmut Design and Construction, accepted by Chief People Officer Marianne Monte
Education – Rhode Island Nurses Institute Middle College, accepted by CEO Pamela McCue
Financial Services – Bank of America Corp., accepted by Sean Dagesse, market manager; Anny Robert, reconciler, CFO Group; Antonio Moreira, legal entity controller; and Ashley Sanchez, senior business control specialist.
Government – R.I. Judiciary, accepted by Diversity Director Dorca Paulino
Health Care – Blue Cross & Blue Shield of Rhode Island, accepted by the members of the company's Employee Business Resource Groups: Chrystal Boza, Megan Chisolm, Sara Florencio, Suzanne Gaddy, and Jason Furlan.
Nonprofit/Social Service Agency – Social Enterprise Greenhouse, accepted by CEO Kelly Ramirez and inclusive enterprise development manager, Preetilata Hashemi.
Professional Services – Amica Mutual Insurance Co., accepted by Sam Palmisano, senior assistant vice president, human resources, and Ramona Royal, human resources officer.
Finally, PBN recognized Cheryl Burrell, associate director of the  R.I. Office of Diversity, Equity and Opportunity, as Overall Diversity Champion, for her 25 years increasing diversity in state government, starting as the director of personnel for then Attorney General Jeffrey Pine in 1993.
In her acceptance remarks, Burrell thanked Govs. Lincoln Almond, Donald J. Carcieri and Lincoln D. Chafee for their roles supporting her work over the years, particularly Chafee, who made her post an official division.
"But more importantly to Gov. [Gina M.] Raimondo, who made this whole effort permanent by creating a law to make the division a permanent fixture," Burrell said.
Burrell also asked the members of the Office of Diversity, Equity and Opportunity team to stand for recognition as well, and then thanked her husband, Joseph, for his long support of her work when few other people were supportive.
Rob Borkowski is a PBN staff writer. Email him at Borkowski@PBN.com.