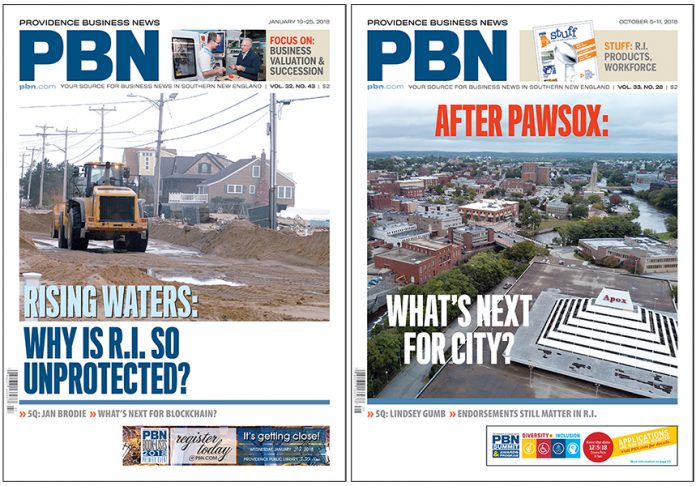 BOSTON – For the fourth time in the last decade, and the second year in a row, Providence Business News was awarded first place for general excellence by the New England Newspaper and Press Association at its 2019 New England Newspaper Convention, which was held Feb. 15-16 in Boston.
PBN also was honored with three first-place awards, two second-place awards and one third-place award in five separate writing categories at the annual event.
General Excellence in the Better Newspaper Competition produced by NENPA rewards publications for the overall quality of their products, from content to presentation. In addition to being recognized as the best for specialty publications in the region four times in the last decade, it marks the eighth time in the last 11 years that PBN has been recognized as one of the top three specialty publications in New England.
In the fall, PBN was named Newspaper of the Year for specialty publications in NENPA's New England Newspapers of the Year competition, one of 13 publications so honored, based on publication frequency and circulation size. PBN previously garnered Newspaper of the Year recognition in 2013 and 2014, and also has earned runner-up, or "Distinguished Newspaper," honors in 2010, 2012 and 2016.
First-place awards for PBN were earned by former PBN staff writers Emily Gowdey-Backus and Eli Sherman, as well as contributing writer Mary Lhowe. Second-place awards went to Sherman twice, while the third-place award went to PBN staff writer Mary MacDonald. Some categories were returned with comments by the judges.
Sherman's first-place award in the category of Business/Economic Reporting was for his piece titled "Keeping PawSox: Where's the Risk?" Judges for the contest said of the piece, "Any community preparing to gamble millions to subsidize a sports team's stadium deserves to have its local journalists give the deal a hard look. Sherman delivers. … This story provides a detailed, smart analysis of how the deal would work, questions key assumptions, and identifies who will get holding the bill if the debts aren't paid. This story combines strong explanatory reporting and watchdog journalism. Outstanding work!"
In winning first place for her Racial Issues or Ethnic Issue Coverage for "R.I.'s untapped native resource," Gowdey-Backus produced a "thoughtful, well-written narrative spotlighting the profound challenges faced by Rhode Island's Native American population. Length is justified by the need to draw attention to various aspects of this subject, which are underscored by a skillful blending of human, business and statistical elements as well as strong art."
First place in the Social Issues Feature Story category went to Mary Lhowe, a contributing writer for PBN. The story, "R.I. divided on immigrants?" was lauded by the judges in detail. "The team at PBN must have exhausted their stable of contacts, culled countless databases, and scoured tons of resource material to build this exceptional feature. Every Rhode Island business owner and executive should read this piece to get a comprehensive, ultimately informative, and easily digestible snapshot on the challenges facing state immigrants – who appear to represent the lifeblood of the state's service industries and manufacturing workforce."
Second-place awards for Sherman came in two categories – Government Reporting for his story "How much debt is too much for R.I.?"; and Investigative/Enterprise Reporting for his three-part series, "Rising Waters," which was published on Jan. 19, Feb. 16, and March 23.
Earning third place in the Government Reporting category was MacDonald for her piece, "Does city have too many TSAs?"
Other newspapers in Rhode Island and Bristol Co., Mass., winning first-place honors in both editorial and advertising categories at the Boston conference included:
The Block Island Times – sports feature story
The Dartmouth Chronicle – local personality profile
The Herald News, of Fall River – racial or ethnic issue
The Newport Daily News – event special section, food page or section
Newport Life Magazine – audience/community involvement
The Standard-Times, of New Bedford – commentary, editorial/commentary page, feature photo, front page, illustration, infographics, personality photo, photo story, special section or supplement, sports feature story, sports photo
The Sun Chronicle, of Attleboro – human interest feature story, social issues feature story
Also recognized as Photojournalist of the Year was Peter Pereira of the Standard-Times of New Bedford.