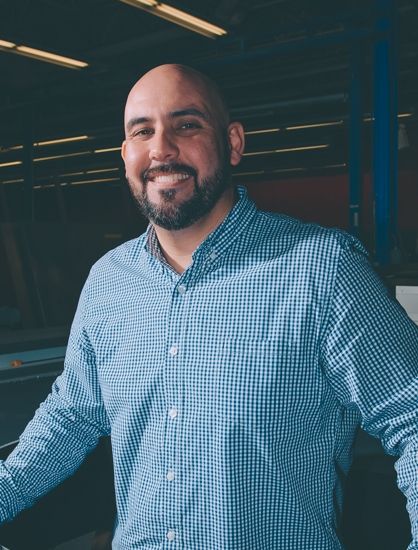 NEW BEDFORD, Mass. — Poyant, a New Bedford sign manufacturer and branding specialist serving local, regional and national organizations, has named Ruben Bernardo, Director of Operations. In his new role, Bernardo will be responsible for Production, Purchasing, Materials Management, Loading, Shipping and Receiving, Field Services and Fleet Maintenance. He will work with the staff to continue the effort of improving production scheduling, production and installation efficiencies, expanding R&D capabilities of the company.
Before joining Poyant, Bernardo held the position of Director of Operations for TWD Surfaces. Prior to that, he was a Manufacturing Manager for Butler Automatic Inc., a global specialized packaging equipment design/build manufacturer. Bernardo also served as Sales and Service Manager for Corrie Refrigeration. Earlier, Bernardo was a Technology Specialist for Idax Systems. Through these past experiences, he has developed various skills in areas such as lean manufacturing, continuous improvement, production planning and operational excellence.
Bernardo is currently attending Bridgewater State University to earn a Bachelor of Science in Operations Management. He is currently a member of the Association for Manufacturing Excellence (AME), the Association for Manufacturing Technology (AMT) and SME.
"I am really excited about the opportunities that will unfold as Ruben becomes immersed in our culture and company," said Richard V. Poyant, President of Poyant. "This change will bring more opportunity to improve efficiency for all aspects of our operation and enhance our capabilities to provide additional solutions to our customers. Ruben is a seasoned manager with a proven track record of designing and implementing operational improvements and we are looking forward to leveraging his experience."
Bernardo resides in New Bedford, MA with his fiancée and three children.
About Poyant
For more than 75 years, Poyant has provided custom design and manufacturing services to businesses throughout New England and beyond. Poyant's team of signage professionals is behind some of the most recognized brands. We collaborate to bring our unique talents to each project and achieve extraordinary results. From custom signs to all-encompassing sign programs, we are committed to providing superior quality to all of our clients — on time and on budget.
For more information, visit www.poyantsigns.com.