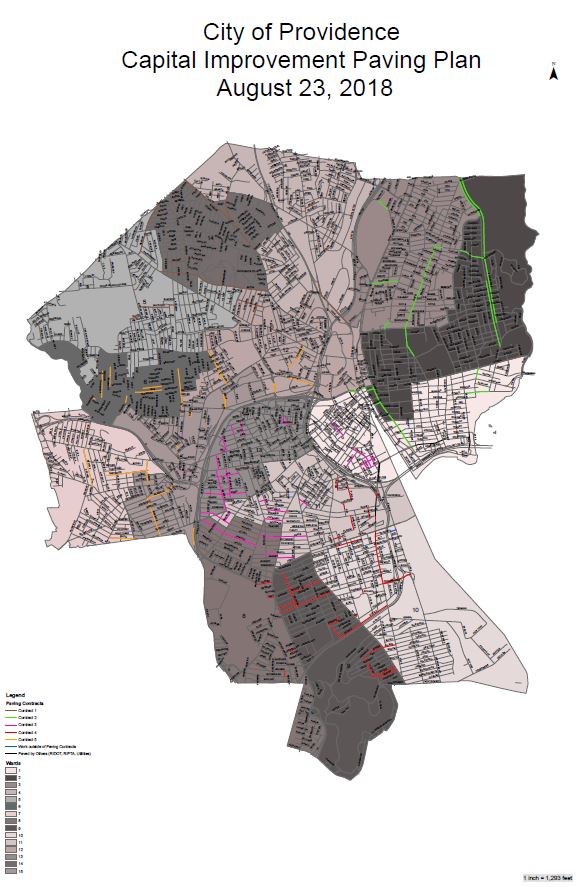 PROVIDENCE – As part of its Capital Improvement Plan, the city of Providence kicked off a citywide roadwork project Thursday that will take place across all 15 city wards.
Approximately $20 million has been allocated for road re-paving in fiscal 2018 and 2019 in the five-year plan, a city spokeswoman said.
The CIP is a working plan that is updated yearly and submitted to City Council. It consists of $48.5 million worth of infrastructure projects funded by various mechanisms, including a $45 million dollar infrastructure bond.
The paving plan was divided into five contracts in addition to work that will occur outside of paving projects and roads to be paved by other entities.
No timeline for the project was provided by the city immediately. The first contract has been awarded and the others have all been put out to bid.
"The citywide roadwork we are starting today will help provide local families and businesses the safe, modern and reliable roads they deserve," said Providence Mayor Jorge O. Elorza. "This is a needed long-term investment that will help preserve our infrastructure, reduce maintenance costs and improve our neighborhoods. From parents that drive their children to school, to businesses that rely on ground transportation to succeed, these improvements will benefit all of Providence."
Chris Bergenheim is the PBN web editor. He can be reached at Bergenheim@PBN.com.