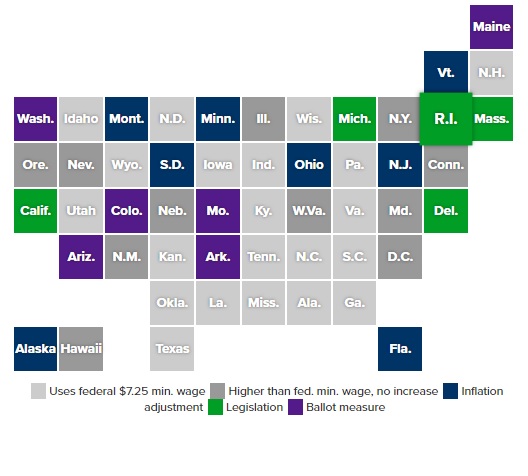 PROVIDENCE – Rhode Island will be joined by 19 other states in raising its minimum wage at the beginning of the year, according to an analysis released by the Economic Policy Institute.
Legislation passed by the General Assembly mandates the increase of 40 cents to a minimum of $10.50 per hour starting Jan. 1. The EPI estimates that 4.1 percent of the Rhode Island workforce – or 19,800 workers – will benefit from the wage increase. The EPI further calculated that the increase across the state economy in wages will total $12.5 million.
Workers in Massachusetts will see the minimum wage increase $1.00 to $12 per hour on Jan. 1, a change that is estimated to affect 11.5 percent of the Bay State workforce. The total wage increase for the estimated 372,300 workers who will see the change is calculated to be roughly $440.5 million.
The Economic Policy Institute estimates that 5.3 million workers in the United States will see wage increases, with the total increase in income amounting to $5.4 billion throughout the year.
Not all of the increases are mandated by specific action by state legislators. In some cases, the increases are caused by inflation adjustments established in previous legislation. And a number of the increases are part of a long-range program to bring the minimum wage in that state to $15 per hour, including the increase in Massachusetts.
The federal minimum wage is $7.25 per hour, which is in effect in 21 states. It has not been raised since 2007.
The full report can be seen HERE.