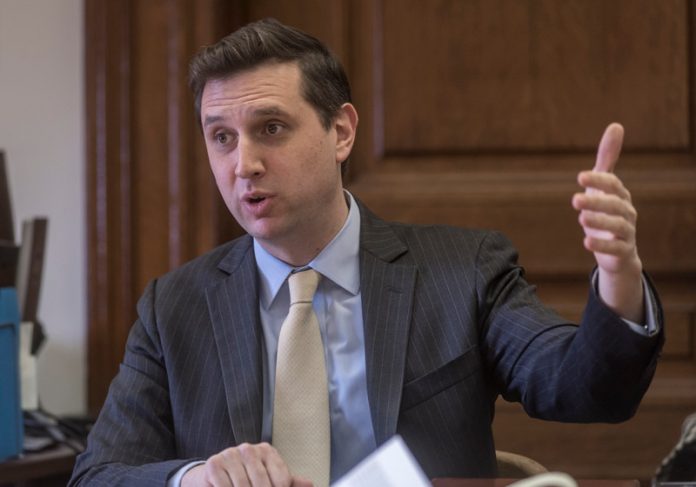 PROVIDENCE – The state is providing students who witnessed the recent fatal shooting outside a Providence school with a financial service of a different kind: a $1,500 reimbursement each for mental health counseling.
The money comes from the state's Crime Victims Compensation Program, administered by General Treasurer Seth Magaziner's office. His office is working with Providence city officials to reach out to students who were present at the shooting outside Providence Career and Technical Academy.
"Communities throughout Rhode Island were rocked by the senseless tragedy that took the life of an innocent child. While we mourn the loss of one child, we also recognize the trauma experienced by the children who were there," Magaziner said.
"In Rhode Island," he added, "we know that children who witness violence are themselves victims of that violence. I encourage the students who witnessed … [the] shooting and their families to reach out to our office to help them heal."
A 16-year-old Providence boy, who has not been identified because he is a juvenile, remains in custody after being charged with the deadly shooting of William Parsons, 15, outside the school Sept. 5.
Magaziner's office said he worked last year with leaders of the General Assembly to expand the Crime Victims Compensation Program to include counseling for minors who witness homicides and domestic violence.
Providence Mayor Jorge O. Elorza applauded the move.
"In the wake of … [the recent] tragedy, we want families to know that there is help for them. It's moving to see the community continue to come together to support those most in need," Elorza said. "I thank our partners at the state, especially Treasurer Magaziner's office, for prioritizing counseling support for families during this difficult time."
Scott Blake is a PBN staff writer. Email him at Blake@pbn.com.