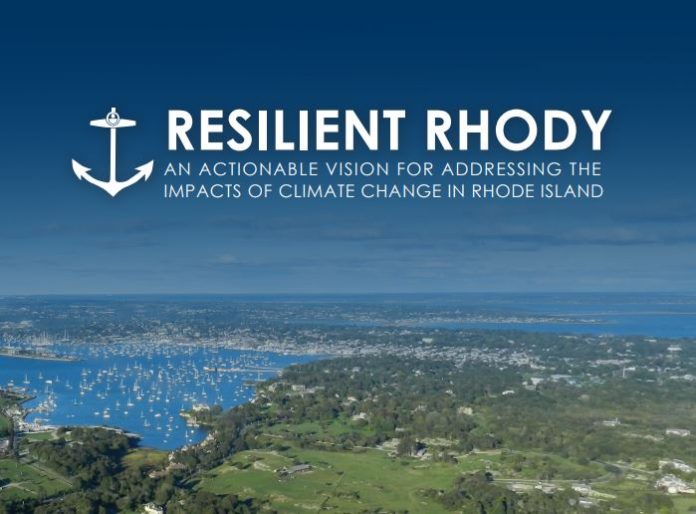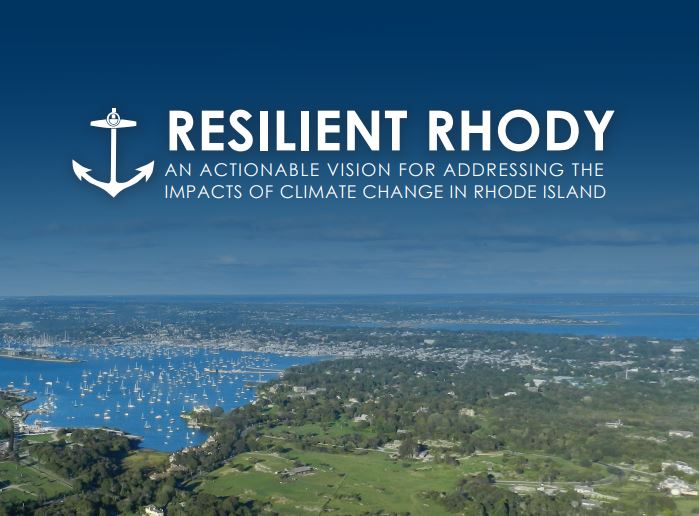 PROVIDENCE – Gov. Gina M. Raimondo released a climate resilience action strategy called Resilient Rhody on Monday.
The 44-page climate preparedness strategy was a collaboration between a working group of 51 members from 13 state agencies and eight statewide organizations. The group held 10 resilience roundtable conversations led by R.I. Resiliency Officer Shaun O'Rourke.
O'Rourke was appointed to his post in September 2017. He also serves as the director of stormwater and resiliency at the Rhode Island Infrastructure Bank.
"Resilient Rhody is about moving from planning to action and builds upon the strong climate leadership across our state," said O'Rourke in a statement. "While we have already made progress, there is still a lot of work to do and I'm looking forward to the continued partnership with state agencies, municipalities, organizations and communities as we implement the strategy."
The report both identifies the state's vulnerabilities to the consequences of climate change and identifies potential solutions.
The report contains 61 identified, recommended climate resilience actions. The report also notes that projects related to climate resilience are costly and difficult to obtain funding for, while including proposed financing models for its recommendations. It suggests the creation of resiliency zones that would collect fees for improvement projects, the creation of resiliency bonds and touts a program being developed by the Rhode Island Infrastructure Bank called a Stormwater Accelerator that will provide bridge loans for green infrastructure projects.
"Whatever climate change deniers in Washington and elsewhere think, Rhode Island knows better," Raimondo said in a statement. "Our sea level has risen almost a foot since 1930, Narragansett Bay has warmed almost three degrees since 1960, and we're getting 10 more inches of rain a year than 60 or 70 years ago. By producing our first comprehensive climate action plan [we have] a clear roadmap to address vulnerabilities in infrastructure, increase our level of preparedness and finance urgent projects to become a more resilient state."
Some of the 61 recommendations in the report:
Remove market barriers to implementing microgrids at critical facilities
Update the state Land Use 2025 plan to include climate change and resilience actions for transportation infrastructure and updated goals and priorities set by the Long-Range Transportation Plan
Ensure fuel terminals have undertaken all appropriate hardening and resilience measures to protect facilities from future storms and have made provisions to restore operations after storms
Prioritize protection of local fuel supply along evacuation routes during climate-related disasters
Preserve the dynamic nature of beaches and barriers in future management of natural systems
Support municipalities in developing urban tree inventories and implementing urban forest master plans to mitigate increased urban heat
Support the passage of the 2018 Green Economy and Clean Water Bond, which contains $20.5 million for climate resilience-focused investments in the state
Expand K-12 education on environmental literacy
Develop preparedness and resilience guidelines and best practices for emergency services
Complete in-depth vulnerability assessments and three-dimensional visualizations of storm impacts for Rhode Island's critical facilities under any storm conditions
More information on the climate resiliency strategy may be found at http://climatechange.ri.gov/resiliency/.
The report was released just before R.I. Attorney General Peter F. Kilmartin filed a lawsuit against 21 of the largest fossil fuel companies in the world for their role in and effect on climate change.
On Tuesday, Sen. Sheldon Whitehouse, D-R.I., encouraged local governments and organizations to apply for funding from the National Coastal Resilience Fund that will be co-manged by the National Fish and Wildlife Foundation, and the National Oceanic and Atmospheric Administration.
In its inaugural year, the fund will invest up to $30 million in the restoration or expansion of natural features such as marshes and wetlands, dunes and beaches, oyster and coral reefs, forests, rivers and barrier islands that can lessen the effects of storms and other natural events on nearby communities. Nonprofit and for-profit organizations, universities, tribes, and local and state governments are eligible to apply.
Whitehouse also said that $500,000 from the National Coastal Resilience Fund will support regional ocean planning and data portals.
"[Sen John N.] Kennedy [R—La.] and I designed this fund to help those living and working along the coast to address the challenges they face as the consequences of climate change come ashore," said Whitehouse in a statement. "I'm excited to see the innovative projects submitted for consideration by Rhode Island universities, nonprofits and local governments to protect our coastal economy and way of life from floods, storms and rising seas."
Proposals for the fund are due August 7.
Chris Bergenheim is the PBN web editor.