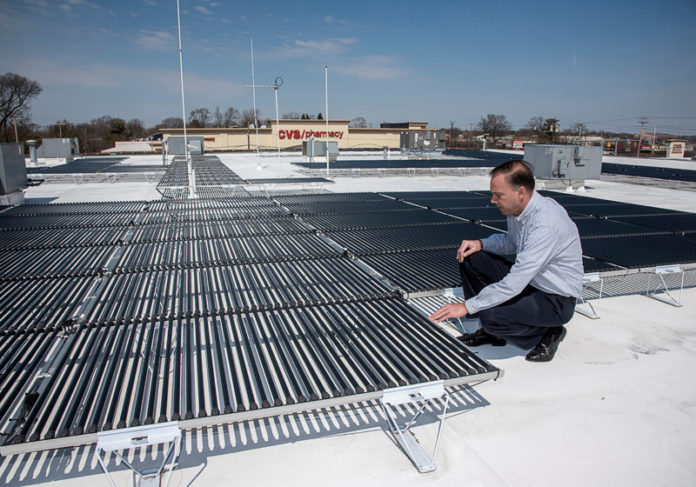 PROVIDENCE – The R.I. General Assembly on Wednesday passed legislation to expand a state program that encourages new installation of renewable-energy projects.
The legislation – if approved by Gov. Gina M. Raimondo – would add 400 megawatts of renewable-energy capacity to the the state's existing Renewable Energy Growth Program during the decade beginning in 2020.
"The Renewable Energy Growth Program is supporting new clean-energy investments and creating local jobs, including more than 180 residential solar projects located throughout Rhode Island," said Sen. William J. Conley Jr., D-East Providence, who sponsored the bill in the state Senate.
The program allows qualifying distributed generators – such as households or businesses with solar arrays – to sell excess electricity generation to National Grid PLC through long-term fixed-price contracts.
National Grid, the state's largest utility, is required to enter into such agreements with a certain amount of renewable-energy generators each year.
The legislation, sponsored by Rep. Deborah Ruggiero, D-Jamestown, in the R.I. House, would allow for the addition of up to 40 megawatts each year beginning in 2020. The legislation would last through 2029.
The long-term fixed-price contracts are designed to incentivize businesses and homeowners to make the upfront investment for renewable-energy projects because there's a built-in return through National Grid.
There are also other state programs that qualifying generators can apply for to help bring down the total cost of installing renewable-energy projects, such as the Renewable Energy Fund. The ratepayer-backed fund grants money to businesses and homeowners to pay toward commercial- and small-scale renewable-energy projects.
Thirty-eight solar projects were installed through REG since its launch in 2014, according to Ruggiero, who said any effort to diversify the state's energy portfolio will ultimately help the state and its environment.
"Right now, Rhode Island gets 95 percent of its energy from natural gas," Ruggiero said. "The REG program helps the state diversify its renewable-energy resources to meet our long-term energy needs, while also helping to reduce greenhouse gas emissions."
The legislation now goes to Raimondo for final consideration.
Eli Sherman is a PBN staff writer. Email him at Sherman@PBN.com, or follow him on Twitter @Eli_Sherman.