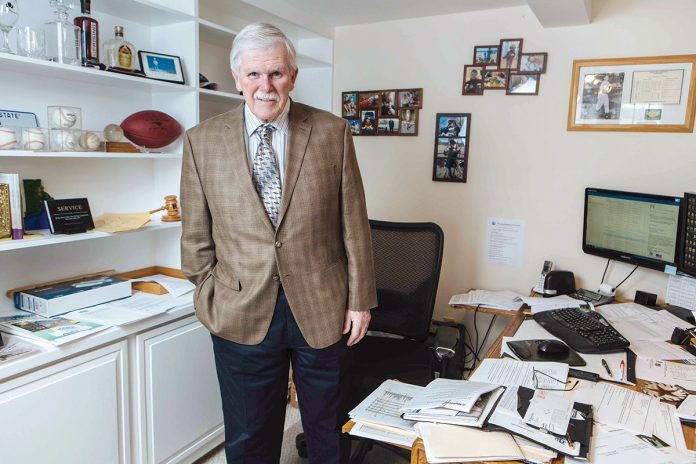 Dave Chenevert, Rhode Island Manufacturers Association
Manufacturing Champion | 2019 Manufacturing Awards
---
If there is one thing Dave Chenevert loves as much as solving problems or boosting Rhode Island's manufacturing sector, it's seeing results.
Sometimes, the executive director of the Rhode Island Manufacturers Association is solely responsible for those results; other times, he's part of a collaboration or passes concerns along to others who can solve them faster.
But whether he's leading the charge or coordinating from behind the scenes, Chenevert enjoys improving the industry.
"I was never one to look at a problem and say, 'It's someone else's issue to take care of,' " Chenevert said. "I can immerse myself in it, but [I] am then happy to step aside and let someone else do it."
The former owner of Swissline Precision LLC in Cumberland – which he operated for 31 years – Chenevert is dedicated to manufacturing. Not one to seek recognition, he was surprised that he was nominated for the Manufacturing Champion Award, and that he won.
"I don't look for stuff like this," he said. "I don't need to improve my resume. I am done with that."
What he is not done with is building and maintaining partnerships and collaborations with state legislators, manufacturers and regional leaders.
And others are not shy about singing his praises.
'No one in Rhode Island has dedicated more of their time and effort to help local manufacturers and supporting businesses.'
MELISSA TRAVIS, RIMA board member
"No one in Rhode Island has dedicated more of their time and effort to help local manufacturers and supporting businesses," said Melissa Travis, a member of RIMA's board of directors. "The unique partnerships he established with Gov. [Gina M.] Raimondo's administration and Commerce Secretary [Stefan] Pryor have positioned Rhode Island for unprecedented growth and visibility on a national stage."
Chenevert and RIMA are a regional voice for the industry. The organization speaks on behalf of manufacturers when dealing with lawmakers, and it educates manufacturers about training resources and other matters.
Many students and job seekers are unaware of the opportunities being created as the industry evolves, Chenevert said. Companies, meanwhile, are too busy with day-to-day operations and are often not aware of available workforce programs.
"Our job is to be a conduit," Chenevert said. "A lot of people have told me that they are totally unaware a program exists [until we tell them]. It helps put a smile on your face."
One such program – a hidden gem for busy manufacturers – is the Work Immersion Program implemented by the Governor's Workforce Board. Beyond training, it serves as a way for employers to find talent. The state reimburses companies 50 percent of a participant's salary.
With 80 percent of state manufacturers being small organizations under 100 employees, Chenevert said, the Work Immersion Program is a valuable, affordable approach to hiring. Partner organization We Make RI screens candidates, and companies can see how they mesh with the culture.
Chenevert said RIMA's relationship with the governor's office and the state Department of Labor and Training is strong. The workforce-driven Real Jobs RI is a legislative result of that. "I give them valid points and they take that into consideration," he said. "I am the trusted voice, they try to do it with a logical approach – we 're not there to argue."
In the future, Chenevert plans to work on dismantling barriers between manufacturers, building better alliances, for instance, between makers of jewelry, textiles and tools. He also wants a more-level playing field for those in different manufacturing-business designations.
Chenevert's mind isn't always on business, however.
He enjoys hiking and attending baseball games to see his grandsons – ages 5 and 8 – in action. Chenevert has lived in Cumberland for 55 years and is an active volunteer in its youth sports programs (he helped establish the town's soccer program). He is also a founder of CumberlandFest, the town's popular annual festival.
He has no plans to slow down.
"Sometimes I think my wife convinced the [RIMA] board to let me be executive director so that I am not home too much," he joked. "But it's been fun. … I enjoy utilizing knowledge and helping people."