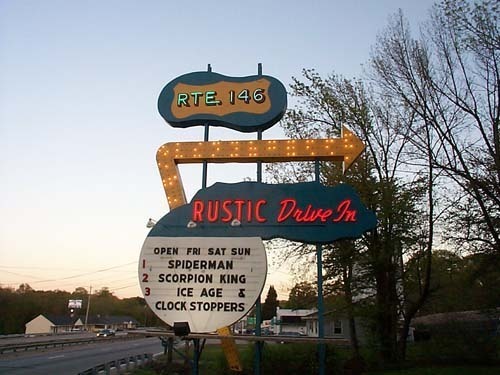 It wasn't so long ago that there were as many as a dozen drive-in movie theaters scattered across Rhode Island, from the Lonsdale Twin Drive-In in Lincoln to the Starlight Drive-In in Middletown.
Today, only one is left: the Rustic Tri-View Drive-In, on Route 146 in North Smithfield, which has been showing movies under the stars since 1951. From April to September, up to 500 cars can drive in and watch double features of new movies for $20 a carload.
When the Rustic first opened, drive-in movies were nearing the peak of their postwar popularity. By the 1970s, though, attendance had fallen, and the drive-in switched to showing X-rated films – to the consternation of North Smithfield officials.
In 1986, the drive-in was purchased by Clement and Beverly Desmarais, a couple who first met at the Rustic as teenagers. They stopped showing adult films and switched back to family fare, and in 1988 they added two more screens.
Last April, the Desmaraises' daughter sold the Rustic for about $1 million to Cambridge-based Boston Culinary Group, a privately owned, food-service management company that had previously helped run the Rustic's concession stand.
Marc Benvenuto, director of Boston Culinary Group's theater division, said the Rustic was a somewhat sentimental purchase for the company's founder and chairman, Joseph O'Donnell. "I just think it was a good fit," he said. "And he didn't want to see the place close – that was a big part of it. There wasn't interest right away [from others] in buying it."
The company's ownership got off to a rocky start last June when an accidental fire broke out in the two-story concrete building that houses the drive-in's concession stand, bathroom and projection booth.
"The good news is, the building wasn't destroyed," Benvenuto said. But the fire caused $75,000 in damage, and the company lost nearly two months of the season. Drive-in attendance was down about 20 percent across the country last summer, but business at the Rustic fell even more, by 25 percent, Benvenuto said.
He thinks some people thought the theater had closed down for good. "It was a strange year, and we definitely hope for a better summer this year," Benvenuto said.
Boston Culinary Group is still in negotiations to buy the 10 acres of property that the Rustic sits on, but Benvenuto emphasized that the company is committed to keeping the drive-in open. O'Donnell is "owning it to own a drive-in," he said. "He's had years in there as a partner. He's attached to these businesses."
There were 4,063 drive-ins in the United States at the industry's height in 1958, according to the United Drive-In Theatre Owners Association, and the open-air cinemas became a beloved piece of Americana.
But the business fell into decline in the 1970s and 1980s. The drive-ins sat on valuable land, and developers bulldozed them to build malls and big-box stores. Long-time owners retired, first-run movies became harder to obtain, and new competition for audiences came from cable TV, VCRs and multiplex cinemas.
The number of drive-in screens in the U.S. has fallen from 3,054 in 1980 to 636 today. Benvenuto credits the Rustic's survival to the dedication of its owners, steady maintenance, and the decision to show new movies.
A night at the Rustic Drive-In is a bit like a cinematic tailgate party. People bring lawn chairs, often arriving hours before the screening to picnic or toss footballs. "On a beautiful Saturday night in the summer, there really is no better place to enjoy your evening," Benvenuto said.
Boston Culinary Group owns and operates a total of 21 theaters, including three others in Rhode Island, but the Rustic is the company's only drive-in – and although the theater has lasted for nearly six decades, the business is not an easy one. "It's tough – it's seasonal," Benvenuto said.
For one thing, drive-ins are at the mercy of the weather – a rainy Saturday night or two can take a major bite out of the theater's profits. The freedom offered by the outdoors can also lead to problems with rambunctious teenagers.
"We've got to be on our game," Benvenuto said. "We have to walk the parking lots a lot." But, he added, "we have a lot of repeat business there, a lot of regulars who sort of set the tone for how to behave."
A perennial complaint about the Rustic is the condition of the pavement. Although the company is looking into it, Benvenuto said the asphalt is harder to repair than it may seem. "It's very tricky to resurface the property – there's a lot to it," he said. "It's not just a money issue. It has to do with the way certain hills are, the way the cars get parked."
Benvenuto plans to keep the Rustic's per-carload admission at $20 this summer, and the theater also will continue a discount-night promotion begun last year, where the cost is reduced to $15 on Mondays and Tuesdays.
Indeed, in a sour economy, Benvenuto thinks economics may work to drive-ins' benefit. "It remains a bargain," he said, because the cost for a carload to see a double-feature at the Rustic is about as much as one person would pay to see the two movies at a regular theatre.
The company has new ideas, as well. Last year Benvenuto planned a festival of Quentin Tarantino films – though it had to be canceled because of inclement weather – and he wants to partner with local companies and radio stations.
In the end, though, Benvenuto said the best long-term hope for the Rustic is the loyalty of its audience. "I was amazed to see how many people regularly go," he said. "They put their coolers out and their sheets and they enjoy themselves. It's an experience." •

Want to share this story? Click Here to purchase a link that allows anyone to read it on any device whether or not they are a subscriber.