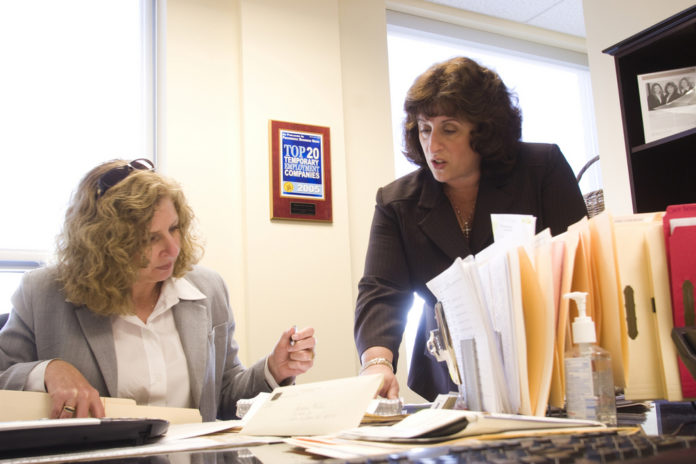 Liliana Dolan, president and founder of Temporarily Yours Inc., started the Warwick-based staffing company almost 10 years ago mostly because of her family, she says.
She wanted to provide the best life she could offer her children. And having been a paralegal for nearly 35 years, she recognized law offices' need for qualified employees. She thought that was something she could provide.
Dolan is, in many ways, not unlike the women entrepreneurs outlined in a recent study by the U.S. Small Business Administration Office of Advocacy, "Are Male and Female Entrepreneurs Really That Different?"
The study aims to identify reasons why women-owned firms lag male-owned firms in factors such as annual sales and employment growth by controlling for factors such as motivation for starting a business and expectations once it is started.
Doing so resulted in an important finding: that when those factors are discounted, gender does not affect new venture performance.
But the study found that gender did have an impact on the motivation that men and women had to start businesses.
The study revealed that women tend to be motivated more often by flexibility for personal and family life, while men tend to be more motivated by the desire to make money.
It is difficult to determine whether Dolan's motivations created a less successful business than similar ventures started by men. Dolan started her company with $50 and has grown it into a $500,000 business. She considers it a successful enterprise.
In addition, one of Dolan's employees recently won a coveted award from the Rhode Island Staffing Services Association (READ MORE), even though she was competing with the largest national staffing companies with offices in the state.
Danny Warshay, an adjunct professor of entrepreneurial studies at Brown University who has started and managed successful startup ventures and worked with several female entrepreneurs, said he does not detect any differences in performance between male-owned and female-owned firms.
If there is a difference, Warshay said, "I'm sure it has much more to do with the biases of our society in general and the fact that it's taken a while for women to get into the work force."
Women traditionally have lacked access to capital, access to markets, access to business experience, to role models and access to professional networks that could support them in their businesses, said Carol Malysz, director of the Center for Women & Enterprise in Providence.
As that access improves, women are becoming more business savvy. And as women become more business savvy, they realize that they don't have to feel guilty about outsourcing some of their family roles such as child care and elder care, Malysz said. Therefore, the live-work balance might become less of a motivator for women.
Dolan said she was lucky to have a husband who could share the responsibility of taking care of their children and supporting her while she started Temporarily Yours.
"In any successful business you have to have a good foundation … a good family foundation where everybody's pitching in for the same goal," she said.
An equally important motivator that Malysz finds in women who attend CWE workshops is "their desire to really grow and enhance their professional capabilities. If you talk to many women they feel that in a traditional environment they may not be able to reach the levels of achievement they would like to."
That propels them to start their own venture so that they might realize their potential, Malysz said.
Dolan had a similar experience. She said she didn't feel appreciated in some of the law offices she worked for, though her job was highly stressful.
Unlike the study's findings, which suggest that women tend to be less likely than men to have been in supervisory positions prior to starting a business, Dolan was an office manager at the last law firm she worked for before staring her business.
But true to the study, which says women are more likely to start businesses in the retail and service industries, Dolan's company falls in the services category. And she is not alone.
"In Rhode Island 69 percent of my clients are in the service industry and 14 percent are in retail," Malysz said. "The rest are in wholesale, manufacturing and construction."
The study also suggests that women entrepreneurs are more likely than men to have larger households. Women are less likely to purchase an existing business and are more likely to prefer low-risk/low-return businesses.
Asked what she thinks about why women tend to be less likely risk-takers, Malysz said it could be due to a lack of business experience.
"I think taking risk is a skill like any other skill," she said. "You learn how to take it. … That's where role models are so important, to watch other women who many have taken risk and find out how they did it."
Dolan attributes much of her success to building relationships with lawyers and accountants who helped her make important business decisions. But Malysz said that isn't something most women know to do because they haven't been exposed to those networks the way most men have.
Though the network helped, Dolan said, it didn't guarantee an easy path.
Her main challenge as a female business owner was dealing with the male clients in her industry, she said, because she felt she had to prove herself to them more so than with her female clients.
Dolan said her male clients often tried to negotiate a lower price for the staff she was providing. And it took her a long time to learn how to negotiate and feel confident in doing so.
"Being a woman you really have to prove yourself," she said. "Prove you've got the power behind the punch." •