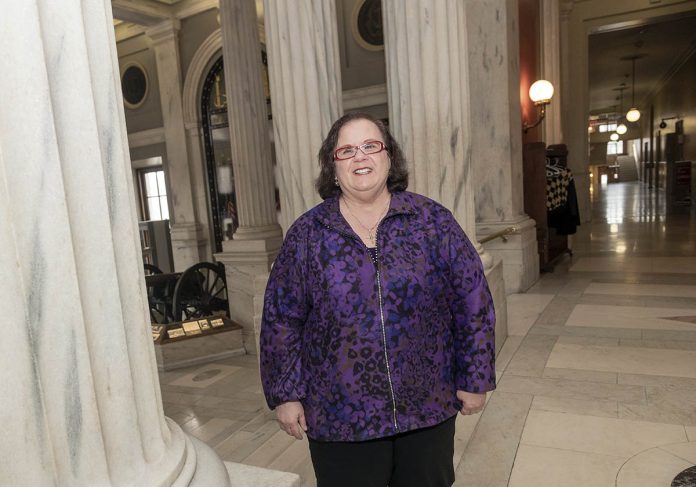 A proposal to allow Rhode Island pharmacists to prescribe birth control is intended to increase access to contraceptives by eliminating the need for a doctor's visit, says Rep. Camille F.J. Vella-Wilkinson, D-Warwick, the bill's sponsor.
"It's something that's very supportive of women's reproductive health care," she said, adding that according to the federal Centers for Disease Control and Prevention, many pregnancies are unintended. "It's typically because you didn't have birth control ­available."
Introduced in February, House Bill H5549 requires training for pharmacists who prescribe birth control, and stipulates that in most cases, women must be at least 18 years old.
Patients must also agree to a risk assessment or self-screening survey.
Prescription consultations would not include a fee, although Vella-Wilkinson said she was asked about whether to require one as part of the bill.
"I did not include one, because for me the idea is, I want to make the access easier," she said.
In late March, the House Committee on Health, Education and Welfare recommended that the measure be held for further study. Since then, Vella-Wilkinson has worked with representatives from Blue Cross & Blue Shield of Rhode Island to try to get the company's support.
Blue Cross spokesperson Jill Flaxington stopped short of endorsing the legislation when contacted by Providence Business News.
"[Blue Cross] is interested in proposals that support improved access to care, however our [hearing] testimony did share concerns regarding any legislation that impacts the patient/provider relationship. [Blue Cross] strongly supports the role of the primary care provider in patient care," she said.
Vella-Wilkinson said she expects the bill to become law.
"I've had quite a number of representatives come to me and say they liked the bill," she said. "I'm not anticipating any type of opposition."
'We will start to see a marked decline in … abortions in 18- to 25-year-olds.'
REP. CAMILLE F.J. VELLA-WILKINSON, D-Warwick
Despite Rhode Island's reputation as a largely Catholic state, Vella-Wilkinson, a Catholic herself, said she has heard little opposition on religious grounds.
"I did have someone who is a part of the right-to-life movement say to me, 'What do you think the consequences of this will be?' " she said. "I believe that the unintended benefit of the bill is that we will start to see a marked decline in the number of abortions in 18- to 25-year-olds."
Boosting access to birth control by bypassing a doctor's office could pose some logistical issues, though, according to one pharmacist.
Obtaining a birth-control prescription may not be as easy as walking into a pharmacy and having a conversation, particularly if a woman has not been a customer there.
Many pharmacies have collaborative practice agreements with doctors that allow them to offer expanded services, but inaccessible records or too many unknowns could prevent a prescription from being written.
"A lot of it hinges on whether or not you have access to a patient's medical history, and whether they're one of your own clients," said Cheryl Stoukides, pharmacist in charge at Simpson's Pharmacy in Pawtucket.
Pharmacists would need to know if a woman smokes, what prescription drugs she is taking and other risk factors, such as medical conditions and allergies.
And, contraceptive sales aren't particularly profitable for pharmacies, which could mean that time-consuming consultations would be a deterrent for some.
"You're talking a 5-minute visit if she comes in with a physician prescription to a 15- to 20-minute interaction, potentially," Stoukides said.
If Rhode Island joins Washington, D.C., and 10 other states that allow pharmacists to prescribe birth control, the new law won't force participation by businesses or pharmacists whose beliefs may oppose contraception, Vella-Wilkinson said.
"It's a 'may,' it's not a 'shall,' " she said.
Rhode Island-based pharmacy chain CVS Health Corp. allows pharmacists to prescribe contraceptives in about 200 locations in California, and in Washington, Oregon and Hawaii, where state law allows.
"In certain states where permitted, pharmacists can already prescribe and dispense hormonal contraceptives following a multistep process to assure patient safety and appropriateness for treatment," CVS spokesman Joe Goode said. "With pharmacies being the most frequent and accessible touchpoint in health care, we believe the legislation introduced by Rep. Wilkinson in Rhode Island is a step in the right direction and takes a similar approach to what we have seen successfully implemented in other states."
A move toward offering another service at pharmacies, which are already serving as unofficial health clinics of sorts, where people can check their blood pressure or get a flu shot, makes sense for both consumers and businesses, Vella-Wilkinson said.
"I think Rhode Island would be joining the trend," she said.
If the bill passes, it could be followed by other legislation aimed at supporting women's health needs, she added.
Elizabeth Graham is a PBN staff writer. Contact her at Graham@PBN.com.