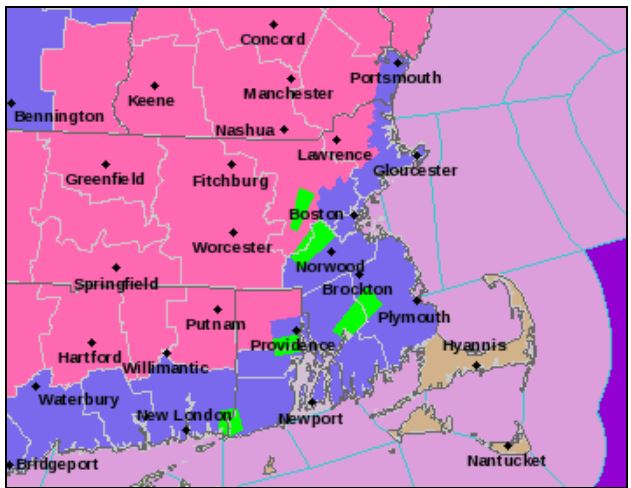 PROVIDENCE – The Thursday evening commute is expected to be affected by snowfall of 1 to 2 inches per hour, which will accumulate 2 to 6 inches in most of Rhode Island, according to the National Weather Service.
Travel is expected to be impacted, especially away from the immediate coast in the latter half of the evening commute. The Winter Weather Advisory goes into effect at 4 p.m. and will remain into effect until 1 a.m. Friday. The area includes Southeast Providence County, Kent County, Bristol County, Washington County and Newport County, as well as Bristol County, Mass.
Winds in the area are expected to gust up to 35 miles per hour.
The Northwest portion of the state – specifically Northeast Providence County, including Foster and Smithfield, is expected to get even more snow, with expected accumulations of 4 to 7 inches. Ice accumulations of a light glaze were also expected, making travel conditions "very hazardous or impossible." The storm is also expected to bring freezing rain, sleet and, eventually, rain late Thursday evening.
A Winter Storm Warning is in effect starting 4 p.m. until 7 a.m. Friday for that part of the state. Snowfall is expected to fall at a rate of 1-2 inches per hour.
Flood warnings remain in effect for the Pawtuxet River at Cranston, the Pawcatuck River at Westerly and the Taunton River near Bridgewater, Mass.
Chris Bergenheim is the PBN web editor. Email him at Bergenheim@PBN.com.