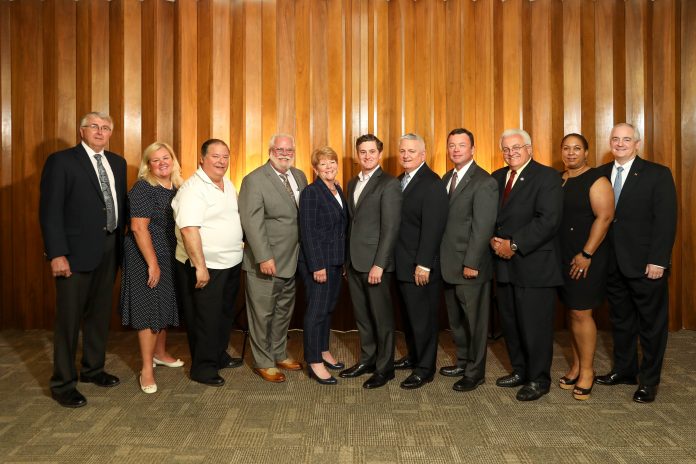 PROVIDENCE – The boards of directors of the SouthCoast Chamber of Commerce in New Bedford and the Bristol County Chamber of Commerce in Fall River have separately voted to merge into a yet unnamed entity, the chambers announced Thursday.
The chambers of commerce comprise the fifth- and sixth-largest chambers of commerce included in PBN's 2019 Book of Lists.
The SouthCoast Chamber of Commerce was founded in 1885 and has 960 members as of January 2019. The Chamber had seven paid staff.
Bristol County Chamber of Commerce, founded in 1911, has 800 members as of January and five paid staff.
While the chambers will maintain two offices as they work to build an inclusive governance model and seek potential efficiencies, the integration will not affect staffing, the chambers said.
Kim Perry, chair of the SouthCoast Chamber board, said, "This integration has always been about impacts, not efficiencies. While we knew that efficiencies would emerge, the staff and leadership of each organization are its most important assets. Each organization has a long and storied history supporting the communities each serves, and in building this new model, we needed staff and volunteer leadership to know that their continued service was necessary to the organization's success. All companies represented on the board will continue that service."
The combined Chamber will be a nonprofit corporate entity. The joining is expected to occur Jan. 1, 2020.
The combined Chamber will have a co-CEO model, retaining both current chamber CEOs, retaining Michael O'Sullivan, the current CEO of the Bristol County Chamber, and Rick Kidder, the current CEO of the SouthCoast Chamber.
The combined entity will be the largest chamber of commerce in the Providence-Warwick-Fall River metropolitan area.
"These two healthy organizations, once combined, will present new and exciting opportunities for our business members that only scale can provide," said Brian LeComte, chair of the Bristol County Chamber board. "Whether it is a single, unified voice on Beacon Hill and in Washington or small-business opportunities for growth through larger and more-targeted programs for business growth, this new Chamber will build on the successes of the past and reach for new heights in supporting our region's business base."
Chris Bergenheim is the PBN web editor. You may reach him at Bergenheim@PBN.com.