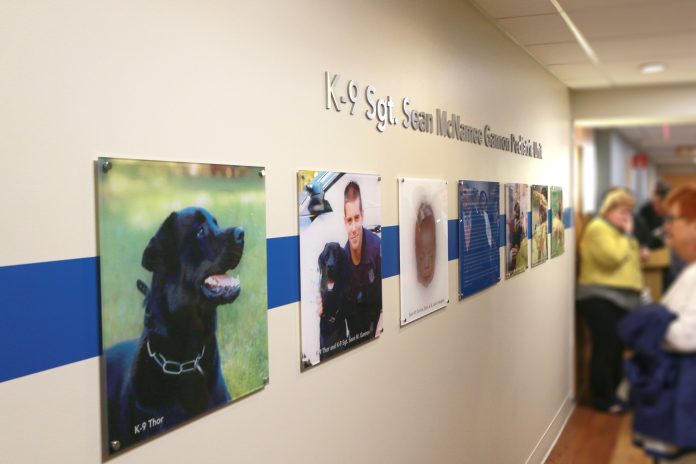 NEW BEDFORD – Southcoast Health has renamed its inpatient pediatric unit at St. Luke's Hospital, dubbing it the K-9 Sgt. Sean McNamee Gannon Pediatric Unit, to honor the life and contributions of the officer who lost his life on April 12 while serving an arrest warrant.
The dedication took place in a private ceremony Sept. 18.
A member of the K-9 unit of the Yarmouth Police Department, Gannon was shot and killed in the line of duty. His dog, Nero, was also shot but survived his injuries.
"The tragic loss of K-9 Officer Sgt. Sean M. Gannon was deeply personal for many of us here at Southcoast," said Keith A. Hovan, president and CEO of Southcoast Health. "Both of Sean's parents – Denise Morency and Patrick Gannon – are well-known and respected employees here, and Sean, his brother Tim and sister Martha were born right here at St. Luke's. Learning of Sean's passing and this terrible tragedy was devastating to all of us who know and work alongside the Gannons. We all share their profound sadness."
The idea to dedicate the pediatric unit was presented by Hovan to the Southcoast Health board of trustees and was unanimously supported.
"Many of us on the board have worked closely with Pat over the years," said Jason Rua, board chair.
Patrick and Denise Gannon work at Southcoast Health as chief quality officer and emergency department patient ambassador, respectively, at St. Luke's Hospital.
"We have come to know Pat and Denise quite well and are thankful for the tremendous work and many years of dedicated service," Rua said.
"As a board, we fully and wholeheartedly supported Keith's recommendation to rename our inpatient pediatric unit in Sean's memory. We are proud to be able to honor his legacy in this way, but moreover we are appreciative of the contributions Sean has made to the welfare of the community."
During the dedication, Hovan and Gannon's family unveiled a 17-foot-long installation that includes the name of the unit, photographs depicting Gannon's life and an inscription. In part, the inscription reads: "K-9 Sgt. Sean M. Gannon leaves a legacy of virtue, valor and kindness throughout his public service. He inspires us all, through his example, to be our best selves on behalf of others. His legacy lives on through every good deed done and kind gesture provided, making a positive difference in our community."
"We cannot bring back Sean's infectious humor, his integrity, and the inspiration he provided to young people through his work in law enforcement and his volunteerism with the Big Brother Big Sister organization," Hovan said. "But Sgt. Gannon's spirit and his commitment to service will be honored every day in the work of the Southcoast pediatricians, nurses and other caregivers of this unit who share his commitment to serve others. His memory will live on in all of us."
Rob Borkowski is a PBN staff writer. Email him at Borkowski@PBN.com.