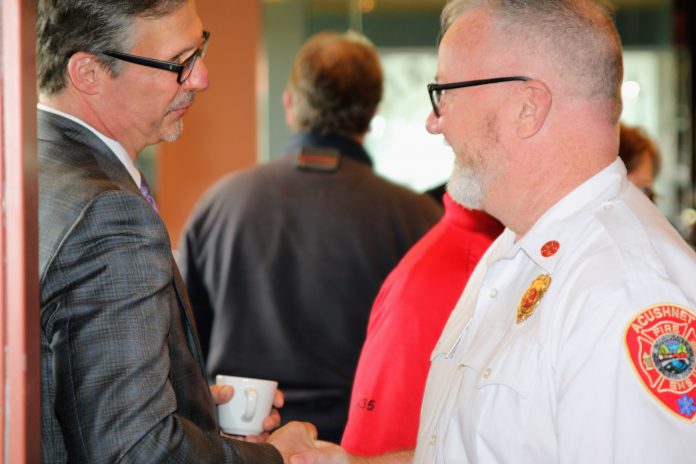 NEW BEDFORD – Southcoast Health says it plans to establish a Level II trauma center at St. Luke's Hospital in New Bedford.
The announcement, made this week by Southcoast CEO Keith Hovan, at Southcoast's annual EMS provider breakfast, marks the beginning of a lengthy certification process.
In order to earn accreditation as a Level II trauma center, the hospital must send data from trauma patients to the National Trauma Data Bank and Massachusetts Department of Health, a process that's expected to take up to two years. Final verification and approval must come from the American College of Surgeons and the state department of health.
Southcoast has recruited Dr. Michael Grossman of New York to lead the effort as its new chief of trauma surgery.
"Dr. Grossman is a skilled and experienced trauma surgeon and leader, having established two trauma centers, one in New York and one in Pennsylvania," Dr. Rayford Kruger, Southcoast's chief of surgery, said in a statement. "Building an expert team will be crucial to the formation of a well-designed trauma program that meets the needs of our patients."
Newly hired nurse manager Stephanie Raby will help Grossman begin to build a trauma team, Southcoast spokeswoman Maureen Boyle said.
With the same clinical capabilities of a Level I trauma center, a Level II center will allow St. Luke's to treat any type of trauma patient. Currently, severe trauma cases are stabilized at St. Luke's and transferred to the Level I trauma center at Rhode Island Hospital in Providence or to Boston, or taken directly there by ambulance, Boyle said.
"We all know how important every minute – every second – counts when someone is badly injured. No one is more acutely aware of this than our region's EMS providers," Hovan said. "The development of a Level II trauma center at St. Luke's will continue our mission of providing world class care close to home for our patients and communities here in Southeastern Massachusetts and Rhode Island."
Elizabeth Graham is a PBN staff writer. Email her at Graham@PBN.com.