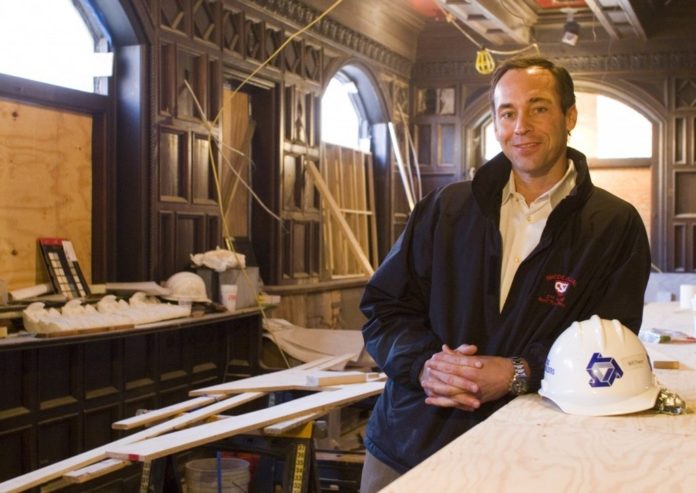 At TRAC Builders Inc., experience comes with the job. The Johnston-based general contractor and construction manager, in its 12th year of operations, shuns the idea of specializing in one type of construction. Instead, according to company CEO William Tracey, TRAC has worked to develop its portfolio in different markets, including institutional and retail, and both new construction and historic restoration.
Whether it's renovating the Central Falls High School cafeteria, turning a 30,000-square-foot supermarket into the 200,000-square-foot Middletown Plaza, or building a colorful store for the Red Boutique at Providence Place, the firm likes to have a diverse range of clients.
And for all, Tracey said, TRAC works to provide superior quality on time and within budget.
Currently, the company is in the midst of a particularly high-profile project: AS220's Dreyfus Hotel at the intersection of Washington and Mathewson streets in downtown Providence.
TRAC is the general contractor for the $4 million historic restoration project, which will turn the one-time hotel – and most recently college dorm – into affordable live-work spaces for artists. That project is slated to be mostly completed by the end of March in order to meet the requirements of the state's historic preservation tax credit program.
But while the Dreyfus Hotel has been one of TRAC's most prominent jobs, Tracey said that he doesn't want his company to be known just for that project or for historic restoration work.
In fact, the company's portfolio includes a mix of renovations and new construction work for a slew of different clients. That list includes the federal General Services Administration, Rhode Island Housing's corporate office in Providence, the Newport Hotel Group and Bank Rhode Island, a client that has used TRAC as a general contractor on a regular basis.
For TRAC, the idea is to find clients that fit into the company's work, Tracey said. Typically, those clients are institutions with projects ranging from $500,000 to $10 million in construction costs.
TRAC isn't looking for anything too large or too small, he said, and especially any project that has unrealistic milestones.
"It doesn't really matter to us what the type of work is," Tracey said. "More so, it's the type of client. We've been successful in making sure that we get the right fit."
The experience that TRAC brings from its array of projects is one of the company's strongest selling points, Tracey said. But the general contractor also lends another experience to all of its work – its time spent as a subcontractor.
Opening in 1995, TRAC started out taking jobs doing roofing, windows, hazardous materials removal, demolition or, as Tracey put it, "basically, whatever we could get."
But having graduated from Roger Williams University with a B.S. in construction management, Tracey had always sought to take on general contracting and construction management duties. Around 1999, the company transitioned into that work.
The company's experience as a subcontractor was important, Tracey said. In his experience, he has found that general contractors can be tough on subcontractors, in terms of project guidelines and in how they pay for the work. Drawing on his experience, Tracey said, he has tried to make sure TRAC treats its subcontractors in a fair manner.
"Having been a sub, I learned how I didn't want to be treated," he said. "That was pretty invaluable. We've been able to forge very, very good relationships with subcontractors, I believe, on that basis."
The next year could be busy for TRAC. The company is eyeing a new site for its headquarters and, projecting a 20-percent revenue increase in 2007, it is also looking to hire more project management support and expand the firm's current marketing base, Tracey said.
Tracey and two of his employees have also recently received training for the U.S. Green Building Council's Leadership in Energy and Environmental Design (LEED) program. Green building is a market in which Tracey said he would like the company to carve a niche.
Given TRAC's record, staking its place in that area shouldn't be too difficult, he said.
"We just have a lot of different experiences in a lot of different markets," Tracey said.
COMPANY PROFILE: TRAC Builders Inc.
Business type: General contractor and construction manager
Owner: William Tracey
Location: 1715 Plainfield Pike, Johnston
Employees: 24
Annual revenue: $7 million