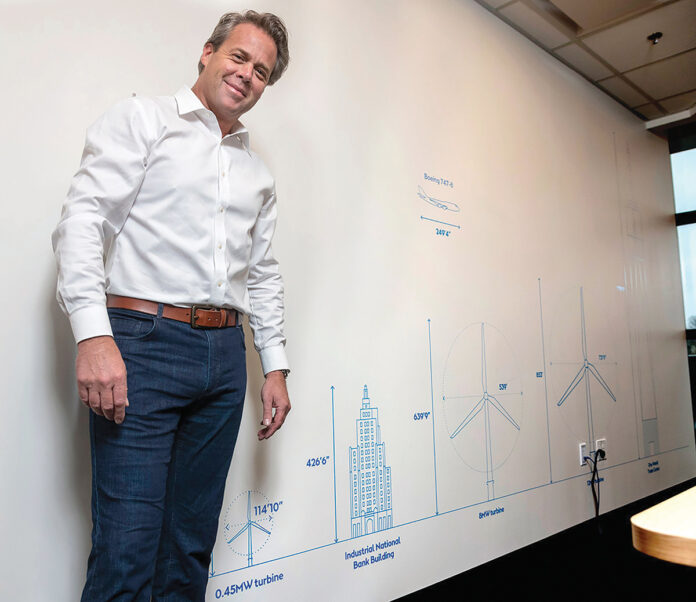 ENERGY/ENVIRONMENT
---
Change usually happens slowly, especially when government gets involved.
But in the last five years, the nascent renewable energy sector has exploded in the United States, with many considering Rhode Island at the forefront.
The Ocean State staked its claim as a pioneer with the Block Island Wind Farm from Deepwater Wind LLC. The five turbines began spinning in December 2016, earning national acclaim – including a tweet from then-president Barack Obama – as the nation's first offshore wind farm.
That was just the start. The race to develop renewable energy alternatives has since kicked into high gear, spurred by the promise of economic opportunity, the dire consequences of climate change and political will.
While the actual turbines have yet to go up, the federal agency in charge of carving up federal waters has signed 16 project leases as of August 2020, each for a massive array of dozens of turbines. Some projects would have 20 times the output of the Block Island ­turbines.
State officials insist Rhode Island is still leading the way, with Orsted A/S playing a role in many of these projects, including the Revolution Wind Farm, which will also provide power to Rhode Island.
Yet the lofty economic transformation promised when these projects were first being proposed has yet to materialize, in part, according to some, because of the unknown nature of this industry.
"Part of the problem of building a workforce for wind energy is that there's not a lot of context for what this workforce would look like," Nina Pande, executive director of the job-training nonprofit Skills for Rhode Island's Future, told PBN in an August 2021 story. "People don't know much about what this work entails because it's a new job type."
But pressure is mounting, in part because of the increasingly ambitious decarbonization goals adopted by the state. In June 2016, the state aimed to generate 38.5% of its energy from renewable sources by 2035, a major increase over the 3% target it began with in 2007.
Lawmakers have continued to up the ante, with former Gov. Gina M. Raimondo in January 2020 setting a goal to have 100% of the state's electricity come from renewable sources by 2030.
The 2021 General Assembly went even further, updating the state's decarbonization goals to reach net-zero emissions by 2050.
The rapidly changing targets drew concern from some in the business community who feared additional costs, even though many of these same business owners have historically been burned by rate hikes on natural gas and electricity.
Most significant was National Grid Rhode Island's winter rate hike in 2017, which increased bills for small-business customers by 30%, prompting a wave of backlash.
Natural gas is not always reliable either, as customers on Aquidneck Island learned firsthand during a weeklong winter gas outage in 2018 caused by high demand and equipment and programming failures.
Indeed, catastrophe in some shape or form has also spurred many more environmentally focused policies and protections.
Take coastal flooding, which after years of the R.I. Coastal Resources Management Council's alarm bells going unheard, has begun to take hold amid increasingly severe and frequent flood damage.
"Most people don't believe in preparedness until they get burned," Peter Gaynor, director of the R.I. Emergency Management Agency, said in 2018.
After losing a combined $8 million due to flood damage from events in 2005 and 2010, the leaders of international manufacturer Hope Global applied for and received $1.5 million in federal funding to protect its Cumberland factory along the Blackstone River against floods.
Meanwhile, the toll of 2010 floods in Warwick prompted the city to take measures such as buying vulnerable coastal property and converting it to protected land, PBN reported in 2018.
By 2019, even the capital city had started to wake up, with a coalition of property owners, community groups, environmentalists and government officials known as the Providence Resilience Partnership leading efforts to better understand and address flooding, not only from the Providence and Woonasquatucket rivers but also less-obvious causes such as poor stormwater drainage systems.
Environmentalists have largely embraced and led many of these efforts. Yet certain types of projects have also put green advocates in the opposition camp.
Among them are the increasing number of commercial-scale solar arrays, which developers built upon open farms and forestland, cutting down trees and disrupting wildlife from their native ­environments.
The state has started several incentive programs to encourage solar arrays elsewhere: parking lots, gravel pits and rooftops. Yet the pilot programs are still new and have not seen much activity.
Also a source of contention within the environmental community are some of the proposed offshore wind farms. The South Fork Wind Farm slated for nearby federal waters was particularly controversial because the turbines are to be built in a unique area of biodiversity known as Cox Ledge.
Fishermen, too, decry offshore wind farms, fearing the noise and presence of the massive turbines would disrupt the species on which their livelihoods – and a significant portion of the regional economy – depend.
These tensions will continue to play out as the state forges ahead with its economic and environmental goals.