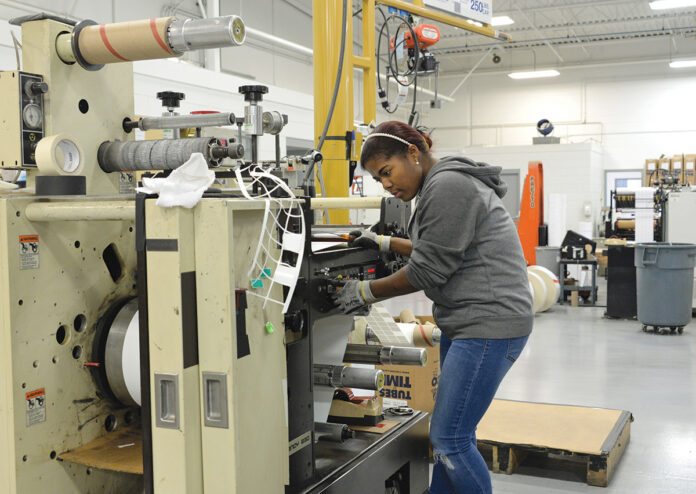 PBN Manufacturing Awards 2022
OVERALL EXCELLENCE AT A LARGE MANUFACTURER:
AstroNova Inc.
---
AstroNova Inc. is bouncing back from the effects of the COVID-19 pandemic and launched several new initiatives that have contributed to an overall improvement in operations, according to company executives.
Those initiatives include hiring a new director of quality and continuous improvement, and implementing new safety measures.
The West Warwick-based company, which designs, manufactures, distributes and services data visualization technologies, is also applying lessons it learned during the pandemic.
"The COVID time has been very difficult," said Steve Petrarca, AstroNova's vice president of operations.
"We did a lot to make our employees comfortable and safe. We were short-staffed, had people out sick with COVID, we had people quarantined," he said. "Thankfully, we have many cross-trained employees and were continually able to fill the gaps when people were out."
Despite supply chain snags, Petrarca said that the employees in charge of keeping AstroNova supplied displayed "world-class" abilities to find parts to "keep us going."
"Our buyers found things that I never thought we could find when certain things were not available. It kept our products rolling out the door," Petrarca said.
Having an in-house engineering department turned out to be a distinct advantage, according to Petrarca, who said that it allowed the company to quickly find accurate alternate sources. "Other companies that do not have this resource would not be able to find alternate components," Petrarca said.
The concept of "continuous improvement" is crucial too.
"We have planned events," Petrarca said. "We bring in people from throughout the company to look at a manufacturing line of products and how we go about doing it. We discuss if there are better ways to improve quality."
Starting out as a company that produced data acquisition recorders for commercial and government customers, including NASA, AstroNova created products, such as the first end-user thermal array recorder and the first digital inkjet tabletop color label printer.
AstroNova's test and measurement, aerospace and product identification brands – QuickLabel and TrojanLabel – serve data acquisition, avionics, packaging identification and specialty printer industries.
The company says its core business philosophy is based on product innovation, technical excellence and customer service. AstroNova prides itself as a global leader in flight-deck avionics and counts numerous major airlines among its customers.
According to Tom Carll, general manager and vice president of AstroNova's aerospace group, activity in the company's repair station has continued to increase with the rebound in air passenger traffic.
"We are [a Federal Aviation Administration]-certified repair station. In order to repair any product that is installed on an aircraft, you have to have FAA certification," Carll said.
AstroNova has had an FAA certification for more than a decade. "This year the major improvements we made were including ­value-streamed mapping to focus on making that more efficient," Carll said.
For example, redundancies in printer testing in the repair station were removed. While the testing for production printers made sense, it was found not to be essential for repaired printers.
"The time saved with the reduction of redundant testing was significant and allowed us to streamline operations," said Carll, who pointed out that AstroNova spends a lot of time cross-training and getting the new hires up to speed on repairs and procedures.
The company has repair station partners in Asia and Europe. At the height of the pandemic, it was not possible to train personnel at remote locations in person. As a result, AstroNova set up remote videoconferencing calls with its technicians sitting in front of a printer, with its partners' technicians on the other side of the world sitting in front of a printer.
"You can perform remote training from thousands of miles away," said Carll, who noted that during the coronavirus crisis, the company's repair station in West Warwick was certified by the Chinese aviation authorities, which was not easy given the time zone and language differences.
"We needed to get certified by the Chinese," he said. "The remote aspect was a big step for us."