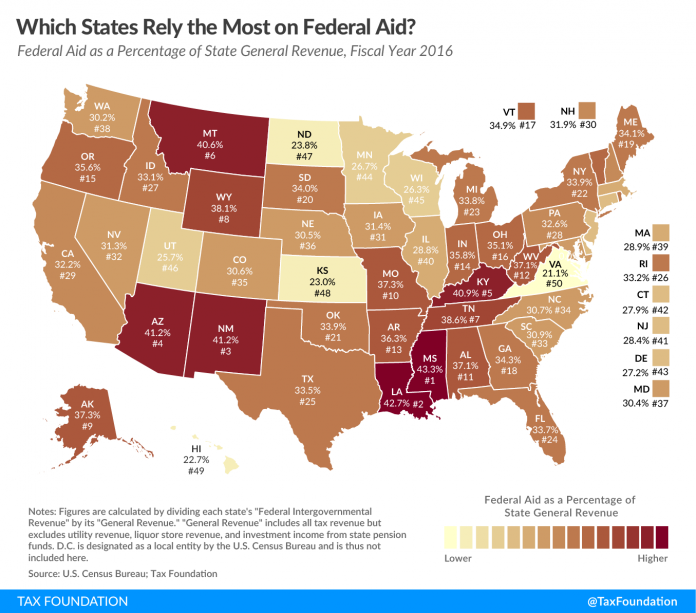 PROVIDENCE – Rhode Island was the No. 26 most reliant state on federal funding, according to a new report from the Tax Foundation released Wednesday.
The study ranked states' federal funding as a percentage of total revenue in 2016, with Rhode Island receiving 33.2 percent of its total revenue from the federal government.
In New England, Rhode Island had the third-highest reliance on federal funding ahead of Vermont (No. 17 with 34.9 percent federal funding) and Maine (No. 19 with 34.1 percent federal funding).
Connecticut was the least reliant in the region at No. 42 overall with 27.9 percent of total revenue coming from the federal government, followed by Massachusetts at No. 39 with federal funding constituting 28.9 percent of revenue. New Hampshire was third in the region and No. 30 in the country at 31.9 percent of general revenue coming from the feds.
For 2016, Mississippi ranked No. 1 as most reliant with 43.3 percent of general revenue coming the form of federal dollars, followed by Louisiana at 42.7 percent, New Mexico at 41.2 percent and Arizona at 41.2 percent. The least reliant state in the study was Virginia at 21.1 percent, followed by Hawaii at 22.7 percent and Kansas at 23 percent.
The report said that states that rely heavily on federal grants typically have sizable low-income populations and relatively lower tax revenue.
Chris Bergenheim is the PBN web editor. Email him at Bergenheim@PBN.com.