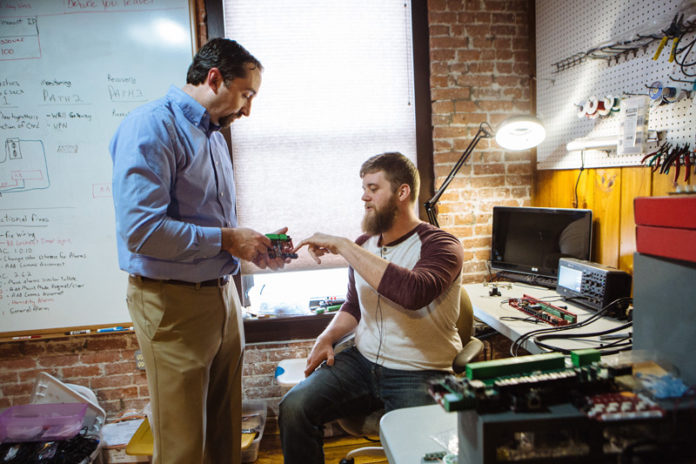 AVTECH Software Inc.'s business philosophy can be summed up in a common expression: Think global, but act local.
The company's environmental monitoring systems can be found in 184 countries in the world. Amazon.com warehouses, United Nations facilities, the Oval Office and even NASA spacecraft now house AVTECH's Room Alert sensors. But all of the devices and the software that supports them are manufactured in the United States, and mostly in New England.
"We moved all our manufacturing to the United States to reduce transportation costs and contribute to the local economy," said Michael Sigourney, AVTECH's founder and CEO. "In some cases it costs us a little bit more, but we feel good about ourselves."
The company, located in Cutler Mill in Warren, also sees a strategic advantage to keeping its manufacturing stateside. Producing sensors in the United States allows AVTECH to better manage logistics and workflow, the company's leaders said.
It's an arrangement that's proven successful. AVTECH's revenue has grown by about 16 percent annually for the past five years.
Part of the reason for the growing demand is that AVTECH offers something its competitors don't – both hardware and software. The company's Room Alert sensors track environmental conditions that include temperature, humidity, power use, smoke and more. Its Device ManageR software and cloud-based services alert users when environmental conditions change, allowing them to take action before disasters occur. For companies storing assets in warehouses, data centers and more, prompt and easy-to-access notifications and monitoring are critical to running a successful business.
"Even a minute of downtime that can be prevented saves quite a bit of money," said Richard Grundy, AVTECH's president. "We're trying to preach that there are ways to prevent these issues from happening in the first place."
Keeping up with demand for its products has meant changing the way the company manufactures them. AVTECH works with Polaris MEP to implement lean-manufacturing standards with a focus on automation. The company now automates the quality testing of its sensors. Whereas employees used to check each device individually for certain standards, they can now use machines to check 10 or 20 at once.
"It's allowed us to really scale our sales without having to scale our fulfillment and assembly teams at a similar scale," Grundy said.
AVTECH now has more than 150,000 users around the world. It's established a network of resellers in Europe, South Africa, Australia and the Middle East, among other locations.
"The need for environmental monitoring is global – for every business, in every climate, on every continent," Grundy said.
And it's an area where AVTECH expects to grow. International exports account for 20 percent of the company's annual revenue; the company projects this will rise to 35 percent in the future.
Here too though, AVTECH relies on local resources. The company has worked with the R.I. Commerce Corp. to expand its business internationally, arranging trade missions to Canada, the United Kingdom and Israel. AVTECH is planning trade missions in Ireland and the United Kingdom later this year, and is investigating the possibility of visiting New Zealand and Australia in the fall.
AVTECH also collaborates with the John H. Chafee Center for International Business at Bryant University. The university's State Trade Expansion Program is a national export initiative that helps small businesses such as AVTECH enter and expand into international markets.
Yet despite its growing reach internationally, AVTECH plans to keep its roots right where they are.
"We're proud to be here in Rhode Island," Sigourney said. "We love being in the East Bay." •