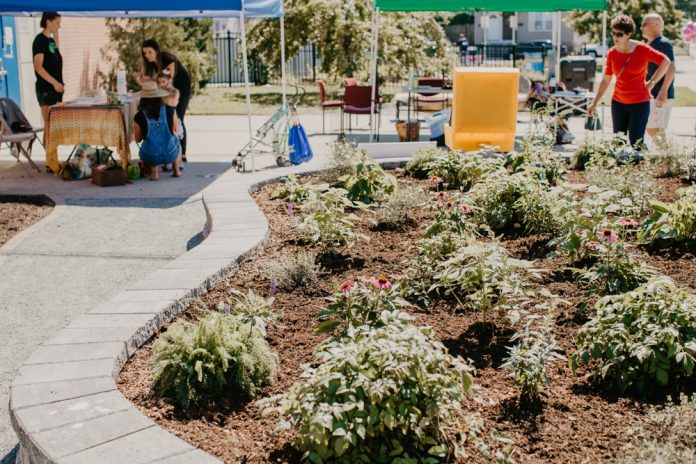 The Rhode Island Environmental Education Association (RIEEA) has named The Empowerment Factory (TEF) as a recipient of its annual award for "Program of the Year".
The award recognizes excellence in environmental education in the state of Rhode Island.
TEF, a Pawtucket-based nonprofit organization since 2014, was founded by Gail Ahlers, an award-winning designer, artist, and educator. TEF is dedicated to providing individuals and families with the skills they need to lead happier, healthier, empowered lives. TEF's project-learning approach combines creativity, self-esteem, and civic pride. Its vision is for every person to have the confidence to effectively express him or herself and be actively and positively engaged in the community.
Using a blended learning model, TEF has positively impacted over 1400 urban youth with the facilitation of 16 after-school clubs and 7 summer programs. The program combines social emotional learning with creativity and environmental education. The staff participates in ongoing professional development to ensure best practices and alignment with the department of education's evolving strategies, policies, and assessments. TEF combines creative project learning with walking field trips to local venues, where youth learn about a wide variety of careers, including urban forestry, urban farming and food-related enterprise. Youth practice soft skills, from handshaking and personal introductions to presentation and advocacy. Most teaching sessions incorporate stress management skills, such as breath work, exercise, meditation or neuro linguistic programming (NLP). The organization's ultimate objective is to empower students for successful employment.
TEF was awarded the RIEEA honor for its work in the Woodlawn Community of Pawtucket, which has the city's greatest concentration of poverty. Working with the City of Pawtucket, the Central Falls-Pawtucket Health Equity Zone, Local Initiatives Support Corporation (LISC) and other organizations, TEF has initiated a series of collaborative youth-focused efforts that incorporate environmental education and health equity.
With support from the City and the American Heart Association, TEF spearheaded the creation of the two-mile Baldwin Loop walking path that connects Elizabeth Baldwin Elementary with the Hope Artiste Village (Urban Smart Growth Project), the Blackstone Valley Community Center & Food Pantry, and the multicultural Jeanne Jugan Residence for impoverished elderly. The Loop also includes Payne Park, an outdoor recreation area which is currently undergoing a renovation that will include the addition of over 25 trees and a small water park, enhancing the environment of this urban neighborhood. The Loop sets the stage for the safe facilitation of walking field trips to explore this urban environment.
This past September TEF installed a Pollinator Garden at the Baldwin School, a cooperative effort with the City of Pawtucket, Landscape Elements, Unilock and Yardworks. The garden was created as a focal point to enhance the urban community with natural beauty and to provide an outdoor learning space for children and their families. The garden was dedicated at TEF's second Annual Healthy Living Community Event held in September.
RIEEA expressed appreciation of the organization's work by stating, "TEF has demonstrated passion and commitment to serving the Woodlawn community of Pawtucket for several years through various environmental education and restoration projects. We are impressed by the variety of collaborative, youth-focused programs that you have developed that promote environmental education and health equity including the Baldwin Loop walking path project, the Baldwin School Pollinator Garden, and Web of Life and Trees & Climate programs, in collaboration with Groundworks. Your enthusiasm, creativity and innovation is inspiring and your work is providing critical support to the underserved Woodlawn community." In response Ms. Ahlers exclaimed, "This is a great honor in response to our collaborative work to improve the quality of life in Woodlawn, and to instill pride in our community."
The award was presented to The Empowerment Factory at RIEEA's Annual Summit on Saturday January 19, 2019 at the University of Rhode Island's Donovan Dining Hall. Collaboration has been the key to TEF's success. Volunteers, local businesses and community partner organizations have come together with TEF to make this world a better place to live, work and learn. TEF seeks to build this community of support and is looking for more businesses and organizations to connect, collaborate and contribute by volunteering time and expertise, offering in kind donations, or sponsoring specific programs, projects and events.
TEF seeks to build this community of support and is looking for more businesses and organizations to sponsor, connect, collaborate and contribute with funding, and/or volunteering time and expertise, offering in kind donations, or sponsoring specific programs, projects and events. Please reach out to Gail Ahlers at 401 365-1010. gail@EmpowermentFactory.org
Facebook: https://www.facebook.com/TheEmpowermentFactory/
Instagram: https://www.instagram.com/theempowermentfactory/
Website: https://www.theempowermentfactory.org/
Twiiter: @GailAhlers