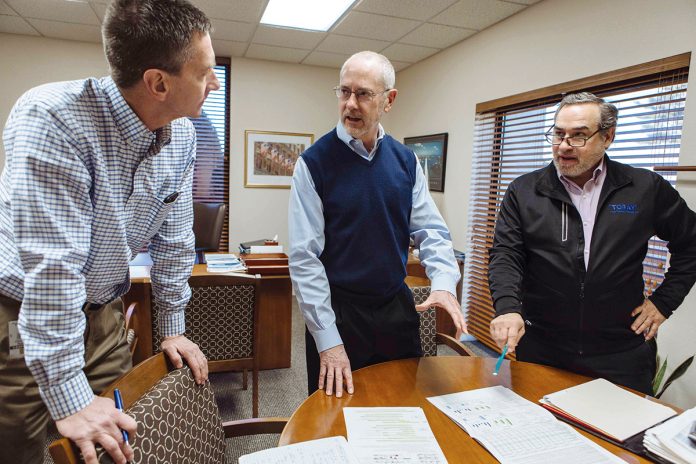 Michael Brandmeier, Toray Plastics (America) Inc.
Leadership & Strategy Winner | 2019 PBN Manufacturing Awards
---
Toray Plastics (America) Inc. may be an industry leader in manufacturing because of its commitment to quality, service and innovation, but President and CEO Michael Brandmeier gives much of the credit for the company's success to hiring the right people.
Lauding the company's 700 employees – approximately 550 at its North Kingstown factory and another 150 at a plant in Front Royal, Va. – Brandmeier said, "We try to find people with the drive, work ethic and desire to succeed for the company, themselves and their families; that's what makes them successful."
His role, he said, comes down to coaching, mentoring, listening, encouraging and helping the right people in the right jobs overcome difficult obstacles and challenges.
Lisa A. Ahart, Toray Plastics vice president of corporate human resources and environmental health and safety, said Brandmeier's leadership style has been highly effective.
"His style is open; many people come to him for informal guidance and leadership. He's very committed to the organization, but he's more committed to the people and seeing them do the best they can."
Toray Plastics (America) Inc., a subsidiary of Japan-based Toray Industries Inc., makes polypropylene and polyester film at its North Kingstown facility, and its customers range from family-owned companies to Fortune 500 corporations. Its films are used as flexible packaging for food, as well as solar-control window films, wire and cable insulation, and sail cloth, among other applications.
With growing competition from overseas, Brandmeier said, "It's been necessary for us to find new products and new markets to maintain the health of our business. Toray Plastics, which has one of the largest research-and-development groups outside of Japan, received between 10 and 20 patents each year for the past two years."
Also, investments in a new building to house a state-of-the-art, 28.5-foot polypropylene film line will allow Toray Plastics to expand production and to make new products; completion is expected by fall 2020. Annual revenue of approximately $400 million has remained consistent during the past few years.
'[Brandmeier is] very committed to the organization, but he's more committed to the people and seeing them do the best they can.'
LISA A. AHART, Toray Plastics vice president of corporate human resources and environmental health and safety
Calling his ability to delegate and empower people among Brandmeier's strongest leadership skills, Ahart said, "[That delegation and empowerment] brought to fruition several multimillion-dollar projects, including major manufacturing-line expansions and equipment purchases."
Communication within the company is a top priority for Brandmeier. Last year, he launched a campaign, "Safety over Production," and an employee-driven initiative, "See Something, Say Something." He said Toray Plastics has had its lowest-reported injury rate in the past 20 years, with Occupational Safety and Health Administration-classified injuries dropping from 14 to fewer than five annually. As part of a multiyear strategic plan, the company installed an automated packaging line in 2017, meaning employees work more efficiently and no longer manually move rolls of film weighing as much as 1,500 pounds.
The country's low unemployment rate has made it more difficult to find qualified workers at Toray, whose workforce includes production-floor employees with high school and technical-school graduates, engineers and Ph.D. scientists. Still, the company averages an annual 7 percent employee turnover, compared with the average annual turnover of 20 percent in the manufacturing industry, Ahart said. "That tells us we're doing extremely well," she said.
In addition, Toray Plastics strives to create future opportunities for employees to ensure the business is viable for the long term, Brandmeier said. A close relationship with the University of Rhode Island is invaluable, with many students becoming interns and graduates becoming full-time employees, he said.
Brandmeier said Toray Plastics' collaboration with the Japan America Society, which fosters cross-cultural relationships between the two nations, has been beneficial for the company, too.
Asked what distinguishes Toray Plastics from its competition, Brandmeier said, "We hire the best-in-class people, we have cutting-edge-innovative technology and we are very focused on meeting the needs of our customer base."