DARTMOUTH – A $600,000 grant from the U.S. Department of Commerce's Economic Development Administration was awarded to the University of Massachusetts Dartmouth Tuesday which, in part, will fund a Massachusetts Science and Technology Cluster Alliance.
"Our region's economy and culture has been driven by its proximity to the ocean for centuries," said UMass Dartmouth Chancellor Robert E. Johnson in a statement.
Johnson, noting the burgeoning offshore wind industry and "growing" technology and marine sectors, said the "potential for economic growth along [I-195] is great."
The alliance – where regional institutions, businesses and academics will be able to collaborate and focus on marine and technology innovation – is part of a greater university effort to reinvigorate the local marine and technology industries.
With a focus on job creation, business and industrial expansion, as well as exportation of goods, the Science and Technology Cluster Alliance will back ongoing studies and the analysis of the marine science and technology industries locally.
The grant, added Johnson, allows the university to "build a new blue economy driven by innovation and collaboration."
Dennis Alvord, deputy assistant secretary for regional affairs, commended the school for its efforts to increase cross-industry, multi-business local sector expansion.
"We commend the University of Massachusetts Dartmouth for working collaboratively to generate economic opportunity in the region," he said in a statement.
Planning efforts by the Cape Cod Commission and the Southeast Regional Planning District, both of which are funded by the EDA, helped develop the idea for the center and bring it fruition.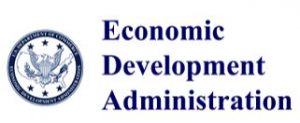 Part of the U.S. Department of Commerce, the EDA invests in economically-distressed communities with a view to creating jobs, promoting innovation and speeding up long-term sustainable economic growth.
Emily Gowdey-Backus is a staff writer for PBN. You can follow her on Twitter @FlashGowdey or contact her via email, gowdey-backus@pbn.com.