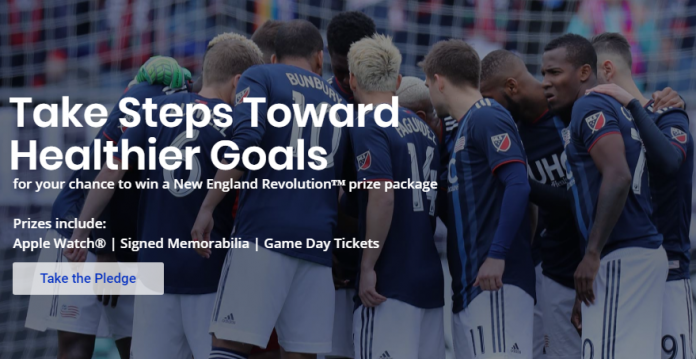 PROVIDENCE – UnitedHealthcare and the New England Revolution soccer team have launched the Step Up for Better Health sweepstakes and public education campaign promoting the health benefits of walking.
Fans can visit revswalkingmaps.com to enter the sweepstakes and find personalized 10,000-step walking routes from six New England Revolution players.
Walking can be an ideal way for most people of any age and fitness level to stay active and help curb health care costs. And new technologies, such as activity trackers, can motivate people to walk and earn incentives, including an employer-based program that enables people to earn more than $1,000 per year by meeting certain daily walking goals.
By visiting the site and signing the Step Up for Better Health pledge, promising to reach 10,000 steps a day as often as possible, New England residents will become eligible for a chance to win an Apple Watch and New England Revolution-related prizes, including:
Grand Prize: Apple Watch and four tickets to a New England Revolution home game, a signed player jersey and New England Revolution team merchandise.
First Prize: Apple Watch (two available).
The sweepstakes is part of the Match Day Motion Challenge, an initiative that challenges New England Revolution staff and team mascot Slyde to reach 400,000 combined steps during the team's nine home matches. Upon reaching the goal, UnitedHealthcare will donate 100 NERF ENERGY Game Kits to Boys & Girls Clubs in Boston at the end of the season, providing kids a smartphone-based "exergame" that rewards them with power-ups for being active in the real world.
Rob Borkowski is a PBN staff writer. Email him at Borkowski@PBN.com.