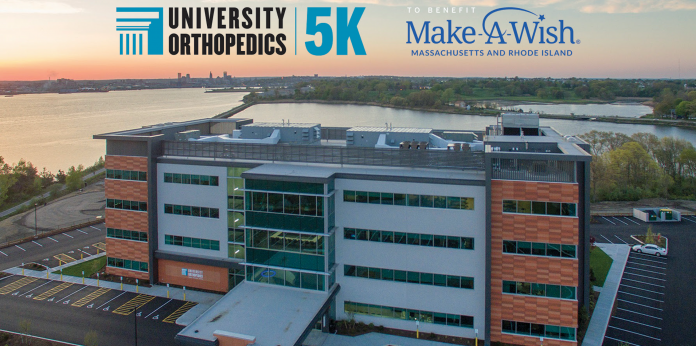 EAST PROVIDENCE – University Orthopedics is launching its inaugural 5K, which will start at the company's Kettle Point Avenue building June 22, benefiting Make-A-Wish Massachusetts and Rhode Island.
"University Orthopedics is thrilled to host the inaugural 5K to benefit Make-A-Wish Massachusetts and Rhode Island," said Aristides I. Cruz Jr., a pediatric orthopaedic surgeon with University Orthopedics. "We look forward to showcasing our new location at Kettle Point and believe participants will enjoy the scenic route along the East Providence waterfront. Most importantly, we are doing it to benefit a great cause."
The University Orthopedics 5K is timed and will start at the University Orthopedics campus at 1 Kettle Point Ave. before turning onto Veteran's Memorial Parkway, then down Squantum Road and onto the East Bay Bike Path. From there, the race heads north on the bike path, with waterside views of the Providence skyline, before turning back onto Veteran's Memorial and heading south for a finish at the Kettle Point campus.
Registration is open, with early-bird pricing available through the end of May.
"We are so pleased that University Orthopedics has selected Make-A-Wish Massachusetts and Rhode Island as the beneficiary of this 5K," said Sara Masri, regional director for Make-A-Wish. "They are longtime supporters of our work and their generosity will help us grant life-changing wishes to children with life-threatening illnesses."
Rob Borkowski is a PBN contributing writer.