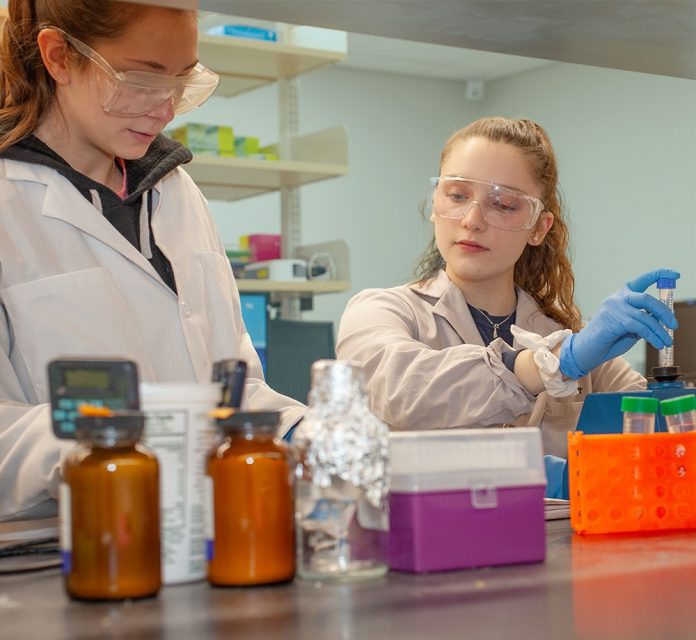 SOUTH KINGSTOWN – The National Institutes of Health has awarded $20 million to the Rhode Island Institutional Development Award of Biomedical Research Excellence, or INBRE, to expand the statewide research capacity in the biomedical sciences.
Led by the University of Rhode Island, INBRE is the Rhode Island branch of a national program to improve the caliber of scientific faculty at area research institutions and undergraduate schools and, in turn, to attract high-quality students.
In addition to URI, the network includes Brown University, Rhode Island College, Providence College, Bryant University, Roger Williams University, Salve Regina University and the Community College of Rhode Island.
The award announced Monday is INBRE's fifth. There was an initial $8 million award to establish the program in 2001, and there have been three five-year renewals of $16 million, $18 million and $18.8 million.
Since 2001, the program has supported more than 500 research and training projects involving 151 faculty members at its network institutions, according to URI. It has also provided research training to 1,381 undergraduates, 168 graduate students and 48 postdoctoral fellows, URI said.
"The INBRE program has been truly transformative for Rhode Island's research community," URI President David M. Dooley said in a news release. " We've contributed to expanding the opportunities for faculty research and trained hundreds of students who are now earning advanced degrees or are out in the workforce."
URI said some of the research conducted through the program's support is laying the groundwork to improve public health in the future.
In one project, URI Assistant Professor Daniel Roxbury studies nanomaterials for the early diagnosis and treatment of cancer. He and his students are attempting to create wearable or implantable sensors for early detection of disease biomarkers.
For another project, RIC Assistant Professor Jamie Towle-Weicksel has identified mutated forms of a protein that is unable to repair DNA damage caused by sunlight, which may contribute to melanoma.
The $20 million grant will help expand the teaching postdoctoral fellows program and establish post-baccalaureate positions to encourage biomedical students to remain in the Rhode Island workforce.
New teaching-assistant positions will be created to support the graduate education of students who participated in the Summer Undergraduate Research Fellowships program.
Also, the grant will help launch community engagement activities and establish research collaborations between programs with complementary fields of study.
William Hamilton is PBN staff writer and special projects editor. You can follow him on Twitter @waham or email him at hamilton@pbn.com.