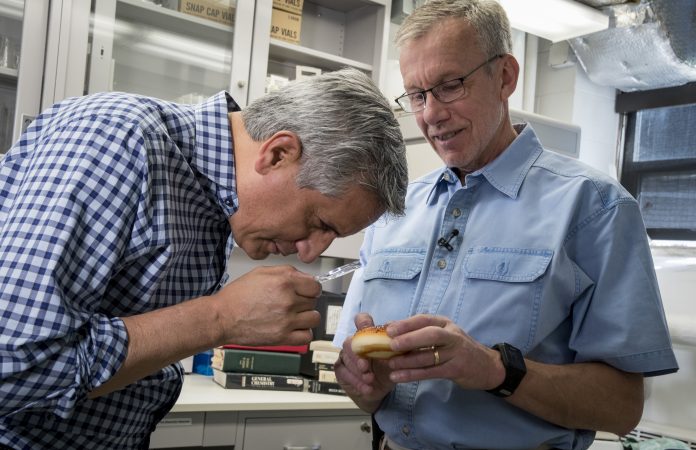 SOUTH KINGSTOWN – A prodigious tick season has been predicted by University of Rhode Island professor of entomology Tom Mather, but he warns against panic thanks to a URI-developed TickSpotters program.
To help identify the number of ticks in the area, take a photo of a tick found on your clothing or skin with your phone and submit it through the app to Mather and the TickSpotters team.
The deer tick, in particular, can be the most dangerous, per URI data, because it can transmit Lyme disease as well as four other germs and, during its nymph stage, is as small as a poppy seed. Mather explained, however, the deer tick is most common in the upper Midwest and increasingly in the southeastern states.
The Centers for Disease Control and Prevention report symptoms caused by an infected deer tick include fever, headache, fatigue and a skin rash called erythema migrans. If left untreated, infection can spread to joints, the heart and the nervous system.
As director of URI's Center for Vector-Borne Disease, home of the TickEncounter Resource Center, Mather and his team examine photos submitted to the program and provide identification of the tick, a personalized risk assessment and preventative educational tips at no charge.
The 4-year-old program has responded to more than 46,000 submissions and examined 35,000 pictures since its launch. In May 2017 alone, by URI's count, 3,400 people submitted photos to the TickSpotters team.
This feedback is "not too surprising, since May is the 'tick-iest' month of the year across North America," said Mather.
While the majority of TickSpotter submissions come from North America, according to Mather, the team has collected submissions from as a far as Japan, Cuba, South Africa and European countries.
"More than just a crowd-sourced tick survey, TickSpotters is also about building relationships," said Mather. A member of both the Northeast Center of Excellence in Vector Borne Disease at Cornell University and the Department of Health and Human Services Lyme Disease Working Group's prevention subcommittee, Mather explained the URI program also collaborates with neighboring University of Massachusetts' TickReport program. Similar to the URI model, TickReport accepts mailed ticks from the public to test for the presence of disease.
Emily Gowdey-Backus is a staff writer for PBN. You can follow her on Twitter @FlashGowdey or contact her via email, gowdey-backus@pbn.com.