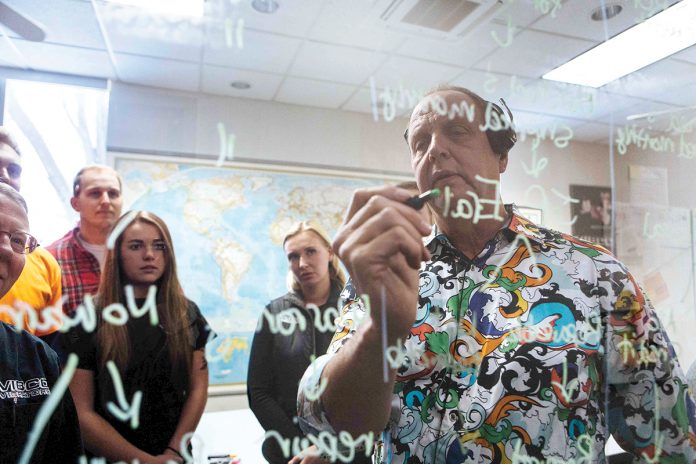 VIBCO Inc.
Workforce Development & Productivity | 2019 Manufacturing Awards
---
There aren't too many companies that can claim their products have been to the moon, but VIBCO Inc., which produces industrial, transportation and construction vibrators, can.
"Just think, a little company from Wyoming, R.I., went to the moon," said Karl Wadensten, president and CEO of Richmond-based VIBCO. One of the company's vibrators was carried on the Apollo lunar module, and it's still there on the moon. "There were a lot of things left behind," he said.
In order to survive in the manufacturing business for more than half a century, a company has to be able to adapt, innovate and reinvent its products. That's a constant theme through VIBCO's history.
Ted Wadensten, the company founder, patented VIBCO's first Silent Pneumatic Turbine Vibrator in the 1970s. The company now has 46 patents to its credit. VIBCO began in Lodi, N.J., in 1962 with a line of manufactured vibration products for material flow. VIBCO first offered electrical vibrators, and later added pneumatic ball vibrators.
"He's 89 and still comes into the office part time," Karl Wadensten said of the company founder, who also is his father.
VIBCO's vibrators are used in a multitude of industries, including construction, agriculture, food processing, brewing, transportation, manufacturing and pharmaceutical.
VIBCO recently developed two new products. Stik-It allows vibrators to be mounted to smooth, nonporous surfaces in seconds by creating a positive suction with no welding or bolting, according to the company. The Rail Boss Positive Locking Vibrator speeds up railcar loading and unloading by using an inflatable airbag to allow more vibration to transfer to the car. It removes coarse sand, stone, asphalt, powdery flour and cement, increasing the life span of the vibrator and decreasing safety risks.
With more than 360,000 customers worldwide, VIBCO never has a shortage of challenges that need to be solved, and that's where its innovative nature comes in.
"We're like Burger King; you can have it your way," Wadensten said. "We listen to the voices [of the customers] and that's been the key for us."
VIBCO's products have been used in the construction of the Freedom Tower in New York City, the new Tappan Zee Bridge over the Hudson River, Gillette Stadium, Fenway Park, Marlins Park in Miami, the Flight 93 National Memorial in Shanksville, Pa., and the National World War II Memorial in Washington, D.C.
'We need really smart people to develop [the products] and we want them to be exceptional.'
KARL WADENSTEN, VIBCO president and CEO
VIBCO has been practicing lean manufacturing for nearly 20 years, implementing it after a customer needed an immediate delivery to save a building project. That forced VIBCO to examine how it was meeting the demands of its customers.
In addition to adapting to changes in the industry, the company has emphasized maintaining and improving the health and morale of its employees.
Each morning, the workers participate in 10-minute stretching sessions, followed by Kaizen Blitz, which includes training, then analysis and a possible rearrangement of production areas. According to the company, the programs have improved employee health, lowered injuries, reduced health care costs and opened up a forum for discussing ideas and daily planning.
"You have to build your people," Wadensten said. "We need really smart people to develop [the products] and we want them to be exceptional."
VIBCO provides a mentoring program for employees interested in learning more about the business. The company also selects various employees for training, courses, events, keynote talks and certifications, including Lean 101 Training. VIBCO is open about its operation, allowing people into its facility for tours.
New employees are given an online assessment test – Clifton's Strengths Finder – which identifies what the employees do well naturally and customizes a program to allow them to do their best. VIBCO extends its employee training to its interns through the Engineering Capstone projects with New England universities.