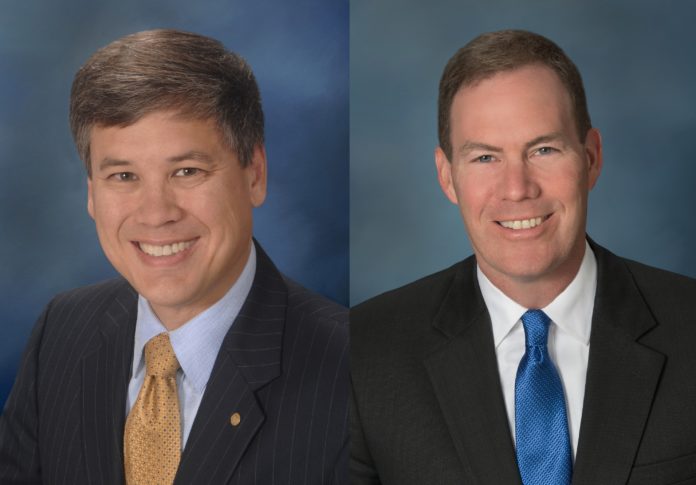 Updated at 4:00 p.m.
WESTERLY – The Washington Trust Co. parent Washington Trust Bancorp Inc. announced Monday that is has made two executive appointments. Mark K.W. Gim has been named senior executive vice president, wealth management and chief strategy officer, while Ronald S. Ohsberg has been appointed executive vice president and treasurer.
"The expansion of our leadership team is critical to Washington Trust's continued growth," said Joseph J. MarcAurele, Washington Trust chairman and CEO.
Gim has worked with Washington Trust since 1993. He has headed up Washington Trust Wealth Management since 2013, a position he maintains in addition to his new role.
MarcAurele said of Gim, "In recent years, Mark has played a significant role in growing our Wealth Management division, which is a key business line and revenue driver for us.  He has provided tremendous insight into our corporate strategic planning process and we look forward to his continued contributions and guidance."
Ohsberg previously worked as the executive vice president of finance for Linear Settlement Services and before that as executive vice president, corporate controller and chief accounting officer at Citizens Financial Group Inc. In the press release making the announcement, Ohsberg was deeply involved in helping Citizens go public in Septemember 2014. According to the press release, at Washington Trust he will be responsible for oversight of balance sheet management strategies, interest rate risk management, liquidity and corporate budgeting.
"We're fortunate to have a local professional with Ron's credentials join our executive team. His extensive corporate accounting and financial reporting experience will be critical in helping us manage the corporation in today's heavily regulated environment." said MarcAurele.
Chris Bergenheim is the PBN web editor.