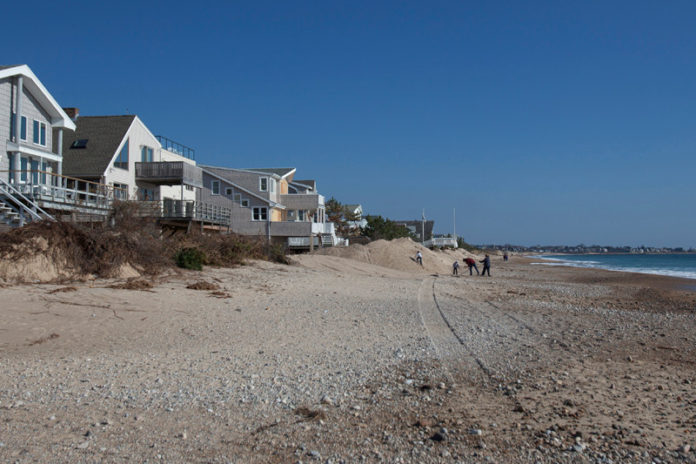 WESTERLY – The R.I. Supreme Court on Tuesday affirmed a lower court's decision in favor of Westerly landowners, who want to keep about 2.5 miles of Misquamicut Beach private.
The R.I. Supreme Court opinion agreed with a R.I. Superior Court decision related to the long-time property dispute that dates back to 1909. The now-affirmed decision ruled that there was not clear and unmistakable evidence that landowners 108 years ago intended to dedicate a stretch of beach-front property to the public.
"In gleaning their intent, the trail justice did not err in finding that the 1909 Plat and Indenture do not reveal manifest intent to dedicate the over-two-mile stretch of beach in Misquamicut to the public," according to the Supreme Court opinion. "Although the trial justice's inquiry could have ended there, he nonetheless provided an alternative examination of the extrinsic evidence to determine whether it evinced manifest intent and, in our opinion, he correctly found that it did not."
In 1909, five property owners divvied up a segment of Westerly beachfront property, demarking certain areas with lines and dashes subdividing the land east of Misquamicut State Beach. The old and faded map in question – known as a plat – was the eventual basis for the state filing a lawsuit in 2012.
R.I. Attorney General Peter F. Kilmartin filed the suit in Washington County Superior Court, claiming the original landowners created the easement, and current landowners were unlawfully preventing public access to the beach. Landowners had put up fences and no-trespassing signs along the disputed area, which runs above the so-called "high-water mark," or the level reached by the sea at high tide.
The Superior Court judge eventually ruled in favor of the current landowners, saying the original plat did not clearly and unmistakably reflect the original landowners intent to dedicate an easement for the general public. The decision was appealed to the Supreme Court, which – according to Wednesday's opinion – affirmed the original decision.
"Although we are disappointed in the opinion, it was the right decision to bring the matter before the Court to determine the intent of the original landowners more than 100 years ago," Kilmartin said in a statement.
The attorney general also pointed out that the case in no way changes the constitutional guarantee that everyone can access the shore below the high-water mark.
"Over one hundred years ago, five intrepid, longtime South County property owners set out to create a residential area by the sea," according to the decision. "It is doubtful that they could have imagined the present litigation."
Eli Sherman is a PBN staff writer.