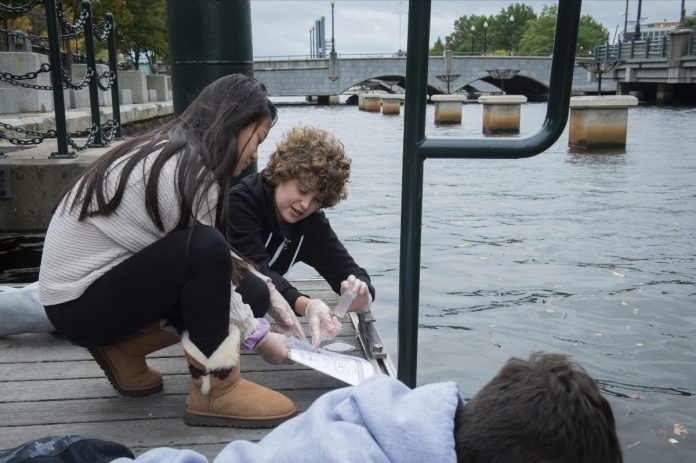 PROVIDENCE – Eighth-grade students at the Wheeler School will be able to study at the WaterFire Arts Center in a program called Wheeler Cityside, which will build off citywide resources to create inquiry-driven learning opportunities.
Commencing at the start of the 2019-20 academic year, the yearlong interdisciplinary curriculum will see students not only study at the new Cityside Studio at the WaterFire Arts Center but will also use Providence's 25 neighborhoods as their classroom.
In four-hour blocks guided by community leaders and Wheeler faculty, participating students will develop collaborative project ideas focusing on questions that may include: "What are my duties as a global and local citizen and how can familiarity with place help fulfill those duties?" and "What temperament and skills are vital in order to flourish in a rapidly changing world?"
"The mutual excitement was palpable" between Wheeler and WaterFire, said Allison Gaines Pell, head of the Wheeler School, in a statement. "WaterFire and Wheeler are both committed to exciting, engaging and provoking the region's young people to look at new ideas, see the world from other perspectives, and use their strengths to find and solve problems in our communities."
The arts center will be the students' "home base," according to the curriculum, however, they will collaborate with Capital City nonprofits, nongovernmental organizations, community groups and branches of government in a project-based learning environment. They include: AS220, The Avenue Concept, Big Nazo, Groundwork Rhode Island, Jane's Walk, the Providence After School Alliance, the Providence Department of Parks, the Providence Recreation Department, the Providence Office of Sustainability, the Providence Public Library, the Rhode Island Museum of Science and Art, Rhode Island State Council on the Arts, and the Steel Yard.
"The staff and board of WaterFire Providence could not be more excited that the WaterFire Arts Center will be the 'home base' for the Wheeler School's new eighth-grade Cityside program," said Peter A. Mello, WaterFire managing director and co-CEO, said in a statement. "We look forward to not only hosting Cityside but also actively engaging with students throughout the year as they develop an interdisciplinary understanding of the people and places of Providence."
More about the program can be read on the Wheeler website.
Emily Gowdey-Backus is a staff writer for PBN. You can follow her on Twitter @FlashGowdey or contact her via email, gowdey-backus@pbn.com.