Martha Parker looks back fondly on the 2015 Volvo Ocean Race Newport stopover and the favorable impact it had on her foul-weather sailing gear company, Team One Newport.
By her count, in the near-fortnight event held May 5-17, sales increased 35 percent over the full month of May 2015.
The stopover "was incredibly beneficial" for Team One, which is also a licensed dealer of Musto products, the official race gear, said Parker.
"There's not a lot of opportunity … for all the foul-weather gear brands to be in one place" and have sailors from across the world shop your store, said the 36-year industry veteran.
Now, with one Volvo event under their belt, the lifelong sailor and her team are preparing for a second stopover in the international race, which will commence in less than three weeks.
"We know what we did wrong, and we learned what we missed" during the first stopover, said Parker, who expects to outdo the 2015 sales boost this year.
State and regional tourism leaders are also hoping to profit from experience gained from the last stopover.
"Everything will be better, easier but in some ways more challenging," said Lara Salamano, R.I. Commerce Corp.'s chief marketing officer. "The pressure is on," she said, for Commerce RI to help draw larger crowds and build on the state's sailing reputation as a reason for travel in tourism's shoulder season.
The first-ever Newport stopover was hosted by nonprofit sailing organization Sail Newport, lasted 13 days and drew hundreds of thousands to the City by the Sea as the sole North American stopover.
The race takes place every three years, and Newport is again the sole North American stopover for the 2017-18 race.
Brad Read, Sail Newport executive director, served as stopover director in 2015. This year, Read is stopover executive director, working with sponsors, while Sue Maffei Plowden will manage day-to-day operations as director – a position she has held since April 2017.
Racers will pause in Newport from May 8-20, as Sail Newport hosts events with Commerce RI, the R.I. Department of Environmental Management, Discover Newport, Newport County Chamber of Commerce and local businesses.
While some industry insiders are warning business owners not to fall victim to complacency, others are confident of increased attendance and a bigger economic boost from this year's events.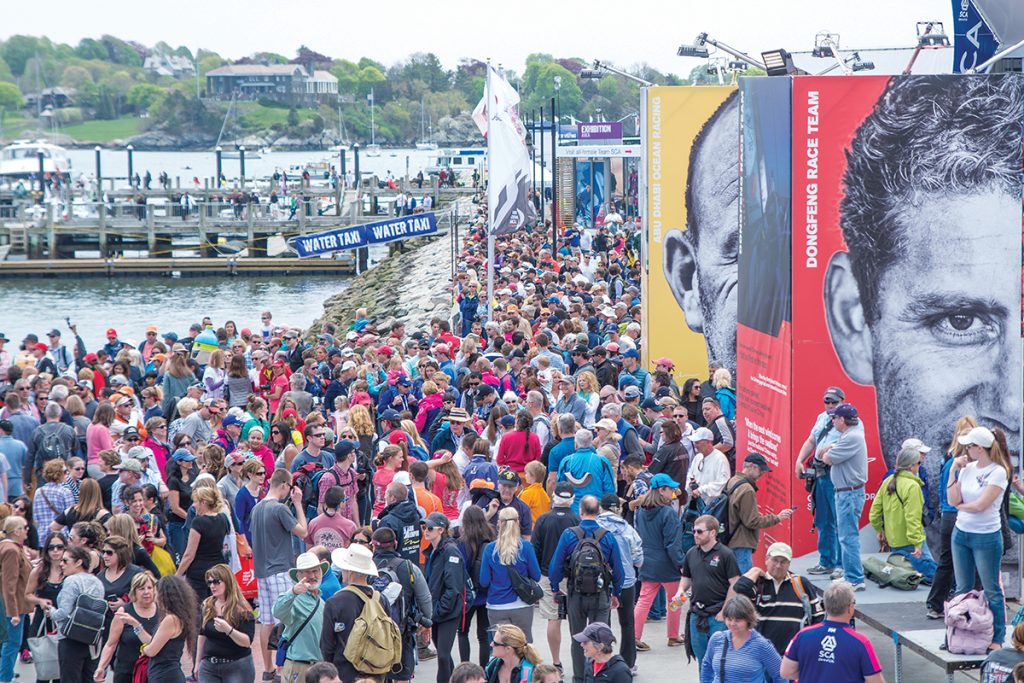 BREAKING EVEN
Discover Newport President and CEO Evan Smith called the 2015 stopover "successful beyond my expectations."
An October 2015 economic-impact report published by Newport-based Performance Research reported $47.7 million in total economic impact, including $32.2 million in spectator and organizational spending.
But not everyone turned a profit.
Read admitted Sail Newport "did not break even" in 2015. That was partly due to a lack of an entry fee. Visitors weren't charged to attend public race events, see competing vessels docked at a newly built Fort Adams State Park pier, watch in-harbor races from the historic park or tour exhibit space constructed by the nonprofit.
However, as part of its contract with Volvo, Sail Newport will again not charge an entry fee.
So, what can it do differently this year?
For starters, share a little more of the workload and responsibility, says Read.
In 2015, the nonprofit was "trying to do too much," he said.
As a result, volunteers were relied on too heavily. This year, some additional staff have been hired and Commerce RI has taken the marketing reins.
In addition, just as it did in 2015, the state agency has invested $775,000 toward logistical implementation – public security, equipment rental and electrical needs.
This year it spent an additional $100,000 from its $5 million budget to promote the 2018 stopover – a resource not available for the 2015 event, said Read. Targeting "sailing-savvy" locations, Salamano's team has bought media in outlets from Maine to Florida that will run through May 6.
DiscoverRI.com's new back-end software, ADARA Inc., will track hotel and airfare bookings made as a result of Commerce RI's digital advertising.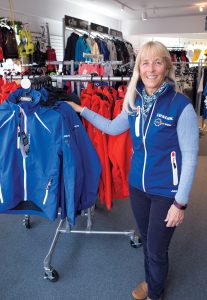 In 2015, Parker says she lost sales to booths selling merchandise direct from the supplier. This year, she said, Team One is actively encouraging visitors to purchase gear from the store before the event.
Parker has also designed a commemorative T-shirt, from which she will donate 10 percent of sales to Sail Newport.
"My soapbox now is 'unity in community,' " she said of the effort.
While the 2015 stopover predates her tenure at the Newport County Chamber of Commerce, Executive Director Erin Donovan-Boyle said the initial stopover had a lingering economic impact. Her goal to build on that this year is to "drive traffic back into town … to [encourage] spending at local restaurants," retailers and hotels.
The Chamber is also rolling out a VIP program to help promote local businesses and expand the 2015 storefront window decoration competition to more South County communities to "Paint the Town Volvo," said Donovan-Boyle.
Print and digital Volvo marketing materials will be available to local businesses through the Chamber and Discover Newport.
"Anyone who wants to get involved" can, said Donovan-Boyle, no matter the industry.
The VIP program is a collection of promotions offered by businesses to Volvo corporate executives and sailors.
Business involvement will be better in 2018, predicted Donovan-Boyle, because of this program.
BOOSTING AWARENESS
Not all local businesses are as involved as Team One Newport, so Discover Newport has hosted town hall-style meetings and informational sessions to get the word out.
According to Smith, Discover Newport spent roughly $110,000 for the 2015 stopover for purchases and in-kind work. He can't say yet how much will be spent this year but expects it will be lower because Commerce RI has absorbed production of design materials.
Smith thinks groups such as Discover Newport and Sail Newport "did a really good job" educating the business community in 2015. However, he added, that needs to be stepped up this year.
"It's very important we don't regress," he said. "When you do [well the first time], it's easy to pull your foot off the gas."
To counter possible complacency, said Smith, everyone "needs to know how to engage."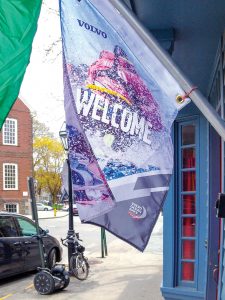 Discover Newport published a list of ways for businesses to get involved, including educating employees about teams and countries represented, signing up for press releases, volunteering at stopover events, linking to the race via social media and keeping their shops open longer.
Smith was impressed by the roughly 150 local businesses that showed up to an early March "pep rally" to learn about stopover engagement.
Getting businesses involved in race activities should be a no-brainer, said Wendy J. Mackie, R.I. Marine Trades Association CEO. Participation in Discover Newport's education program means the potential for increased sales, said Mackie.
"It gets the boatyards active early [in the season] and it's a little earlier [in the year], so you might want to buy some extra gear [from local shops] to layer up" in the spring chill, she said.
One company utilizing Smith's program is Newport's Hotel Viking. General Manager James Barrett previously experienced a race stopover in the Baltimore/Annapolis, Md., area in 2006.
Barrett, who began his current job in 2017, dispatched sales team members to meetings and "started talking about [the race] at the hotel" so staff are aware.
Barrett said Hotel Viking did not see much impact from the 2015 stopover because it was already fully booked. That is not the case for 2018.
"We're sold out" due to Volvo, he said, and have been since November.
Hotel Viking will host some Volvo corporate representatives and is scheduling events for its restaurant and rooftop entertaining facilities.
Barrett hopes the stopover will help "kick-start" the hotel's busy season and lead to a productive summer.
Trixie Wadson, marketing and communications director for Bowen's Wharf, is counting on a similar boost from this year's stopover compared with results local businesses saw in 2015.
More international tourists than normal, at an earlier point in the season, "translated into more interactions in stores and restaurants," she said.
Bowen's Wharf represents companies of varying sizes and does what it can to encourage awareness and involvement in the stopover, said Wadson, but "it's up to them to educate their own staff."
The feared complacency reported by Donovan-Boyle and Smith, said Wadson, may stem from "overwhelmed" businesses asked to "wrap their arms around" multiple citywide events.
However, she is enthusiastic because, "We know from the 2015 stopover, the [race] demographic fits Newport."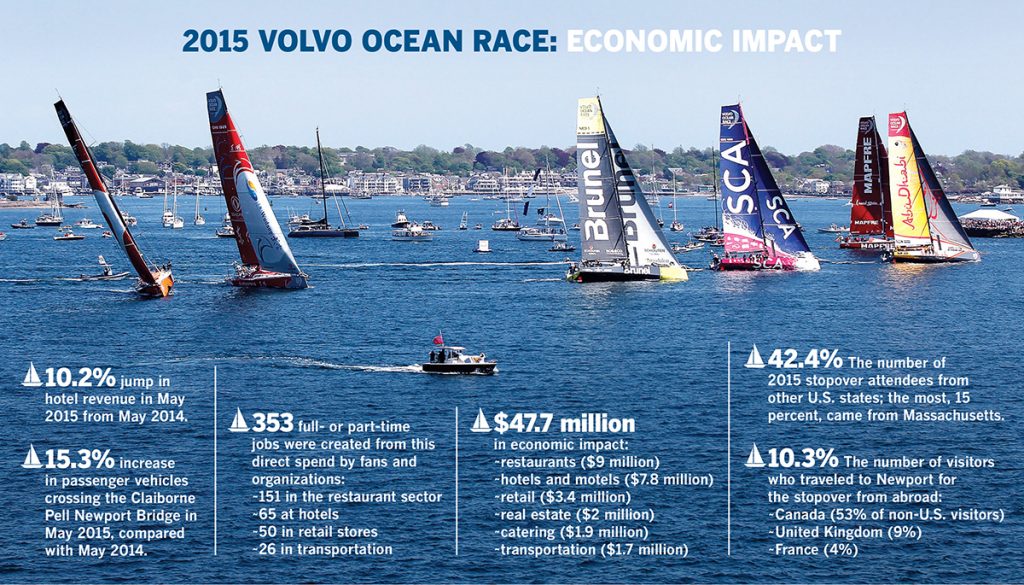 HOTEL SHIFT
Many of the spectators, sailors and corporate executives who came to Newport in 2015 also traveled throughout South County and the state, spreading the economic impact.
The 2015 report found one-quarter of all non-Rhode Island U.S. residents attending and one-fifth of all international attendees also visited Jamestown and a "roughly equal" number ventured to Middletown and/or Providence.
But that doesn't mean the race was the sole reason hotel rooms filled across the state during the first stopover.
Providence College, University of Rhode Island and Salve Regina University graduations were also held during that time period, noted Martha Sheridan, Providence Warwick Convention & Visitors Bureau president and CEO.
Sheridan said Providence made out favorably in 2015 because Volvo corporate representatives stayed in the capital. She estimated 1,500 hotel room nights were used by the group.
They stayed in Providence because Newport was booked months in advance of the 2015 event. Sail Newport confirmed 800 corporate Volvo representatives will stay in Newport hotels this year.
"It was a nice bump for us last time," said Sheridan, adding "this year … we won't see that impact."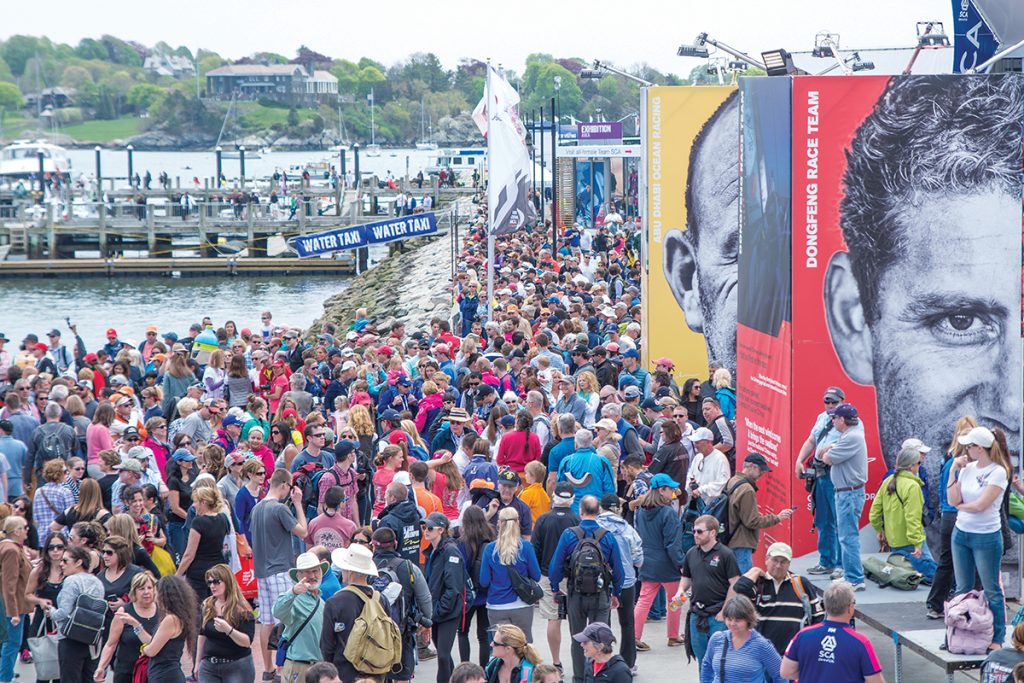 BEST OF R.I.
Stopover organizers say they are largely satisfied with the state's investment in this year's event.
"A $47.7 million return on a $775,000 investment is pretty good," said Read. "As a taxpayer, I'm hard-pressed to say they should be putting $3 million or $4 million into one event."
Smith called the state's funding approach "logical." He noted the 240-by-20-foot pier constructed by the state at Fort Adams before the 2015 stopover will "pay dividends for decades to come."
Donovan-Boyle sees this year's event as a "a tremendous opportunity" for the state to market itself.
"It's these types of activities that put us on the map" as a tourism destination, she said.
In line with Donovan-Boyle's thinking, Smith suggested the stopover could be a platform for "corporate entertainment." It's an opportunity to show "Rhode Island at its best" to those outside firms interested in investing or moving to the Ocean State, he said.
Gov. Gina M. Raimondo said she is trying to incorporate the race into the state's recruitment of new corporations, calling Newport's sailing culture an "easy sell."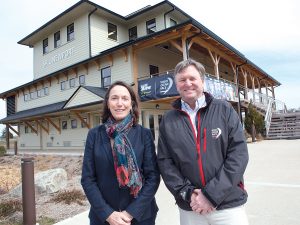 Rhode Islanders will join tourists in celebrating the state's sailing culture and amenities, said Read, who believes the race "shines Rhode Island in the best possible light."
Yes, there will be in-port races and merchandise from sailing companies stretching across the globe. But a focal point of the 2018 Newport stopover, the One Ocean Exploration Zone, will provide a platform for multiple Rhode Island research firms, schools and nonprofits to showcase their causes.
This year's program will feature displays from 32 organizations – 10 more than in 2015 – including the Herreshoff Marine Museum, multiple URI academic departments, Audubon Society of Rhode Island, Conanicut Island Sailing Foundation and Save The Bay, among others.
The race village will open May 8 at 4 p.m. with the One Ocean Exploration Zone opening Saturday, May 12, at 11 a.m. Visitors can access the exploration zone free of charge for the remainder of the stopover until the next leg of the race, when the boats travel to Cardiff, Wales, on May 20.