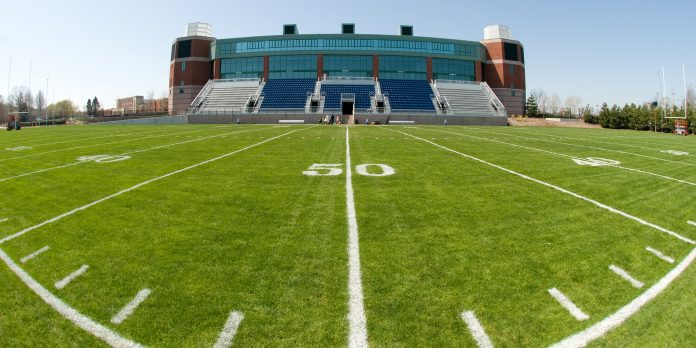 SOUTH KINGSTOWN – Two University of Rhode Island alumni have each committed $1 million for enhancements to Meade Stadium, home to the school's football team, URI announced Wednesday.
The project is expected to cost $4.1 million. The university said that it will contribute $1.1 million through an auxiliary fund.
The improvements include the installation of synthetic turf and stadium lighting, which the university said would serve to accelerate the growth of its football team and expand use of the facility. The school also said that investments will create possibilities new revenue-generating events, and increase the options for television broadcast and night games.
URI expects the installation in Fall 2020. The school did not specify where the remaining $1 million dollar in expected costs would come from, but a spokeswoman for the university said that it intends to raise the remaining funds for the upgrades privately.
"A revitalized Meade Stadium has great potential to take URI Athletics to a new level, while serving as a year-round, multi-purpose facility with additional benefits for our students and the broader community," said URI President David M. Dooley. "It is inspiring to see our alumni play a leading role in this effort."
One of the alumni donations was made by James P. Clappin, executive vice president of Corning Glass Technologies. The other almnus donor remained anonymous.
"I am excited for what this project will mean for URI football and the university as a whole," said Clappin in a statement. "We have an opportunity to motivate today's student-athletes and put URI on the map in a way that it hasn't been previously. It was important for me to make this investment in the future of the program."
Chris Bergenheim is the PBN web editor.