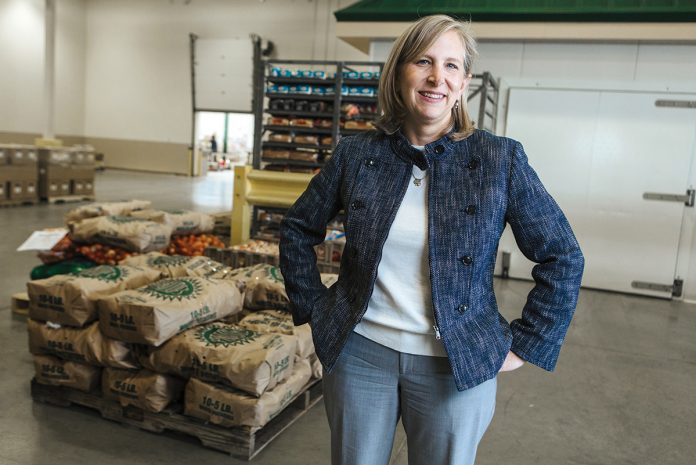 2019 C-Suite Awards | CHIEF PHILANTHROPY OFFICER,NONPROFIT: LISA ROTH BLACKMAN | RHODE ISLAND COMMUNITY FOOD BANK
---
LISA ROTH BLACKMAN, chief philanthropy officer of the Rhode Island Community Food Bank, starts all her team meetings with good news. It's always good news first.
"We all know there are challenges at work – that's why we're meeting," she explained. "But if we can remember to celebrate our successes, it helps us work together to figure out the challenges."
Over the past 17 years, Blackman has climbed the organizational ladder from a part-time communications role to an executive fundraising position at the nonprofit that distributes 200,000 pounds of food weekly to people in need.
"In high school and college, I had been very involved with volunteer hunger-relief efforts but hadn't kept up with it in my early career. So I was thrilled to find the food bank opportunity," she said.
Blackman often jokes that she has the easiest fundraising job "because people get it – you need healthy food to survive and thrive," she said. "And too many families don't have enough income to meet their basic needs – housing, food, health care, etc."
Still, according to CEO Andrew Schiff, Blackman's ability to raise the visibility of the food bank and its mission has been crucial.
"There are so many good nonprofits in Rhode Island; you really need to stand out. Lisa's done this through creative events [such as] the Savor celebrity dinner with Jacques Pepin, and other extraordinary, innovative campaigns, as well as attention to stewardship," he said. "If you're a donor to the food bank, you feel your donation is important, and that's what she does better than anybody."
Schiff was quick to applaud Blackman's eight-person team, too.
"She recruited an incredible group of people and they stay because of her. She does a tremendous job keeping the team focused," he said.
Blackman said she was young and inexperienced when she began managing fundraising campaigns, so she followed a strategy to "hire smart people who are good at what they do, and listen to them.
"I want everyone on my team to feel that they have something to contribute because they do. I don't know everything and I don't have all of the ideas we need," she said. "I rely on the expertise and experience of my colleagues to make the best decisions for the organization."
Schiff said Blackman also developed a board of directors willing to devote time to the cause, even offering a matching-gift challenge to donors.
"People love knowing that their gift will go twice as far to help people in need," Blackman said. "It really inspired the board to give more, knowing that they would be inspiring others to give."
The Great Recession tested the fundraising skills of Blackman and her team as the need for the food bank grew and the ability of people to give shrank. In response, the food bank maintained its awareness campaigns and also developed a bigger online presence to reach a younger audience.
Another success story for Blackman's team: the Nothing campaign, in cooperation with Providence advertising firm Nail.
"We never imagined that they would pitch the idea of making 'nothing' into a brand, and selling empty cans of Nothing in the grocery store as though they were a food item. I think they were shocked when we agreed to go along with it, and that Citizens Bank agreed to underwrite it," Blackman said. "Almost as an afterthought, I suggested that we put a donation slit in the top of the can. To this day, we still get people dropping off cans of Nothing full of money, even though the campaign was in 2010 and 2011!"
Beyond the food bank, Blackman serves as the chairwoman of the Economic Progress Institute, a nonpartisan research and policy organization dedicated to improving the economic well-being of low- and modest-income Rhode Islanders. She is active at her temple and the school her two children attend, as well as getting involved in numerous political issues and campaigns.