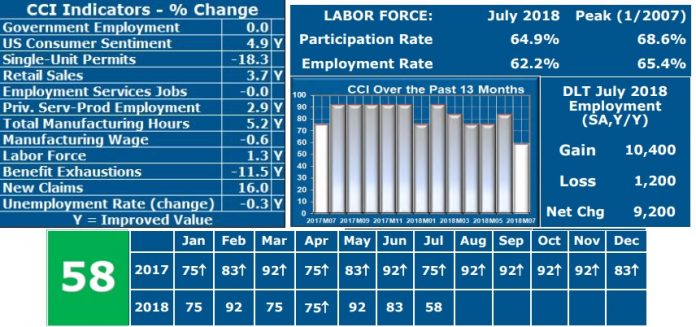 SOUTH KINGSTOWN – Falling from 83 to 58, a "dicey" 25-point, month-to-month decline was measured in the July Current Conditions Index, released by University of Rhode Island Economist Leonard Lardaro Monday.
"The third quarter didn't exactly start off with a bang for Rhode Island," said Lardaro of the July economic activity compared to the June 2018 CCI.
July 2017's CCI was 75 – 17 points greater than the 2018 figure.
Published monthly, the CCI measures 12 economic indicators that are representative of the economic climate of the state. A value above 50 implies economic expansion, while a value less than 50 indicates contraction.
The 58 measured in July is the lowest seen this year and the fifth time the measure did not increase year over year.
"What I find perplexing is that the July 2017 CCI wasn't exactly stellar," said Lardaro, "at 75, it should not have been that difficult to improve upon."
In July, seven of the CCI's 12 indicators saw improvement, whereas 10 had positive results in June. A more detailed outline of the July performance is listed below, with percentage changes based on year-over-year comparisons:
A 4.9 percent increase was sustained in U.S. consumer sentiment in July, the sixth consecutive month of increases for the indicator.
In July, there was an 18.3 percentage point decline in single unit permits – the indicator's sixth decline in nine months.
Retail sales grew by 3.7 percent in July.
In July, a 2.9 percent jump was witnessed in private service-producing employment.
Total manufacturing hours, a proxy for manufacturing output, rose "strongly" in July at 5.2 percent due to improvements in both employment and the length of the workweek, said Lardaro.
The manufacturing wage fell by 0.6 percent in July.
In its 13th consecutive year-over-year increase, the labor force grew by 1.3 percent in July.
In July, benefit exhaustions "fell sharply," said Lardaro of an 11.5 percentage point decline.
New claims rose by 16 percent in July.
Rhode Island's July unemployment fell by 0.3 percent "allaying … fears of the imminent collapse of Western Civilization," said Lardaro.
Government employment and employment services jobs, a leading labor market indicator, remained unchanged from July 2017 through July 2018.
In Monday's report, Lardaro also noted two "encouraging" factors despite the 25-point drop in the CCI.
July's report saw the labor force participation rate climbed to 64.9 percent – its highest level since March 2016 – while the employment rate reached 62.2 percent – its highest level since late 2008.
Emily Gowdey-Backus is a staff writer for PBN. You can follow her on Twitter @FlashGowdey or contact her via email, gowdey-backus@pbn.com.