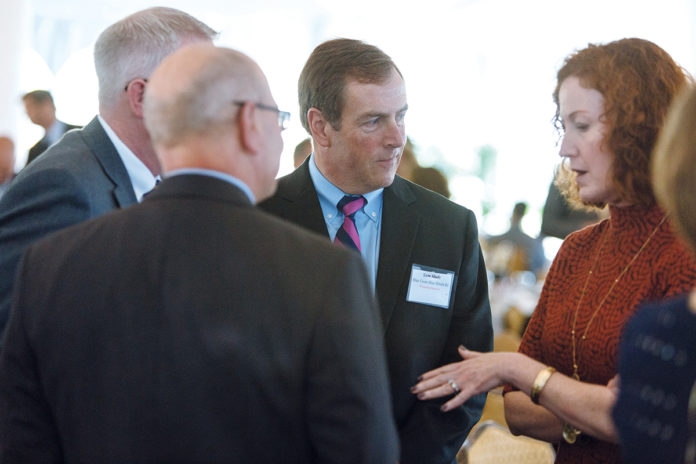 Affordable Care Act reform is more likely than repeal, and employers should take better advantage of cost-saving, health-plan tools in the meantime, according to members of a Providence Business News Health Care Summit panel.
"With the current administration and this Congress, making predictions is more like speculating," said Dr. John B. Murphy, executive vice president for physician affairs at Lifespan Corp., when asked about the ACA's future. He spoke during the first of two panel discussions at the Oct. 5 summit at the Crowne Plaza Providence-Warwick.
Murphy noted that many elements of the ACA are popular, and governors are in favor of subsidies it provides.
About 11 million people are expected to sign up for the ACA this year, down 4 million from last year, Murphy said, thanks to Trump administration decisions to shorten registration time and cut advertising for the program. But it looks like every county in the U.S. will have at least one health-insurance plan available for prospective enrollees, he said.
Had the ACA been repealed, Lifespan would've seen its annual uncompensated-care costs rise by $50 million, Murphy said.
The ACA has prompted people to seek care that they had been putting off, Murphy said, which accounts for some of what he said has been significant increase in demand for outpatient and inpatient services at Lifespan.
Various political options to repeal and replace the ACA have proven politically unpopular, noted Dr. Thomas Bledsoe, primary care internist at University Medicine.
"It's pretty clear that the good things about the Affordable Care Act that John just mentioned, many of them have significant political legs," Bledsoe said.
Now, it seems that any bipartisan reform of the ACA would require the votes of at least eight Senate Democrats. "That makes drastic changes to the current law unrealistic," he added. "So, I think we'll start to see some creative ways to work around the edges."
Democrats have signaled potential compromise on innovations, which the ACA says would need to provide coverage to the same number of people at the same cost as before the change, Bledsoe said. And Republicans are talking about continuing subsidies to patients to limit out-of-pocket expenses and for plans to ­compensate for reducing deductibles.
Should Congress succeed in significantly changing the ACA, the country's health care system will require a lot of time to adjust, said HealthSource RI Executive Director Zach Sherman.
"I don't think it can adapt very quickly," he said. "I would point to the implementation of the Affordable Care Act as a very good example of huge, overarching change in the health care landscape. The ACA was passed in March 2010, and it took about four years to stand up the reforms," Sherman said.
Federal agencies would need to put out draft regulations that state forums would then comment on before they could be finalized, which would take about a year and a half alone, he added.
The last reform effort, the Senate's Graham-Cassidy Bill, block-granted all of the financial resources in the ACA, Sherman said, giving the states two years to re-create the previous system, he said.
About 90 percent of people signed up for insurance through HealthSource RI receive federally funded tax credits on their premiums to help them afford it, Sherman said. About 60 percent receive reductions to their deductibles, copayments and ­coinsurance.
In 2016, that assistance accounted for about $100 million in federal funding to help 30,000 Rhode Islanders pay for their health insurance, Sherman said. Were those resources to go away, most HealthSource RI customers would be uninsured again, he said.
On top of that, Medicaid expansion added $450 million to $500 million per year to help pay for coverage for childless adults in the state.
Essential health benefits, comprehensive health coverage, care for pre-existing conditions and extended care for children up to 26 years old under their parents' insurance could be put into state statute to ensure ongoing coverage, were the ACA undone, he said.
Sherman referenced an effort by Senate Policy Caucus Chairman Joshua Miller, D-Cranston, to enact those protections into state law, Senate bill 0831A, which passed the Senate in June. It was scheduled to be considered by the House Corporations Committee June 26, was postponed to June 27, but then the House recessed, and the committee never met to consider it.
But those protections wouldn't substitute for the expanded access to care many Rhode Islanders benefit from though the ACA, Sherman warned.
'It would be very hard for us to maintain the [individual insurance market].'
ZACH SHERMAN, HealthSource RI executive director
Without federal financial support, "It would be very hard for us to maintain the [individual insurance market]," he said.
At Amgen Inc., one of the largest employers in the state, employees are buffered from the uncertainty of the future of health insurance by the company's self-insurance approach that allows it to tailor its health plans to individual employee needs.
"We approach this as, knowledge is power," said Tia Bush, vice president for site operations of Amgen Rhode Island.
Amgen employees can select the plan that makes the most sense for themselves and their families, Bush said. The company's ability to manage its health plans has allowed them to keep employees' premiums from rising this year, she said. "That has been able to resolve some of the worries and concerns," Bush said.
Some panelists said one under­utilized way to limit health care costs is the use of Health Savings Accounts, which allow pre-tax dollars to be saved for future medical expenses. About 12 percent of employers in R.I. offer HSAs, compared with 25 percent of employers nationally, said Melissa Cummings, senior vice president and chief customer officer of Blue Cross & Blue Shield of Rhode Island.
Christopher Cote, managing director of London Health Administrators Ltd., said employers should look at their employee-benefits expenditures as "a way to achieve certain results."
Cote said medical plans can encourage the use of patient-centered medical homes, which can improve quality of care and reduce costs. Employers can also use medical benefits to incentivize participation in wellness programs that head off many medical conditions before they can become expensive care emergencies.
Also, he said, there are many tools for comparing cost and tracking health that are available to health plan members that aren't being used.
"I would recommend that employers try to shed light on that, because they want to take advantage of the full, total package that the health care industry has to offer," Cote said.