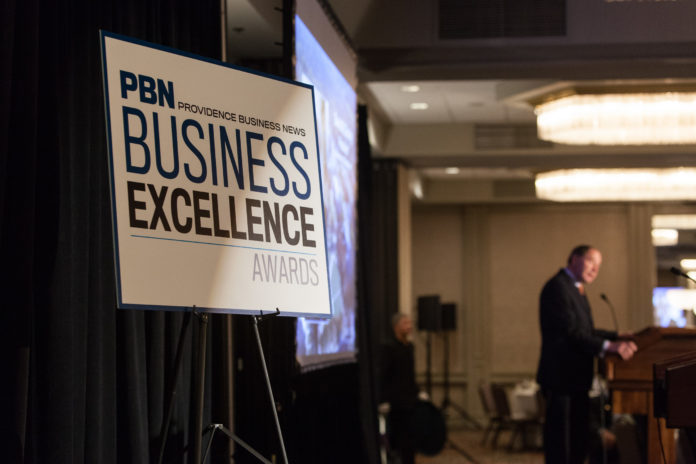 PROVIDENCE – Drawing on source material as diverse as the Gettysburg Address and "Cinderella," University of Rhode Island President David M. Dooley told the audience at Providence Business News' 15th Business Excellence Awards event of the importance of seeing the world as it could be, not just as it is.
In the case of President Abraham Lincoln, Dooley noted that his most famous speech reiterated the founding vision for the nation even as it was tearing itself asunder with Civil War. He noted that a year earlier, at the depths of the war, Lincoln had signed legislation that supported the creation of land grant universities across the nation, including in the rebelling states of the Confederacy, an act that helped educate not just the nation's elites, but all citizens. And those institutions, including URI, which have improved the human capital of the nation, have played a major role in the United States' rise in the world, he said.
Dooley's keynote address preceded the giving of awards for nine individuals and companies recognized by the BEA program. David Devault, vice chair, secretary and chief financial officer of The Washington Trust Co., was honored with the Business Leadership award for his steadfast and strategic leadership at the state's largest community bank. He has worked for four CEOs at Washington Trust and helped guide it from about $300 million in assets to its present-day $3.7 billion, with current Chairman and CEO Joseph J. MarcAurele saying he feels "fortunate to work every day side by side with David." Devault, for his part in brief remarks at the event, thanked family and colleagues for contributing to his successful career arc.
Neil D. Steinberg, president and CEO of the Rhode Island Foundation, was honored with the Corporate Citizenship award, earned over a professional life that included community involvement in banking and higher educational fields, but at a greater level in the transformation of the foundation into a major funder of economic development, health care and educational endeavors in the region.
Other winners recognized at the dinner, held Thursday at the Providence Marriott Downtown with 225 people in attendance, included:
Excellence at a Large Company: Shawmut Design and Construction
Excellence at a Mid-size Company: BlumShapiro
Excellence at a Small Company: EpiVax Inc.
Community Involvement: CVS Health Corp.
Excellence at a Social Service Agency: Clinica Esperanza/Hope Clinic
Excellence at a Nonprofit: Healthcentric Advisors
Entrepreneurship: Ava Anderson Non Toxic
Presenting sponsor for the 2015 Business Excellence Awards program was Bank Rhode Island. Partner sponsors included Bryant University's Executive Development Center, Cox Business, Fish Advertising, Cornerstone/Gencorp Group, LGC&D and Tufts Health Plan. The media sponsor was AM 790.