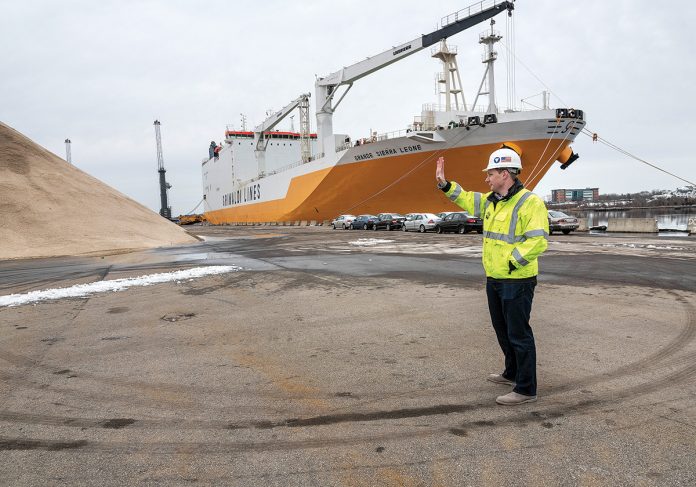 [Editor's note: This is the second of a two-part series looking at the growth of Rhode Island's solar and offshore-wind industries and expectations for renewable energy in the region's energy supply. See part one here.]
The nation's first offshore wind farm is spinning off Block Island. But Rhode Island appears to be playing catch-up to neighboring Massachusetts in preparing to host major construction work for an offshore wind-energy industry that supporters believe is poised to explode along the Atlantic coast.
Three ports in the region, one in New Bedford and two in the Ocean State, expect to see significant work from wind farms proposed in federal waters off the coasts of both states.
See related story: Still a place for natural gas in R.I.
A $113 million terminal expansion and improvement project already has been completed at the Port of New Bedford. The latter also has agreements with major players in the business – Vineyard Wind LLC and Orsted US Offshore Wind – as they gear up for what could be the nation's first large-scale, offshore wind-energy farms.
Meanwhile, improvements are ongoing – although in some cases those specific to offshore-wind-energy construction still may need to be identified – at the Port of Davisville at the Quonset Business Park in North Kingstown and at Providence's marine terminal south of downtown. And while Rhode Island officials expect ongoing talks with Vineyard Wind and Orsted to produce deals, they do not yet have formal ­agreements.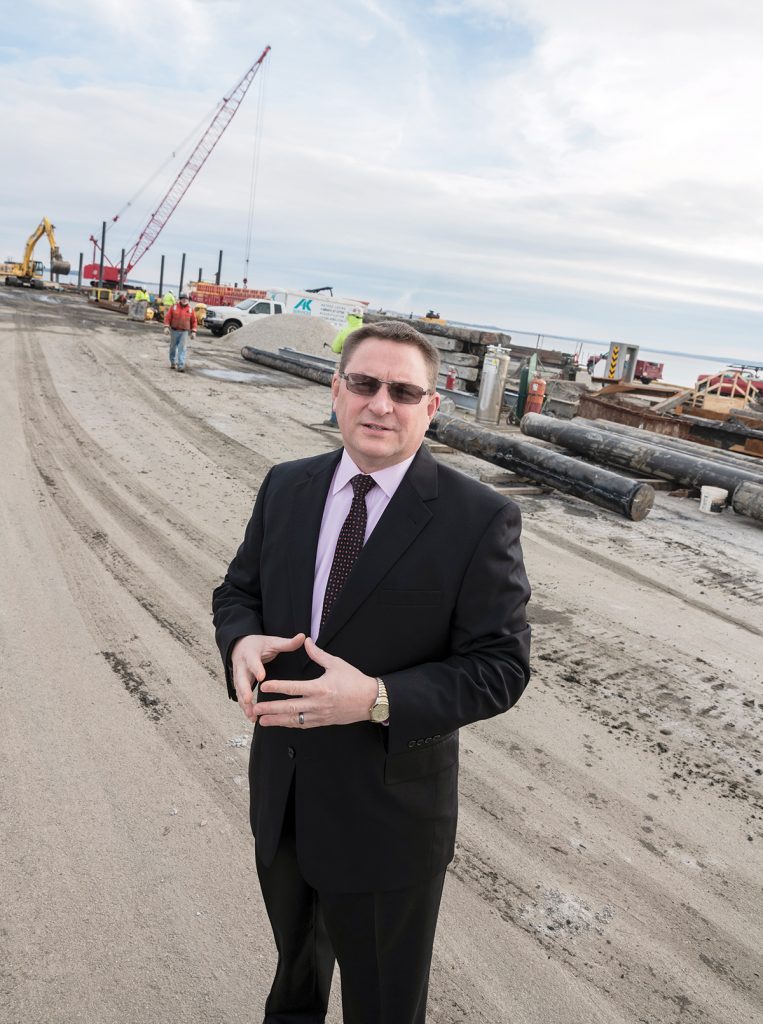 NEW APPROACH NEEDED?
Some Rhode Island officials concede that Massachusetts has had a more centralized and focused approach to handling offshore-wind companies through the Boston-based Massachusetts Clean Energy Center, a state economic-development agency solely devoted to the growth of clean energy such as offshore wind.
Despite all that, however, local officials insist they are not concerned that the Ocean State, after years of touting the benefits of being first to market in the industry, might not be ready to host the bigger projects.
"I don't think in any sense of the offshore-wind industry that Rhode Island has fallen behind Massachusetts," said Carol Grant, commissioner of the R.I. Office of Energy Resources. "Offshore wind should benefit many states, and we want to make sure that Rhode Island gets more than our fair share."
Grant acknowledges, however, that it seems to be time to change one thing about Rhode Island's approach: designate a single department or agency to handle offshore-wind companies, rather than having different people and agencies doing it, making it easier to coordinate the state's ­efforts.
"As the industry grows, it's time for us to pull together with more-focused points of contact," she said.
Massachusetts had a head start, Grant and others say, when it started planning a decade ago for the failed Cape Wind project near Cape Cod. That project officially died in 2017 after it lost several key contracts in 2015 and had licensing and legislative setbacks.
Still working in Rhode Island's favor, they noted, is that the Port of Davisville and the Providence seaport – operated by independent nonprofit organization ProvPort Inc. – are the only seaports in the nation with experience handling offshore-wind turbines. ProvPort did it several years ago for Deepwater Wind LLC – now part of Orsted – for its experimental five-turbine Block Island Wind Farm. And Davisville received pieces of the project, including steel jackets.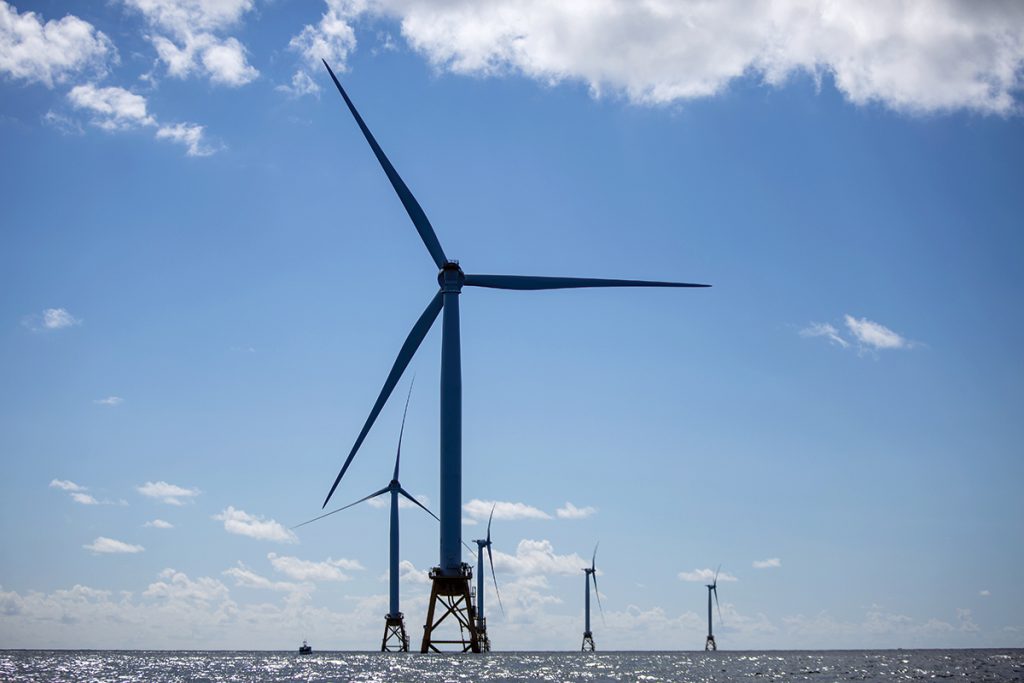 WHERE IS THE ADVANTAGE?
But the first seaports to host the industry for large-scale projects could end up benefiting the most.
"There is a competition going on among states along the East Coast to attract these first offshore-wind companies," New Bedford-based Vineyard Wind CEO Lars Pedersen acknowledged in a statement to Providence Business News. "Future growth will naturally be clustered around where the first businesses establish, and Rhode Island and southeastern New England are positioned perfectly."
Vineyard Wind's 84-turbine wind farm planned for federal waters south of Martha's Vineyard at a cost of $2 billion may be that first big project. The company said it is on track to begin work this year on the project, which could be commissioned for operation in 2021. The project is expected to produce 800 megawatts of electricity for Massachusetts. And the closest port is New Bedford.
Vineyard Wind has an 18-month lease agreement to use New Bedford's port, paying a rate of $6 million a year. Orsted also has an option to lease there, according to the Massachusetts Clean Energy Center.
"It's an exciting time," said Edward Anthes-Washburn, director of the New Bedford Port Authority. "There'll be plenty of work to go around over the next two decades." On the latter point, Rhode Island port representatives and state officials agree.
"No one port will be able to handle all the work," said William Fischer, a spokesman for ProvPort. "There's going to be plenty of work for everybody."
But Rhode Island's ports clearly still need upgrading.
Though not specifically tied to wind energy, a $70 million Rhode Island state bond was approved by voters in 2016 that provided $50 million in upgrades at the Port of Davisville and $20 million in upgrades at Providence's seaport. That work is underway.
An additional $40 million is being spent for more improvements at Davisville. That money comes from a $25 million revenue bond financed by the Quonset Development Corp., a quasi-state agency that oversees the site, and a $15 million appropriation from the state's capital fund.
Vineyard Wind has a pending lease option that's yet to be finalized to use Quonset Point for shipping and storage of large components, including turbine blades, and the company plans to work with shipbuilding and shoreside fabrication facilities in Rhode Island, according to Pedersen. Orsted also said it plans to use ProvPort and Quonset, but there is no formal agreement at this point.
And still another local option – and potential competitor – for offshore-wind work may be the retired Brayton Point Power Station in Somerset. The site's owner, Commercial Development Co., has been demolishing the power plant and rebranding the property to play a role in the shipping and construction of offshore wind farms.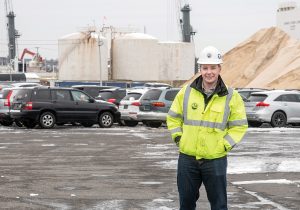 WHERE IS THE URGENCY?
Orsted says work could begin as early as next year on its proposed wind-turbine farm south of Rhode Island, dubbed Revolution Wind. It is expected to be commissioned in 2023. But that has not always been the timeline.
Orsted predecessor Deepwater Wind won the federal auction for the area it will develop the Revolution Wind project in 2014. And in late 2016 the company said that it hoped to have the project online in 2021.
At this point Vineyard Wind, based on its own 2021 operations timeline, has leapfrogged Orsted in negotiations with commercial fishermen over compensation for potential disruptions in their industry tied to the planned wind farms. Resolving such issues with fishermen is part of the regulatory process.
As envisioned, Revolution Wind would involve approximately 85 turbines in federal waters about 15 miles south of Rhode Island, producing 700 megawatts of electricity – 400 for Rhode Island and 300 for Connecticut.
The company is the U.S. subsidiary of Orsted, Denmark's largest energy company, which acquired Providence-based Deepwater Wind in October for $510 million.
Grant said Orsted US Offshore Wind, which has offices in Boston and Providence, has committed to make $40 million in unidentified investments at Davisville and ProvPort. And while there's no formal agreement for the money, she added, details of it are "embedded" in a recent state filing by National Grid Rhode Island, the state's largest utility company, regarding a power-purchase agreement with Orsted for the Revolution Wind project.
Deepwater publicly committed to the $40 million in local port improvements last May but provided no details.
Orsted says Revolution Wind is expected to create roughly 800 local construction jobs, positions that formed the core of an agreement made in 2009 by Deepwater and the state and that as recently as 2016 was confirmed by the two.
In addition to Revolution Wind, Orsted is planning the South Fork Wind Farm, about 35 miles east of Long Island, that it hopes to commission by the end of 2022. The 130-megawatt project would generate electricity for eastern Long Island.
In February, Orsted announced it was divesting half of the Revolution Wind and South Fork projects to Eversource Energy, an energy company based in Boston and Hartford, Conn. Eversource is paying $225 million for a 50 percent stake in the two projects.
The company also has plans for another wind farm, Bay State Wind, south of Martha's Vineyard and next to the Revolution and South Fork sites, also in partnership with Eversource Energy.
Orsted said the ownership change last fall from Deepwater Wind hasn't delayed its projects.
"All of our projects, local commitments and timelines are continuing as planned," Orsted said in a statement. "Each developer sets its own timelines. We are very comfortable with ours."

BACK TO THE PORTS
Providence Mayor Jorge O. Elorza said Deepwater Wind had committed to shipping and building another 50 turbines in Providence, but that was before Orsted acquired Deepwater.
Fischer suggested it's likely only a matter of time before ProvPort reaches an agreement with Orsted and possibly others.
"Our discussions have been extremely productive. We are confident we will play a role in the offshore-wind industry. We feel we'll be prepared to assist them when they are ready," Fischer said.
At the Port of Davisville, the ongoing work includes a 225-foot terminal extension, said Steven J. King, managing director of the QDC. King said Vineyard Wind has provided a letter of intent, with an option to lease 15 acres at the port, but it hasn't been finalized.
Vineyard Wind may start work at Quonset Point in early 2020, before all the upgrades have been completed, but the company should have enough space to work around it, King said. "It'll be two years before it's fully completed," he said of the port renovations.
"Quonset has been engaged in conversations with multiple wind companies about their future and continued needs for port-adjacent land," the QDC said in a statement.
'REGIONAL PLAY'
Pedersen said his company is "already working with Rhode Island companies … on everything from dive services to underwater archeology. The opportunities for Rhode Island businesses will increase dramatically during the construction phase of our $2 billion project." He did not identify the local companies working with Vineyard Wind.
Hilary Fagan, executive vice president of business development at R.I. Commerce Corp., is bullish on the overall industry's potential for job creation in Rhode Island.
"There's a huge potential for job creation," Fagan said. "A lot of the growth will come from small and midsized companies, many of which are already here."
Although state and local agencies in Rhode Island have strived to work together to support the nascent industry, Fagan agreed with Grant that having a single point of contact for offshore-wind companies seems like a good idea.
"We've actually been working very hard on it," Fagan said. "We're a smaller state, so maybe we're not as loud."
But Fagan doesn't see the industry being carved up strictly along state lines.
"It's more of a regional play," she said. "These companies are circling, and we're in a good position to support many of them, but not all."
Scott Blake is a PBN staff writer. Email him at Blake@PBN.com.