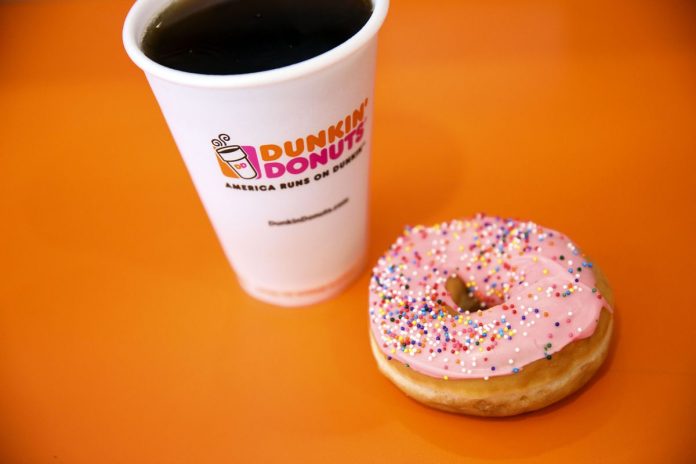 CANTON, Mass. – Dunkin' Brands Group Inc. reported net income of $66.1 million for the third quarter, or 79 cents per diluted share, a 60.5 percent increase from $41.2 million one year prior.
Company revenue increased 6 percent year over year for the quarter, rising from $330.1 million to $350 million, according to the company's Thursday earnings release.
Dunkin' said that the increase in revenue and profit was largely due to positive comparable-store sales in all four of its business segments – both Dunkin' and Baskin Robbins' United States and international operations.
U.S. store sales increased 1.3 percent year over year to $2.3 billion in the third quarter (Dunkin' reports both corporate revenue as well as total revenue generated by its franchisees). The segment recorded profit of $121.7 million, compared with a $115.4 million one year prior, on $157.3 million in revenue, a year-over-year increase from $151.2 million. The segment reported increases in royalty income and franchise fees and a slight decline in rental income.
Dunkin' International reported a profit of $4.5 million, a 280.7 percent increase from $1.2 million the year prior due to a sharp rise in both royalty income and franchise fees – primarily due to recognition of deferred revenue upon the closure of restaurants. The segment also saw increased sales in the Middle East, offset by a decline in Asia. Sales for Dunkin' International totaled 194.9 million, compared with $189.3 million in the third quarter of 2017.
Leadership of the company also touted changes to come for the Dunkin' segment, such as the installation of new espresso equipment, expanding the company's caffeine beverage offerings capability.
"Earlier this year we announced that we would be investing approximately $100 million into Dunkin' U.S., a substantial amount of which will be in equipment to support our multiyear plan to expand our beverage portfolio beyond traditional drip coffee, including new espresso equipment. We, along with our franchisees, who are significantly investing in this new program, are excited to introduce the new Dunkin' espresso to America in the fourth quarter," said Kate Jaspon, Dunkin' Brands chief financial officer, in a statement. "We are also pleased to have completed our previously announced $650 million accelerated share repurchase program during the third quarter, demonstrating our continued commitment to utilizing our strong balance sheet to return capital to shareholders."
The company's Baskin-Robbins U.S. segment reported a 2.7 percent increase in revenue to $13.7 million from $13.3 million one year prior. Segment profit was $10.2 million, compared with $10 million in the third quarter of 2017. Systemwide sales totaled $180.6 million, a 2 percent increase from $177 million the previous year. The segment's revenue jump was largely due to an increase in ice cream sales, the company said, as well as a boost in franchise fees and royalty income.
Baskin-Robbins International reported a $12 million profit, a 3.8 percent year over year increase. Revenue totaled $31.2 million, itself an increase of 7.6 percent. Total sales for the international segment in the quarter were $425.4 million, an 11.3 percent increase from the year prior. Sales of ice cream were also reported to have increased in the company's international segment, increasing revenue.
Chris Bergenheim is the PBN web editor. Email him at Bergenheim@PBN.com.