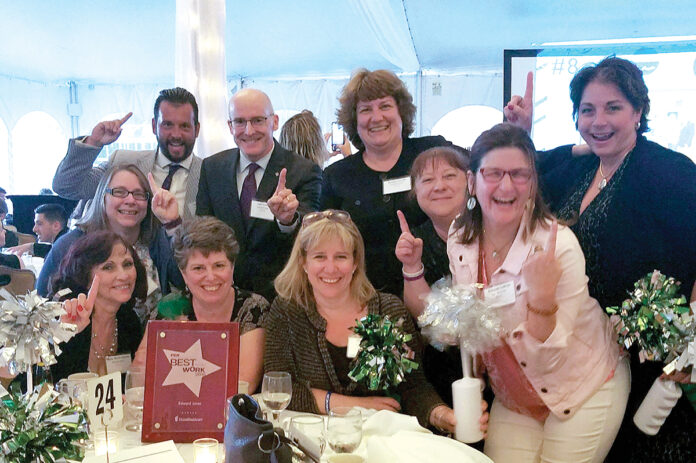 PBN Best Places to Work 2020
MIDSIZE COMPANIES 1. Edward Jones
Employees in R.I.: 61
Financial Adviser, Regional Leader and Partner John Leary
---
COMMITMENT. EMPATHY. STRATEGY. These three words are often associated with excellence in the business world. They're also words that the nearly 19,000 Edward Jones financial advisers covering the U.S. and Canada take to heart each day as they focus on making significant and positive differences for their clients.
"The firm's advisers work directly with more than 7 million clients to understand what is important to them – from college savings to retirement – then create personalized investment strategies to help them meet their goals and partner with them for the longterm to help them stay on track," said Edward Jones financial adviser, regional leader and partner John Leary.
Importantly, each of the 27 Edward Jones neighborhood branches located in Rhode Island has a financial adviser and a branch office administrator serving clients within the very communities where they live and work.
Bolstering the sense of community within the company is the fact that every associate has the unique opportunity to actually own part of the firm. Any Edward Jones associate in good standing with at least three years of service can be offered partnership and more than 50% of associates are owners.
"Since joining Edward Jones, I have been actively involved in helping my fellow financial advisers and volunteering in a number of ways, including serving as a field trainer, mentor, recruiting leader and performance leader for the region," said Leary, who became a limited partner in 2007. He said he also participated in the firm's Goodknight Program by inviting three other financial advisers to help better serve clients. The firm's partnership culture encourages all to collaborate and support each other rather than compete, Leary said.
The firm is quick to reward its team for not only serving clients' needs but also for giving back to the community. In addition to trimester bonuses for advisers, branch office administrators can earn firm-profitability bonuses and typically share in eligible advisers' bonuses, which are boosted by a firm match.

In each region, a financial adviser and a branch office administrator can be awarded for exemplifying the values, culture and spirit of giving back. Steven Grasso, Cranston-based financial adviser, said the firm has an award called the Ted Jones Spirit of Caring award.
"It's a peer-voted award for the person in the region who has made the most impact on others. In 2012, I was the first recipient of this award in our region," Grasso said. "Receiving this recognition was more than just an accomplishment – for me, it was highly emotional. My mother had just passed away and I only wish she could have been there to see it. I dedicated the award to her. Without a doubt, being honored by my peers, simply for helping others, has been my favorite moment of working for Edward Jones."
Inclusion is a major focal point for the firm. Leary said Edward Jones continues to encourage "honest conversation, which we believe is essential to gain awareness, address unconscious bias, and achieve greater understanding and empathy."
The firm has a five-point plan to address racism and positively impact opportunities for people of color. Edward Jones has committed to give everyone a voice; place a continued focus on equitable hiring, training, promotional practices and policies; address equitable pay; offer racial-equity training and anti-racism personnel policies; and expand its unconscious-bias training program.
"We are passionate about our work because we make a meaningful difference in our clients' lives," Leary said. "We help our clients turn dreams into reality. Every client has a different story. We get to know and understand our clients because personal relationships make us better financial advisers for individuals. Our firm encourages us to put our clients' interests first, with honesty and integrity."

Want to share this story? Click Here to purchase a link that allows anyone to read it on any device whether or not they are a subscriber.