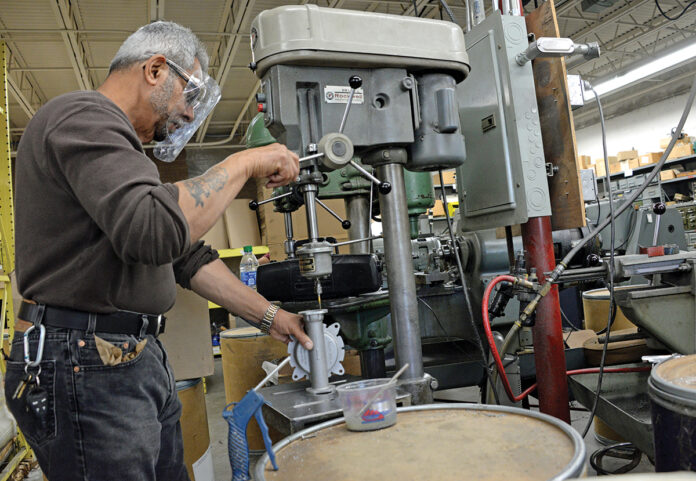 Coming into 2020, Rhode Island's manufacturing industry was doing well, with many companies experiencing banner years. Hiring was active, so much so that the number of open positions outpaced qualified applicants.
Then the pandemic hit.
As businesses deemed essential by the state government, much of the manufacturing sector in Rhode Island remained open when others were forced to close to help stop
the spread of COVID-19. Throughout the crisis, manufacturers have had to juggle productivity needs with ensuring the safety of their employees. To do so, many have changed or altered operating procedures in order to meet new federal and state health guidelines. They've had to create barriers between workstations, space out equipment, stagger shifts and implement new cleaning procedures.
Plenty of challenges remain, especially for smaller companies. But the economic crisis created by the pandemic has also presented opportunities for many manufacturers. They've been forced to make their operations more efficient and, in some cases, expand their supply chain.
Their continued operation during the pandemic also reinforced the value to communities and the nation of locally made products.
Some are already profiting from their ability to meet the extensive challenges.
"Speaking only from our own experience, the virus has brought us new business and new customers," said Douglas Reilly, CEO and president at East Providence pump manufacturer The Bosworth Co. "It has also strengthened the relationships we have with both customers and suppliers, since it has increased the sense and acknowledgement of our shared humanity in dealing with a life-and-death issue that is affecting us all in one way or another."
FINDING OPPORTUNITIES
During the pandemic, Bosworth has seen a huge surge in demand for its small, foot-operated pump, the Guzzler, which is used in portable sinks and hand-wash stations. Reilly says the company is both responding to the demand and seeking to position itself for a portion of the market it foresees developing when the surge passes.
"We have had to significantly expand our capacity for making the hand-wash-station foot pump," Reilly said. "This has resulted in increasing our workforce, increasing our facilities space dedicated to assembly of this pump, and expanding our network of suppliers for pump components."
The Guzzler pump, which first began as a hand bilge pump for boats, has in fact grown dramatically over the past 40 years into a wide line of fluid-transfer products, including in the marine industry, portable sanitation, water filtration, fire protection, agriculture, chemical transfer and priming pumps.
Along with the increased business, Bosworth has also dealt with its share of challenges.
As a result of a shortage of materials, factory closures or reductions in staffing during the pandemic, a number of the company's vendors have had difficulty supplying materials. That's forced Bosworth to develop alternate suppliers, expanding its network.
"In one case, a component [for the foot] pump was sourced from a factory in Italy. The supply of this component was disrupted early in April when this factory, along with much of Italy, was shut down in an effort to contain the rapid spread of the virus. We solved the problem by finding an alternative component that could be supplied by a U.S. factory whose operation has not been disrupted by the virus," Reilly said.
Dave Chenevert, executive director of the Rhode Island Manufacturers Association, feels that a silver lining to the pandemic is in the potential reshoring of the supply chain that major U.S. companies have been purchasing from China and other countries.
"Many U.S. companies will review their supply-chain model," Chenevert said. "If currently they were at 90/10 [in favor of China], I can see this change to 80/20, 70/30 or possibly 60/40. To do this, U.S.-based manufacturers must embrace lean [workflow], review their overhead costs and clearly understand what makes them more valuable than going to China or other countries.
"RIMA will be working … to [help] develop a comprehensive reshoring plan to assist these manufacturers to position themselves to obtain this influx of new work," he said.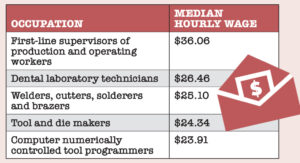 Reshoring is a major effort both at a national and state level, according to Christian Cowan, former center director for Polaris MEP, the state's manufacturing extension partnership. Cowan has since transitioned to a new role within URI Ventures while still serving Polaris MEP clients.
"Nobody wants to experience the broken supply chain we saw when the virus hit," Cowan said. "There are several efforts [underway] to better diversify production needs in order to build local suppliers for all types of products, from medical, clothing and personal items."
He says the MEP National Network, a public-private partnership, has been instrumental in evaluating the larger impact of supply-chain disruptions and providing tools to implement in each state. One example he cites is Supplier Scouting, a service Rhode Island manufacturers can use to find new sources or to become part of a new supply chain.
"This pandemic has opened people's eyes to the local impact of global sourcing," Cowan added. "Many progressive companies previously developed business-continuity plans, but those plans proved inadequate for this unprecedented virus. I believe the long-term impact on local manufacturing and supply-chain resiliency will be positive for Rhode Island."
Chenevert acknowledges, however, that smaller manufacturers have struggled with cash-flow issues during the pandemic and, like many other small businesses, are fighting to survive.
"Stress is a component of running or owning a business," said Chenevert. "Many [owners] have put their houses on the line with banks, drained savings … [and] borrowed on their credit cards to ensure their dream of owning their own business stays a reality."
WORKFORCE TRAINING
Throughout the pandemic and its aftermath, one area that will continue to be in the spotlight in the manufacturing industry is job training.
According to Margaux Fontaine, interim communications director for the R.I. Department of Labor and Training, the manufacturing sector lost 2,200 jobs as a result of the pandemic from February to April in 2020. While manufacturers were deemed essential in the state and not ordered to close, workers who needed to at least temporarily leave their jobs as a result of school and day care closures, quarantine orders, or being in an at-risk group contributed to the job loss.
The good news? As of July, the 2,200 jobs lost had all been recovered – making manufacturing the first sector in Rhode Island to at least temporarily regain all the jobs that had been lost since the beginning of the pandemic, when 39,400 were employed, she said. In August, however, that number dipped back to 38,800.
After the pandemic hit in March, 71 participants enrolled in Real Jobs RI manufacturing industry programs, 19 of whom in September were in the Fast Track program.
RIMA's Chenevert says training employees for multiple positions will be vital for employees and employers alike.
"Whether it is in manufacturing, accounting, engineering or some other sector, we must keep programs like Real Jobs alive," Chenevert said. "This will be a lifeline for many employees if they lose their jobs. … Employees need to look at their position and where [it] is going. Training is available and there are resources that can assist them.
"I see a lot of interest in getting into the manufacturing sector," he added. "Many have seen that Rhode Island kept the manufacturing sector open because we showed we could keep our employees safe."
Chenevert sees a lot of interest [among job seekers] in manufacturing, due to many of those businesses remaining open to this point in the pandemic. One area he believes will grow over the next decade is robotics.
"Machinery is more complex and requires trained individuals to deal with the complexity of these CNC-type [computer numerically controlled] machines," Chenevert said. "Data analytics is an area that is evolving more, as companies use this data to operate and better understand the market they are currently servicing, but also to expand their sales in new areas."
Cowan echoed that sentiment, adding better workforce skills will be needed coming out of the economic crisis.
"Companies are already investigating and implementing automation, including robots and data acquisition," he said. "This is expected to grow jobs and will require a higher level of skill on the production floor. We are currently developing training programs to address the skills gap."