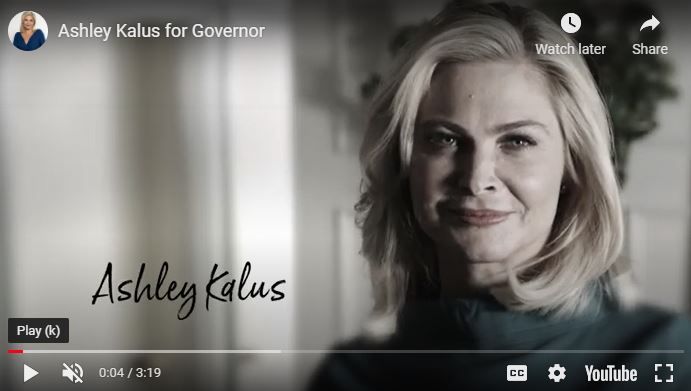 PROVIDENCE – A political newcomer and Republican candidate has entered the Rhode Island gubernatorial race.
Ashley Kalus officially launched her campaign on Tuesday via a YouTube video. Klaus is the only Republican candidate who has publicly declared so far. Among Democrats, incumbent Gov. Daniel J. McKee is being challenged by R.I. Secretary of State Nellie Gorbea, former Secretary of State Matt Brown, former CVS Health Corp. executive Helena Foulkes and community activist Dr. Luis Daniel Munoz.
The primary elections will take place on Sept. 13. The general elections are on Nov. 8.
Kalus, a former Illinois resident who lives in Newport with her husband and three children after buying a home last year, said she is running on a platform that prioritizes education, strengthening the economy, creating jobs, affordability, health care, the opioid crisis, infrastructure, affordable housing, and taking care of Rhode Island's most vulnerable residents.
"Ask yourself: who has Rhode Island been changing for? Every day gets harder for working families. We're getting killed at the pump, food prices are soaring, it costs more to heat our home, income is not matching inflation, the dream of owning a home is out of reach for many, and we pay more for health care and get less. As a mom of three school-aged boys, I understand these struggles," Kalus said in a news release.
Her biography included with her campaign announcement says Kalus is a businesswoman and a health care executive. The bio says she started her career as a business consultant who later "built a surgical practice from the ground up."
Her husband, Jeff Weinzweig, is a craniofacial surgeon who trained at Brown University.
In the last two years, the bio says, Kalus has been involved in efforts in fighting the COVID-19 pandemic. "She returned to Rhode Island to assist with large-scale testing, and vaccination, creating jobs and serving the community," the bio says. "She has hired, trained, and placed over 400 Rhode Islanders in the health care field, all while assisting Rhode Island to become the most vaccinated state in the country."
Talk of Kalus running for governor has circulated since she filed papers in February seeking the Republican nomination.

Want to share this story? Click Here to purchase a link that allows anyone to read it on any device whether or not they are a subscriber.