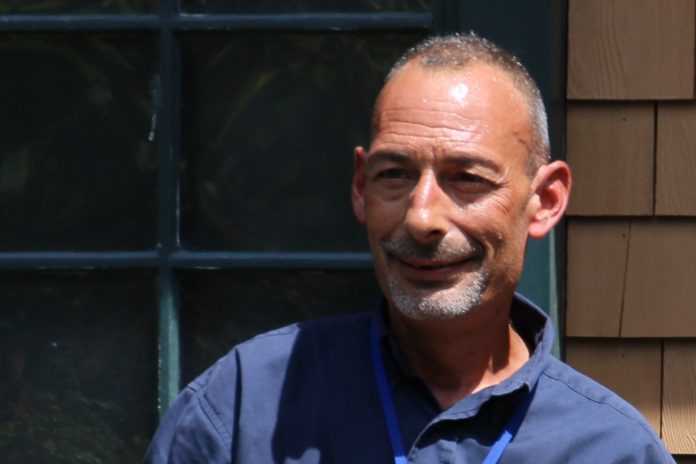 Lou Perrotti, director of conservation programs at Roger Williams Park Zoo in Providence, is an experienced, broad-based conservationist and zoologist with more than 20 years of proven ability in domestic and international animal care and conservation. He is knowledgeable in all areas of husbandry and captive reproduction, with an expertise in reptiles, amphibians and invertebrates.
Perrotti serves as the zoo's representative on local, national and international conservation collaborations, including those with the Association of Zoos and Aquariums. His expertise has been directed to multiple projects supporting the conservation of endangered species, including the American burying beetle, Karner blue butterfly, New England cottontail rabbit and timber rattlesnake.
Internationally, Perrotti established a feeder-insect breeding facility in Panama to support the El Valle Amphibian Conservation Center, an endangered amphibian rescue project. He led an extensive three-month biodiversity survey on the Huon Peninsular in Papua New Guinea and introduced a conservation education curriculum in partnership with the Woodland Park Zoo and the Tree Kangaroo Conservation Program in remote village schools in Papua New Guinea.
As for Perrotti's next adventure, in January he will travel with the San Antonio Zoo and other international partners to Chile, to work with the Chilean Amphibian Conservation Center at the National Zoo of Chile in Santiago. His objective is to assist the center to maintain a captive population, and successfully build and maintain a healthy diet for the amphibians.
PBN: As director of conservation programming at the Roger Williams Park Zoo, what are some of your day-to-day tasks?
PERROTTI: I ensure the zoo is contributing to the conservation of species in the wild and the habitats they inhabit. We do that in many ways, including supporting in situ projects, providing facilities and staff for captive breeding programs, as well as participating in species-survival programs and supporting mission-based partners. Some of those partnerships include the Snow Leopard Trust as well as cheetah and elephant conservation [programs].
PBN: After 24 years of conservation efforts, you were instrumental in raising awareness of the American burying beetle so that it was named the official Rhode Island insect. What challenges threaten the sustainability of this beetle and how can the public be more aware of it?
PERROTTI: The biggest challenge to this species is the threat against the Endangered Species Act. This is a federally listed endangered beetle and any weakening of the ESA threatens the conservation of the species and status on the list.
The near-extinction of this beetle is a man-made issue. Due to habitat loss, the American burying beetle was extricated from 90 percent of its range. It is important to understand that all species matter, and every single species plays an ecological role on the planet. [But] we cannot conserve species based on popularity or fear.
I see nature like a bicycle wheel. When the wheel is brand-new, with all the spokes [in place], it spins true. If a spoke is removed, the wheel still spins true but if more than one spoke is removed, the wheel gets wobbly. Take out one too many spokes [and] the wheel can collapse. It's the same in nature; I want all the spokes in my wheel.
PBN: Your animal-conservation efforts have also brought you overseas to Chile and Panama. What were you doing there to aid species in need?
PERROTTI: I did conservation work in Panama with the El Valle Amphibian Conversation Center, [which focuses] on the research, captive management and exhibition of western Panama's endangered and threatened amphibians.
To successfully maintain a captive population, the animals must have a healthy diet. Before we worked with the center, they were capturing hundreds of insects daily to feed endangered amphibians. It was time-consuming and threatened to deplete the local insect populations. Moreover, the method would not have been sustainable, as the number of rescued and captive-bred amphibians grew. I worked with them to establish captive colonies of native invertebrates to provide a sustainable and efficient food source for the rescued amphibians.
I will be doing the same work in Chile beginning mid-to-late January 2019 [and] one of the main goals in this work is education. Whether I am working locally or internationally, my hope is that both children and adults become more aware of what conservation truly means and how important maintaining healthy ecosystems are to the well-being of humans.
PBN: Locally, you're also raising awareness of the eradication of the New England cottontail rabbit. What challenges threaten the sustainability of this rabbit, and how can the public be more aware of it?
PERROTTI: The issue with the New England cottontail rabbit is similar to the American burying beetle – loss of habitat. The Eastern cottontail rabbit, which is not native to New England, is most likely the rabbit you see hopping around your backyard. It's an aggressive species and, in addition to habitat loss, helped diminish the [volume of] New England cottontail rabbits. Additionally, much of the land in which the New England cottontail rabbit thrived was cleared for development.
Roger Williams Park Zoo provides the facilities and expertise to captive-breed the New England cottontail rabbit and to create new populations and augment the existing populations throughout New England.
PBN: If you had your choice, what do you wish the public knew more about when it comes to species conservation, particularly in New England?
PERROTTI: Most of our guests, as well as guests at other Association of Zoo and Aquarium-accredited [centers] are not aware of the behind-the-scenes conservation work we engage in every day. When someone visits with the animals, rides the Soaring Eagle Zip Ride, or participates in an animal encounter, they may not realize how many of our animals are on the endangered species list nor the support we give and the work we do to ensure they do not become extinct. I would like to say we do our part every day to be sure this planet is left to the next generation just as good as it was left to us – hopefully a little better.
Emily Gowdey-Backus is a staff writer for PBN. You can follow her on Twitter @FlashGowdey or contact her via email, gowdey-backus@pbn.com.