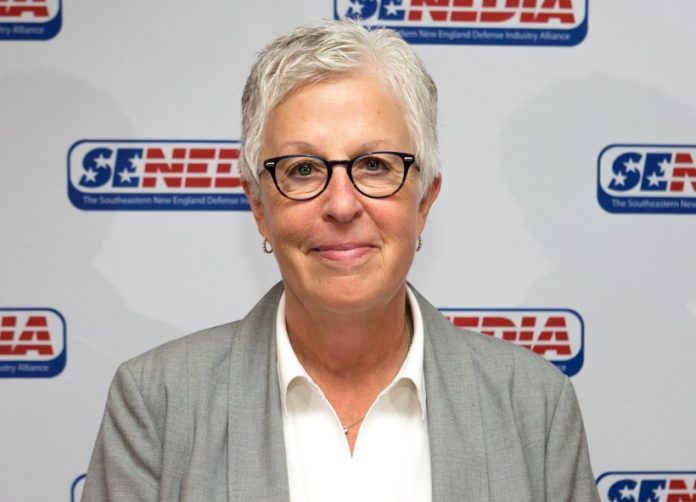 The Southeastern New England Defense Industry Alliance pre-releases technical topics on Nov. 29, ahead of its Dec. 3 Small Business Innovation Research/Small Business Technology Transfer workshop. Molly Donohue Magee, SENEDIA executive director, said the event represents an opportunity for small businesses, and spurs innovation.
PBN: SBIR/STTR topics that are being pre-released identify technology areas for which the U.S. Navy, including the Naval Sea Systems Command and the Naval Air Systems Command, are requesting small-business and academic input. Is that correct?
MAGEE: Yes. The SBIR and STTR programs are coordinated by the Small Business Administration to help small businesses advance their research and development to meet specific government needs. There are 11 federal agencies that participate in the SBIR/STTR programs, including the Department of Defense, Department of Energy, Department of Education and NASA.
DoD issues three SBIR and three STTR Broad Agency Announcements for topic proposals annually. Each BAA has a pre-release, open and close period. During the pre-release period, the government does not accept proposals, but small businesses can discuss technical questions directly with the topic authors and get contact information.
PBN: What are some examples of what could be needed for defense-related purposes?
MAGEE: Department of Defense needs are wide-ranging. Some examples include additive manufacturing solutions; high-velocity learning applications; ship-maintenance technologies; graphics interface for 3D display environments; cybersecurity and cyberthreat insertion and evaluation technology; 3D imaging techniques; machine learning; undersea technology; and advanced sensors.
PBN: As this concerns national defense, how much detail do small businesses get as to how these innovations would be used, where?
MAGEE: Each SBIR topic identifies the technology area, the objective and provides detailed insights into the requested technology. During the pre-release phase, companies can reach out to the identified government points of contact to gain more insight into their technical needs.
The DoD knows that engaging the private sector – especially small, innovative businesses in defense work – is very important. The small-business community is an essential component in ensuring we have the latest technology available to provide our military with needed innovative solutions in a timely manner.
PBN: How does Rhode Island support the SBIR/STTR program?
MAGEE: Rhode Island actively assists companies pursuing SBIRs/STTRs … in their efforts to innovate, expand and succeed. The Innovate RI Small Business Fund was legislatively established in 2013 and provides eligible businesses matching SBIR/STTR grants. These grants help local entrepreneurs and high-growth small businesses defray the costs of applying for federal SBIR/STTR grants. The program provides matching grants up to $45,000 for Phase I SBIR/STTR – proof of concept – and $100,000 for Phase II SBIR/STTR – research and development. It also provides funding for eligible small businesses to hire interns and a $3,000 grant to help companies prepare their SBIR Phase I proposal.
Rhode Island has a complementary program – the Innovation Voucher program – which provides small businesses with grants of up to $50,000 to fund R&D assistance from a Rhode Island university, research center or medical center. Manufacturers have the option to use the innovation voucher to fund an internal R&D project. These programs are managed by the R.I. Commerce Corp.
PBN: SENEDIA's Defense Innovation Days – where defense policymakers and business leaders get a chance to interact and learn from each other – just wrapped up year five. How has it changed since the first such event?
MAGEE: Defense Innovation Days has grown to be a nationally recognized event. Specific innovation thrusts include cybersecurity and undersea technology. The event brings together companies who are developing cutting-edge innovation with policymakers who are helping to steer the nation's defense strategy … a forum where policymakers and business leaders within the defense arena can engage with and learn from one another.
As part of Defense Innovation Days, SENEDIA now formally collaborates with the Naval Undersea Warfare Center Division Newport and its Advanced Naval Technology Exercise.
ANTX provides the opportunity for companies to demonstrate their technology. Many of these demonstrations take place at NUWC's Narragansett Bay Test Facility, designed to support research and development work in advanced underwater systems, unmanned underwater vehicles and oceanographic equipment. The NBTF offers a variety of unique shallow-water ranges, which allow government, academic and industry partners to expose prototype systems to real-world environments.
Defense Innovation Days and ANTX are now held in the same week, which will be Aug. 26 to Aug. 30, 2019.
Susan Shalhoub is a PBN contributing writer.