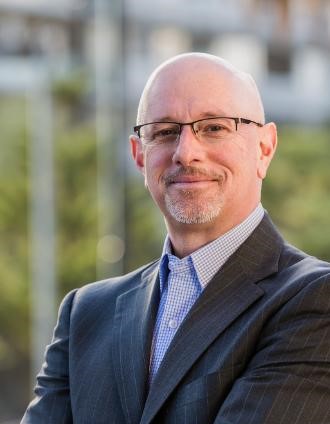 Phil Adams is no longer interim director at University of Massachusetts Dartmouth's Center for Innovation & Entrepreneurship, he has the permanent post, with a title of assistant vice chancellor for innovation, entrepreneurship and corporate engagement. He's been CEO of two publicly traded companies, including World Energy Solutions in Massachusetts, for which his leadership earned him Business Leader of the Year recognition by a Bay State business publication. Having brought World Energy Solutions from $250,000 to $40 million in profitability — from seven to 130 employees — he's also skilled at advising startups.
PBN:   You've recently had the interim tag removed and are now the permanent director. What is your strategy for the CIE?
ADAMS: There are three areas of focus. The first is to make the CIE a more vibrant gathering place for early-stage entrepreneurs. We're adding an innovative gourmet coffee shop in the atrium and creating co-working space. We're welcoming support entities like EforAll and the Mass. Office of Business Development.
The second is to strengthen the connection to campus with programming and opportunities for students and faculty to work with real-life entrepreneurs, to bring their classwork into a commercial setting. The third is to become a go-to, first-stop portal to university resources for companies of any size. We want to get businesses connected to the university's outstanding faculty, programs and facilities to further their business aims.
PBN: You came to this position from the private sector. What have been the differences you've noticed in working within an institution and how will your corporate experience can help you in this role at UMass?  
ADAMS: As I have worked in companies from 1-200 people, the first difference is that I'm working for a "big company" now; so there is more formality to procedures, and I don't know everybody as I did in other settings. Another interesting aspect is that there are many constituents and many missions. Running a publicly traded company, it's pretty clear what the focus is — profitable growth, stock-price appreciation, shareholder value. Here, there are many ways to measure success — preparing students for the next phases of their careers and lives, advancing the field of scholarly knowledge and regional economic development, to name a few.
At the same time, the university is still a business with goals and budgets. So my business skills are right at home in analyzing the CIE's programs, recommending strategy, devising a set of tactics and creating a budget. The other aspect of my experience — being an entrepreneur — has been useful as the entrepreneurs I've met here at the CIE and in the region appreciate contacts, ideas and sometimes, just a sympathetic ear from someone who's been there.
PBN: One of your tasks seems to be crafting more of a connection between the CIE and other areas of the main campus. Can you explain what that will bring in terms of value?
ADAMS: This may be the aspect I'm most excited about. We had a few events this year on campus and engaging with bright young minds is so refreshing. They ooze optimism and possibility and are eager to expand their horizons.  We had a start-up weekend, a tradeshow where CIE companies exhibited on campus and we had three of our CIE companies present a business problem for students to solve in their entrepreneurship class. There was both value for the students in applying their coursework in a real-life context and for the companies in the out-of-the-box thinking the students brought to the table.
PBN: Considering existing assets, what are some of the best opportunities out there in the region to grow jobs? 
ADAMS: It's important for the region to have an identity and a focus, and certainly with Chancellor Robert Johnson's leadership, that focus is the Blue Economy. It brings technology, creativity and innovation at the university to bear on historic strengths such as commercial fishing, boat building and tourism as well as emerging areas such as autonomous underwater vehicles and marine hydro-kinetic power.
Then there is this big and promising new industry — offshore wind — getting its U.S. start right here. We've seen how that's transforming the Brayton Point site from a fossil-fuel plant to a wind-power interconnection point, and the New Bedford waterfront becoming a staging area for turbine construction.
There are some exciting things happening in terms of technical fabrics and instrumented soft goods that can take advantage of the region's textile roots.  We are also seeing several startups in the health care arena and clean tech here at the CIE.
PBN: You are a founding member of U.S. and World Championship Ultimate  teams [colloquially known as Ultimate Frisbee]. Will you be able to make time to surprise unsuspecting students who are playing on campus with your skills?
ADAMS: Yeah, well, that was about a dozen hamstring pulls ago! I do still enjoy the sport, but I'm guessing these kids would run circles around me.
Susan Shalhoub is a PBN contributing writer.
Editor's note: This story has been updated to reflect that Phil Adams brought World Energy Solutions from $250,000 to $40 million in profitability.

Want to share this story? Click Here to purchase a link that allows anyone to read it on any device whether or not they are a subscriber.