"To me, food trucks are the old town square!" said Eric Weiner. He can tell you how many trucks serve food in virtually any city in America.
He is a Rhode Islander and his website directory FoodTrucksIn is based here as well. FoodTrucksIn.com currently lists more than 6,500 food trucks in more than 1,300 cities across every corner of this hungry country.
He is a go-to source for a check of this industry-within-an-industry. The food truck phenomenon has been around for a decade. Food trucks have carved out a solid reputation for quality, creative food brought anywhere people gather.
Weiner has been observing the scene since it started, having been involved in the transportation industry for decades. These days he counts 75 food trucks actively operating in the state. Some of these trucks are multiples of a single owner-operator. One of those goes back to 1888 – the venerable Haven Brothers, which may be the nation's oldest food truck. There are three Haven Bros. trucks serving up hot wieners, burgers and shakes throughout the state.
What about the idea debated on social media that the food truck is losing popularity? Weiner says it depends on point of view. "In a large city, food trucks in the beginning relied on street service on a particular corner with a lot of foot traffic."
He compares a city of Boston's size to Providence: "In a medium-size city [such as] Providence, there are limited opportunities for that. There is only so much room in Kennedy Plaza or near Brown University."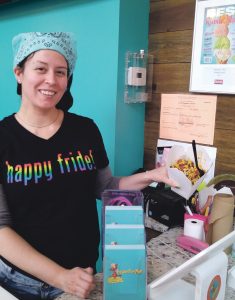 Permitting became an issue and there was the issue of pushback from nearby brick-and-mortar restaurants. The answer, as well as larger opportunities, came at off-street events. Ten to 15 trucks can pull up at an event lasting three or four hours and all will do sellout business. Weiner produces such events throughout the state three seasons out of the year. Last year he put on approximately 100 such gatherings. He says the events have led to a thriving, robust food truck scene in the state.
The truck owners and Weiner attract followers in a similar way as restaurants. Friskie Fries started out with a single downtown truck serving a menu of several styles of topped french fries. Late hours and comfort food did the rest. The fast-food concept now has three restaurant locations, with a fourth opening in the spring, in addition to its two trucks. Friskie Fries' poutine fries with Vermont cheddar curd and brown gravy won an award at a competition of the French-Canadian specialty at the Museum of Work and Culture in Woonsocket recently.
Weiner continues to be impressed by how well Rhode Islanders support food trucks, even with the multitude of top-flight restaurants from which to choose.
Rhode Island is supporting the trucks. Laws taking effect this year streamline some inspections and have the trucks comply with a statewide standard, rather than town by town, which had stood in the way of growth.
Bruce Newbury's Dining Out radio talk show is heard Saturdays at 11 a.m. on 1540 AM WADK, through various mobile applications and via smart speaker. Email Bruce at Bruce@brucenewbury.com.